While there's nothing wrong with being a Bond girl, Sophie Cookson was thrilled to be in a spy movie in which she wasn't just "the girlfriend".
In Kingsman: The Secret Service, Cookson plays one of the youngsters vying for a role in a mysterious agency, whose veteran, martial-arts fighting spies include the likes of Colin Firth.
To land the spot, she and the others, including Taron Egerton's Eggsy, are put through a number of dangerous tasks.
"I mean, there is nothing wrong with being a Bond girl, but at the same time, you read so many scripts where the girl automatically falls in love with the guy, or you're waiting the whole story for them to kiss and I have to say I was reading and waiting for (it) to happen," Cookson tells AAP in Sydney.
The 24-year-old was over the moon when she realised that wasn't what her character was about.
"It was a huge relief, actually, to know that there was a script out there that did that," she says.
But the movie isn't your typical spy flick, either.
Directed by Matthew Vaughn, who turned the superhero genre on its head with Kick-Ass, this similarly subverts the spy film.
Its gentleman spies (including Firth) wear dapper suits and deliver martial-arts moves like a boss, while the villain is none other than Samuel L Jackson, who plays a tech mogul with a lisp and some pretty violent plans for humanity.
With this in mind, Cookson admits she got off rather lightly in the training regime compared with Firth and Egerton.
"My first training session I was so psyched, had my protein bar ready," she says.
"(Then) I ran for two minutes on the treadmill and did a forward roll."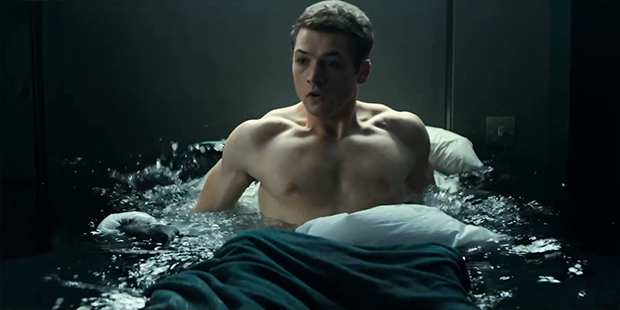 Taron Egerton in a scene from Kingsman: The Secret Service.
Egerton, who's also in Sydney for the promotional tour, turns to her, shaking his head.
"You have no idea of the hell I went (through)," he says.
"I was living a very weird half-life. Egg whites, white chicken, white fish."
So could he hold his own in a fight now after all that training?
"No, I'm complete wimp," he says, adding it's all choreography on screen.
"Actually, I probably shouldn't say that. (They) probably want me to present myself as a tough guy," and referring to his leather jacket jokes, "This is a very, very feeble attempt at making myself look manly.
"I'm a lover, not a fighter. Just a pretender."
* Kingman: The Sercret Service is out in New Zealand cinemas on February 5.
- AAP