Thousands are flocking to events throughout Auckland as the city celebrates its 175th anniversary.
With temperatures hitting 27C on Saturday and yesterday, Auckland Council estimated 23,000 punters headed to Queens Wharf for events including exhibitions and tours of HMNZS Otago.
About 10,000 tickets were sold for the ASB Auckland Seafood Festival, at the Viaduct, which started Saturday and finishes today. And the International Buskers Festival is in town, with buskers dotted around the central city.
A council spokeswoman said more than 15,000 people went through Shed 10 yesterday, where the exhibition A Story of Auckland, is being held, and HMNZS Otago is berthed. She estimated 8000 visitors on Saturday.
Otago officer of the day Andrew Kuhn said last night that 3800 people had toured the warship.
Bluff oyster farmer Simon Walker, who had a staff at the Seafood Festival, said he had sold almost 700 dozen oysters over two days.
Otago's deck transformed into a stage for live bands last night, with the Navy Band, Motor City Family Funk, Modern Maori Quartet, Tami Neilson, Will Crummer and the Rarotongans, and Annie Crummer performing to a crowd of about 10,000.

Racing fans during the Karaka Million.Photo / Dean Purcell
Karaka Million spectators at Ellerslie Racecourse yesterday dressed in their favourite fascinators to watch New Zealand's richest horse race. Brisbane trainer Liam Birchley won for the second time with the sole Australian-trained horse in the race, Hardline, taking the $550,500 first prize.
At Mangere's Villa Maria Estate, nearly 4000 stretched out in the vineyards to celebrate the weekend with some mighty Auckland musicians - Dave Dobbyn, Don McGlashan and Supergroove - and Christchurch import Anika Moa, as the acts played the second date of their national Winery Tour.
The dusk show attracted a multi-generational audience with parents dragging their offspring to the front to dance, while plenty of kids spent the show skidding down the estate's grassy slopes on winebox cardboard.
That familyatmosphere extended to the stage with singer Che Fu's son Loxmyn joining the Supergroove brass section on some songs. The reunited 90s band proved the high-energy blast of the night; Moa mixed her comedic gifts between songs with tracks old and new; playing together, McGlashan and Dobbyn unfurled one anthem after another as the perfect day turned to a perfect dusk.
To celebrate Auckland Anniversary Weekend there was a dazzling fireworks display from the SkyTower and three barges 300m off Queens Wharf.
The night was capped off at 9.30 with a dazzling fireworks display from SkyTower and three barges 300m off Queens Wharf.
For some, revelling in the long weekend weather did not end well, said police northern communications shift inspector Shawn Rutene.
A man was transferred to Auckland City Hospital from a Herne Bay beach in critical condition yesterday after he was found floating in the water.
Mr Rutene said emergency services were called to the beach near Cremorne St at 2.30pm.
Soon after, a boat capsized at Maketu in the western Bay of Plenty.
Mr Rutene said two people ended up in the water, but were wearing life jackets and were able to be pulled to shore by beachgoers.
There was also an influx of reports for the Coastguard's northern region, said duty officer Johnny Clough.
"We have been absolutely frantic with radio reports of breakdowns."
Mr Clough said there were so many boats on the water, three extra staff were working to deal with a radio call every 15 seconds.
Police were also patrolling the harbour, including around the viaduct, Queens Wharf and Wynyard Quarter. The Deodar and two rigid hull inflatables were on duty from 6.30 until after the fireworks. Patrols made sure boats stayed out of the fireworks zone and away from commercial ferry routes.
- Additional reporting: Russell Baillie, Morgan Tait
Another day of blue skies ahead
Keep the sun cream handy as Auckland's birthday will be a scorcher.
Aucklanders celebrating Anniversary Weekend have already basked in two days of sunshine and today looks set for more of the same.
MetService meteorologist Mariken Van Laanen said Aucklanders should expect a "really nice day" with clear skies and sunshine and a high of 26C after yesterday's high of 27C.
However, a change was on the way, she said, which should make it easier for those heading back to work tomorrow.
There would be a few clouds around and the odd shower in the north, she said, as the ridge that has been sitting over the country begins to move away.
Auckland has already averaged almost 1C over the mean January temperature at 20.3C, Ms Van Laanen said.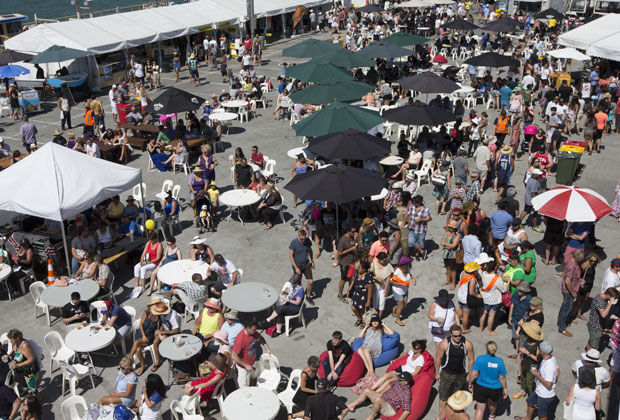 Crowds at the Viaduct Harbour, during the 175th Auckland Anniversary celebrations, Auckland Anniversary weekend. Photo / Brett Phibbs
It has also been a dry January, with just 9mm of rainfall, compared to the usual 66mm in Auckland for the month.
- NZME.
Today's events
Food and craft markets, ASB Kids Zone and entertainment: The Cloud
Ports of Auckland SeePort: Captain Cook Wharf
Auckland International Buskers Festival: Queens Wharf, Lower Queen St, Eastern Viaduct Karanga Plaza A Story of Auckland: 12pm-6pm: Shed 10
Ports Of Auckland Anniversary Day Regatta: 11.40am-12.15pm - Races start off Princess Wharf at 5-min intervals;
1pm-5pm - Hauraki Gulf Race
Laneway Festival: Silo Park.