Key Points:
It must be love. All Black captain Richie McCaw is on the road with international rugby tours for the next four weeks, but he took time out of his hectic schedule over the weekend. He romanced girlfriend Gemma Flynn and played the supportive plus-one before jetting out to Chicago. Richie and Gemma, who have shunned engagement speculation, spent a couple of cosy romantic nights together in Masterton, not far from where hockey star Flynn and the Black Sticks had a match. The Kiwi hockey team beat Team USA in Carterton on Saturday and McCaw was cheering from the sidelines trying to look inconspicuous. But the normally unemotional skipper very clearly wore his heart on his sleeve as he showed his staunch support for his girl. Richie joined Gem's schoolteacher mum, Michelle, on the sidelines and his presence, I'm told, was all everyone could talk about. "It's just as well the girls won their match [1-0], not that you would have noticed because all everyone was talking about was the fact that Richie was there," a bystander gushed. Another was more pragmatic. "It's great that he's so supportive of his girlfriend, who is an international representative like himself, but it would be nice if he hurried up and put a ring on it. We all love a fairy tale romance."
Despatches from Chicago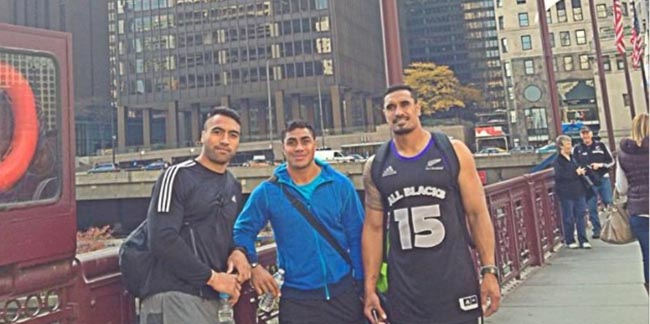 Presumably they're not being paid a dime by the Chicago Office of Tourism, which makes the personal tweets and Instagram posts from the city's newest visitors that much more endearing. The All Blacks are playing the unashamed tourist - sans the rayon bum bags. And it seems they're enjoying every part of the trip. Nothing is off limits. Tweetaholic Dan Carter posted from the plane with a dig at the front row appetite: "First thing Crocky [Wyatt Crockett] thinks when he jumps on the plane? What am I eating for the next 12 hours #frontrowpriorities." Jerome Kaino, sporting the new and unavailable All Blacks basketball-style singlet, played cityscape tourist with teammates Victor Vito and Julian Savea (left). "Walk through Chicago today," he posted. Aaron Smith went one further, playing videographer and posting a selfie-video view along Michigan Ave. Let's hope they keep up the tourist tete-a-tetes. After all, it's a promotional trip designed to ensure lucrative long-term branding and financial deals for the All Blacks in the States.
Hideaway weekend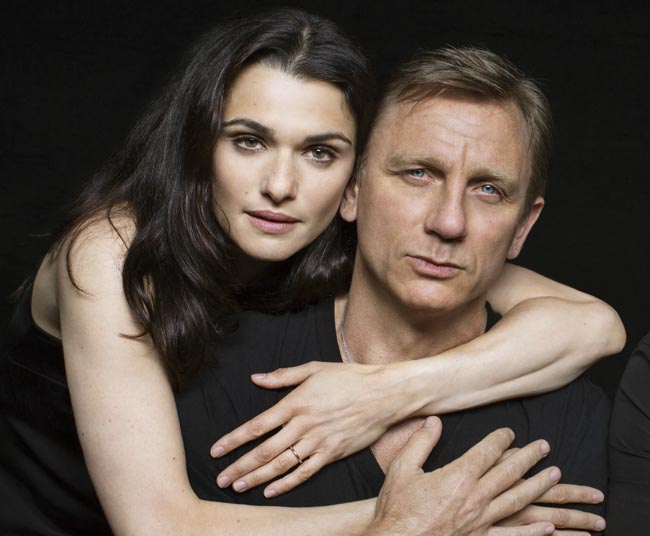 Spending a cosy Kiwi weekend together were lovebirds Daniel Craig and Rachel Weisz (above), who spent a very chilly two days rugged up at exclusive Matakauri Lodge in Queenstown - the $12,000-a-night bolthole where the Duke and Duchess of Cambridge enjoyed a romantic night away from Prince George in April. The British actors, who wed secretly in 2011, have been maintaining a very low-key appearance in the South Island where Weisz has been shooting the period drama
The Light Between Oceans
. Pity.
Pulling Swift one on Lorde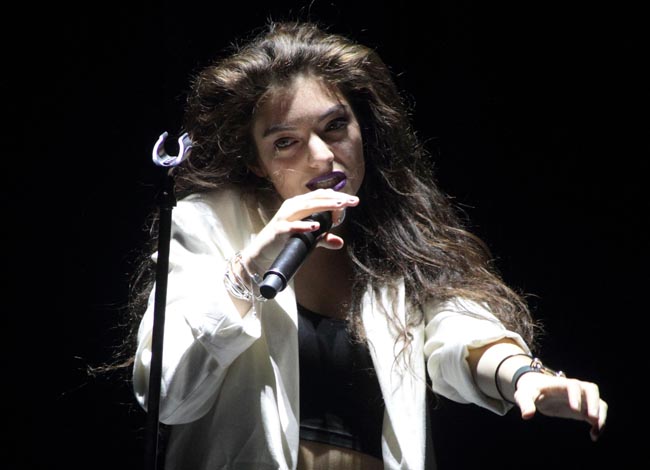 The Twitter exchange between pop princess Lorde (circled) and American actress Lena Dunham on Monday proved girl power is alive and well. The two took to the social media site to plug their mutual bestie Taylor Swift, whose album 1989 had dropped. Dunham's boyfriend Jack Antonoff co-wrote two tracks on the record, although in all the girl-gushing the American actress forgot to mention that. However, Lorde - Taylor's current award-show BFF/recreational-cooking classmate - has every right to be miffed, says
New York Magazine
, who accused Swift yesterday of pulling a swifty and ripping off Lorde's "moody, electro-minimalist vibe" in two new tracks. If Lorde was upset, she didn't show it. The teen is on tour in the South Island and preparing for her upcoming performance at the American Music Awards next month.
It's all out
As washed-up pop star Robbie Williams took the overshare to a whole new level yesterday live-tweeting the birth of his second child as his poor wife went into labour, New Zealand's pop star Stan Walker disclosed a little too much information about his experience at SoulFest on the weekend. Way too much. "Yeeeah got 2 do the haka for the Soulfest fallas Angie Stone, Anthony Hamilton, Common etc ... Was awesome until I ripped my pants going too hard, nek minute all hanging out and no undies ... Shaaame. #freeballing," Walker posted to Instagram. Thankfully the video failed to provide unimpeachable proof.
Look who we spotted
Who:
Michael Fassbender getting his derriere groped.
Where:
Dunedin neighbourhood eatery No 7 Balmac, which has become a popular hangout with the cast from
The Light Between Oceans
.
When:
Sunday.
What went down:
A female diner posed with Fassy and a gal pal for a quick pic, then later apologised to him on Twitter for her friend, who apparently "didn't mean to have her hand on your bum". Not that Fassbender looked to be complaining.
* Read part one of The Diary here.