Few artists would dare open an album - let alone a double set - with a spare song based on the words of their accomplished poet father ... especially when the worthy sentiment sounds like the old faux-philosophical hippie poster Desiderata.
But Lucinda Williams - decades into an acclaimed career, now on her own label and with a faithful following - can take that chance. Whether it's a good idea is another matter. Compassion certainly links back to the title track of her last album Blessed, but thereafter we are frequently dropped into indulgently familiar lyrical and musical territory where souls are bared, and Williams' increasingly lazy drawl can sound like a tedious trope.
The excellent, slurred West Memphis with Tony Joe White being himself on swamp guitar and harmonica is about the West Memphis Three, but Something This Wicked Way Comes, again with White, works a similar groove.
Many of these songs - East Side of Town, Cold Day In Hell, Stowaway in Your Heart - are lesser and uninteresting vehicles elevated by the band, but, as an office wag said, the guitarists sound like they are paid by the solo. To that we might add, Lucinda by the verse.
Much here could have been chopped and channelled into a taut single disc of country-soul.
There are very ordinary songs many of which seem generically Lucinda (Foolishness, Wrong Number, Walk On, It's Gonna Rain) and in many ways this - with its musical references to her voluminous past, the shift from downbeat country ballads to angry rockers - comes off like the double live ("please welcome Tony Joe White/Elvis Costello") of unrecorded back-page songs. But without the applause. The languid, 10-minute version of the late J.J. Cale's Magnolia at the end sounds like a fine encore though.
Of course, there are nuggets - Stand Right by Each Other, This Old Heartache and others will resonate with battered souls, Big Mess a bitter but soulful gem, the angry ones among the best - but as a longtime fan, acknowledging this has been hailed in some quarters, Spirit seems like no more or less than an interesting but overly familiar Williams album which - too often - sounds like clearing house of ideas. Yeah. But nah.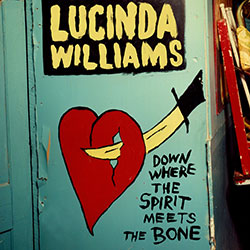 Label: Thirty Tigers
Verdict: So far down the track and so famil-yuh.
- TimeOut