This Friday at 4pm, the music television channel which was previously known as C4 becomes The Edge TV - a TV channel tying into national radio station The Edge.
You'll find it on Sky channel 114 or Freeview channel 11, as well as being able to find it online at theedge.co.nz and on mobile devices.
So what will you find on The Edge TV - and why does it exist?
It's not a live feed of radio screening on TV, but more like a traditional music TV channel with the vast majority of content being music videos and hosts talking about those videos.
But, there will be what The Edge programme director Leon Wratt calls "original pop culture content" too - entertainment news and celebrity gossip, interviews with artists, competitions and any particularly memorable material captured on camera in the radio studios.
"For example, when Ed Sheeran came into the The Edge earlier this year, he performed an acoustic cover of Lorde's Royals after learning the lyrics during an ad break, and tattooed a guitar on to Dom Harvey's arm."
It's this type of content that will appear on The Edge TV - mostly in a weekly Sunday night show called The Edge Fat 40, but also sprinkled throughout other segments.
Viewers can expect similar music content to that offered by The Edge radio, but Edge TV content manager Ross Flahive explains there is room for them to move beyond that high-rotate playlist too.
"We are unashamedly catering to a mainstream audience. In saying that, The Edge TV will offer a broader playlist, and allow a visual platform to break songs and artists that haven't been seen before. So, as well as Beyonce and 5 Seconds of Summer, you'll see Milky Chance and Foxes."
If you were wondering whether or not people actually watch music videos on TV anymore, Wratt says that music channel viewership has actually increased with Freeview and that there's even more scope when people are able to access it on multiple platforms.
"The reason is simple. Sometimes consumers want to sit back and let the channel choose the music. Music television still plays a fundamental role in music discovery."
The various shows will all be hosted by current Edge radio station staff rather than specific new TV presenters, but Wratt seems confident they will successfully cross over.
"With The Edge website constantly producing video content, our announcers are no strangers to being in front of the camera. And a number of our hosts already have television experience." Guy Williams made a name for himself on Jono & Ben at Ten and Sharyn Casey has been a long time host of FOUR Live.
There is one show that's raising a few eyebrows - called Perve, it will screen at 10pm on Sunday nights, and is billed as "the sexiest clips in the world today". Flahive says: "Perve is just a bit of fun, in the cheeky spirit of The Edge."
See below for the schedule: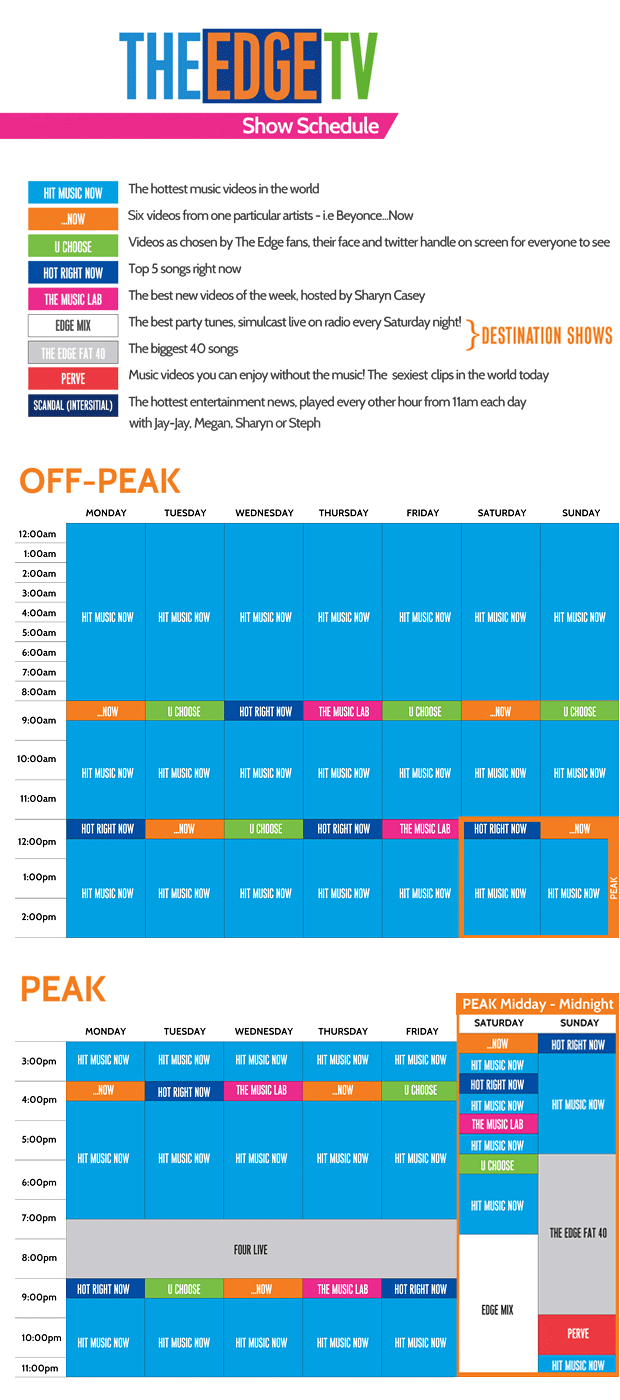 -TimeOut