All Black star Dan Carter and wife Honor have a new home - a $3 million house in swanky Remuera, a stone's throw from the golden mile of Victoria Ave, one of New Zealand's priciest streets.
The glamour couple bought the property in April but are yet to move in as the two-storey 1920s Cape Cod-style house is undergoing major renovations.
In recent years the pair have spent their time between a Parnell townhouse in Auckland and their former home in Christchurch, where Carter plays Super Rugby for the Crusaders. Their latest investment indicates Auckland will be the place where they are permanently based. Could it also signal Dan's move to the Auckland Blues?
The large house on a 665sq m section has four bedrooms and two bathrooms. The property also has a swimming pool and gardens that need precision hedge-clipping. Spy hears the master bedroom upstairs is massive, so there is plenty plenty of room if the couple decide baby Marco needs a sibling.
The house has seen many fashionale dinner parties. It was sold last year by fabric movers and shakers Paul and Sara Watkinson to socialite David Ring's Australian partner, James Vaile for $2.5m. Vaille then flicked it on to the Carters for $3.05m, $450,000 less than their asking price.
The Carters will be in good company when they walk to the local Victoria Ave dairy. Regulars include Mike Hosking and Kate Hawkesby's clan, Grant Dalton, rich listers Fleur and Marc Francis and the Mad Butcher's daughter Julie Morton and husband Michael.
Man wanted for the fabulous Nici Wickes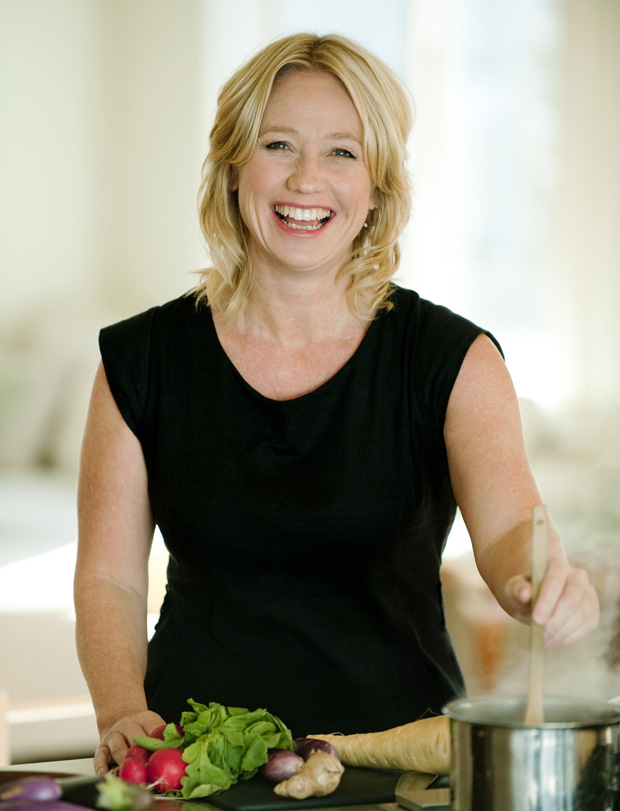 There's a new must-have MC in town and it's celebrity cook Nici Wickes. The blonde bombshell wowed guests at the well-lubricated fifth annual Selaks' Roast Day media lunch at Cibo's on Tuesday with tales of her topsy-turvy love life.
We learned that there was a horticulturalist on the scene last year but she is currently living alone. She is open to offers and would happily whip up a roast dinner for two.
She certainly had us eating out of the palm of her hand. In fact, we can't understand why she's single. She's fun, gorgeous - and can cook. Someone find that woman a boyfriend. And when they do, make sure you tell us.
Pic of the week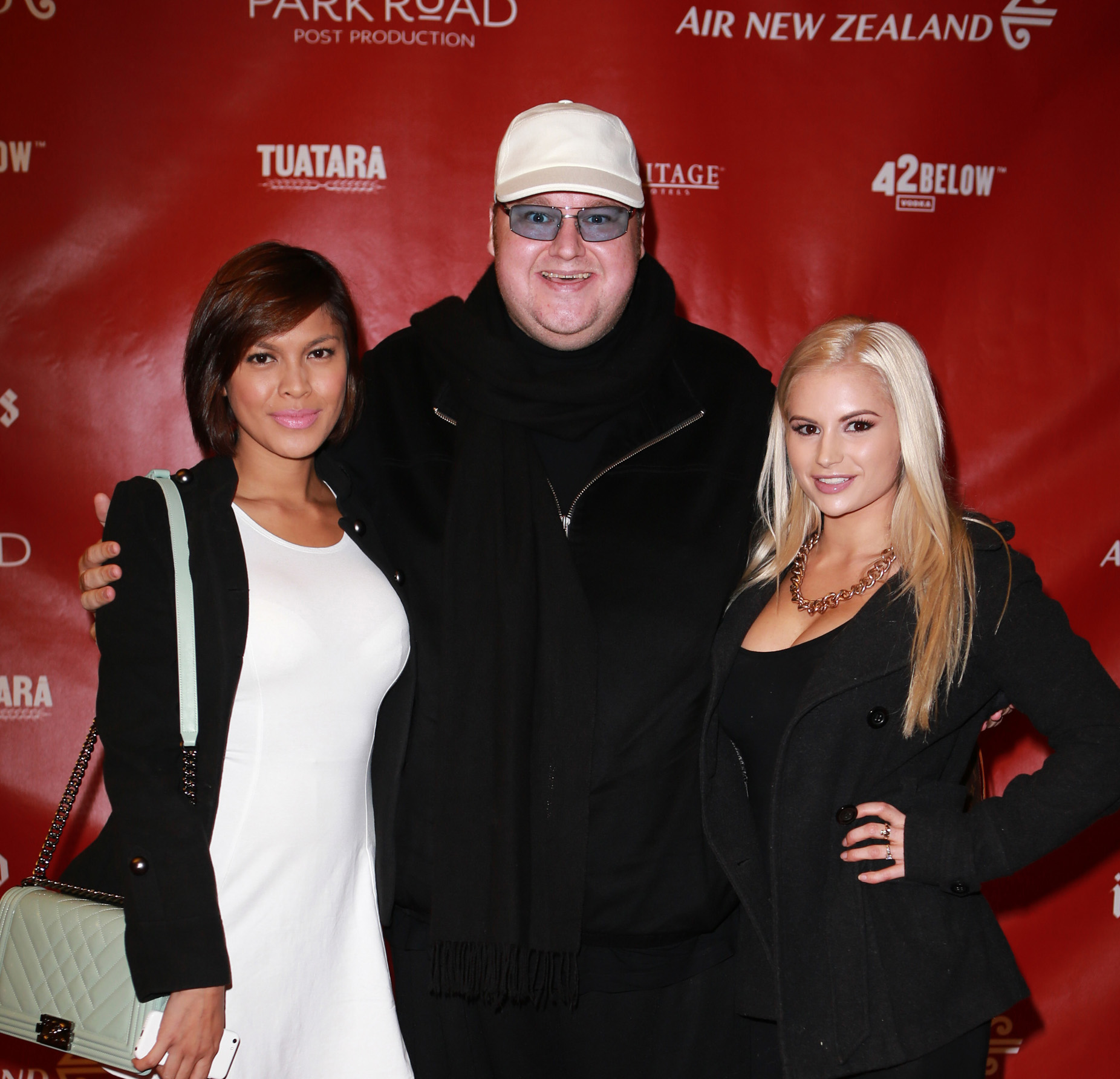 The good times continue to roll for the newly single Kim Dotcom. Last week we reported he didn't seem to be missing wife Mona, who left the Coatesville mansion several weeks ago, because he was excited to have glamour model Danielle Sharp in his video.
And at the What We Do in the Shadows movie premiere he arrived, flanked by good friend and glamour model Juliana Palermo and young bikini model Amy Johnson.

He was overheard saying "I'm with the two hottest girls in the room". Spy hears there were also some glamour photoshoots at the mansion this week.

Hi-di-HAKA
Madcap Su Pollard - best known as Peggy in Hi De Hi! - was very keen to learn the haka while in New Zealand for her role in the hit show Annie. League legend Monty Betham was bringing his family to opening night last weekend and arrived early to teach Su - who plays the gin-soaked Miss Hannigan - the moves.
Word spread among the cast that Betham was coming in and almost everyone turned up for the lesson, including 87-year-old Audrey Leyborne, who plays Mrs Pugh, Daddy Warbuck's head cook.
Su's fabulous pins were a knockout and dishy Mig Ayesa (aka Rooster) - a finalist in Rock Star: INXS and star of We Will Rock You - showed he had plenty to crow about.
The cast loved learning the haka so much that they incorporated some of the moves into the finale on opening night.

A Hooton good time
Right-wing political maestro Matthew Hooton raised eyebrows with a risque stint as guest speaker at a recent finance gig.
Corporate talkfests can be dull affairs, but that's not a charge that can be levelled at Hooton. He was addressing guests of global investment company Elevate Capital at Parnell's Holy Trinity Cathedral when talk turned, unsurprinsgly, to politics.
Those gathered asked Hooton if he thought Kim Dotcom had any dirt on Prime Minister John Key - and in answering, Hooton ended up sharing a tale about a former cabinet minister supposedly caught up in a scandalous sexual expose. Names were named and sex acts described. There was even said to be a mysterious video of the affair.
Hooton was unimpressed someone present broke the Chatham House rules of the evening's event to share the story with Spy. Turns out it had been a busy day for Hooton - he'd earlier hosted a fundraising lunch at the Northern Club for former Labour MP Stuart Nash.
"Both events were fun and boozy, so yeah, as part of a double work jump, I was a little worse for wear," Hooton told Spy.
With a performance like that, we're sure you'll be invited back next year, Matthew.
Rivals across the ditch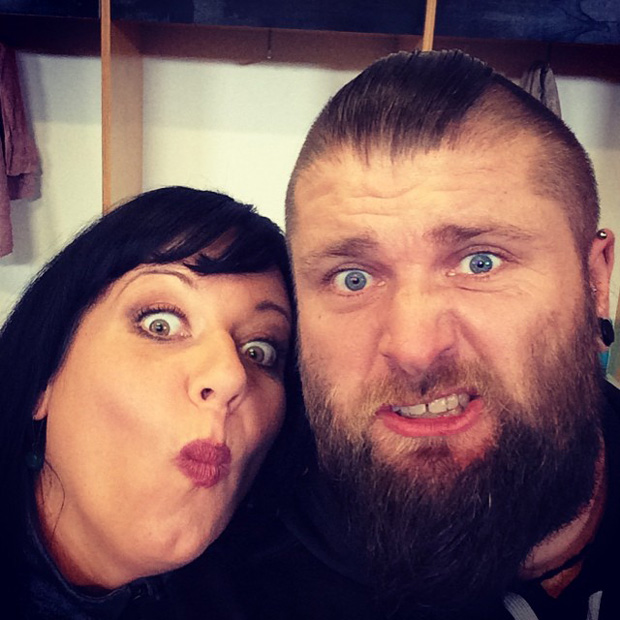 Kiwis love to see themselves on reality shows and TV2 has negotiated well to get five New Zealand teams competing against their Aussie counterparts in the upcoming season of The Amazing Race Australia. And good job, really - the original US show is hosted and produced by Kiwi Phil Keoghan, after all.
The Australian version is hosted by another Kiwi, Outrageous Fortune's sexy
Grant Bowler, so surely the odds are in our favour for the reality show version of The Bledisloe Cup. Sadly, no.
Bowler (a resident of Venice Beach in LA) told Spy: "The trans-Tasman rivalry has intensified this year's competition and the vibrant mix of teams made for a thrilling ride. I have a New Zealand family and an Australian family, so I'll gladly consider myself Switzerland and stand on neutral ground."
The show has a serial reality contestant too - NZ Idol fans will remember Jesse O'Brien who came fourth in NZ Idol in 2005 after withdrawing from the 2003 competition to be at the birth of his daughter. Nearly 10 years later he and wife Carmel have a family of three and they told Spy they wanted to win this for their kids.
Radio soundz only for Aucklanders
One of Spy's favourite ladies about town, Mel Homer, launches a new one-woman radio show tomorrow - one she describes as "unashamedly Auckland selfish".
The ex-Radio Hauraki lass will be on Mix98.2, a station targeted at the yuppie and grunge generations that will deliver music to relive their glory days, between the very civilised hours of 8am and midday.
"I give everyone the heads up on what they could do with their afternoons and evenings."
She will be talking about her nights out mixing it up with the quintessential Auckland pursuits of fashion, style, food, dining out, wellness and entertainment. (Her current favourite bar is Mekong Baby for the chilli ginger vodka cocktail, and her favourite eating haunt is New Flavour on Dominion Rd for their dumplings).
"I will have various 'interesting' guests joining me. Imagine the conversations ladies have while queuing for the loo or chatting over carrots and dip. They are hilarious." Is it a chick thing, we asked? "Hell, no. I'm mixing my Hauraki game into the show's music and if a man picks up his lady's women's mag, he will tune into the show."