Katy Perry has finally confirmed New Zealand dates on her Prismatic world tour for December 19 and 20. London-based Des Sampson and his daughter get a sneak peek at what Kiwis are in for.
Key Points:
Girls just wanna have fun and when that girl is your seven-year-old daughter embarking on a 450km-round trip to her first-ever gig, it doesn't get much more fun than seeing her idol, Katy Perry, near the start of her Prismatic world tour. Even the mad, straight-after-school dash to catch the train from London to Sheffield - following an obligatory costume change into a suitably Perry-ish polka-dot blouse and cheerleader skirt - were all just another part of the adventure. Arriving moments before the show's kick-off, the 13,500 capacity Motorpoint Arena Sheffield was already abuzz. A dazzling laser display, towering 3D pyramid prisms and three giant screens fuelled expectations among the waiting throng of teenage dreamers and bemused parents.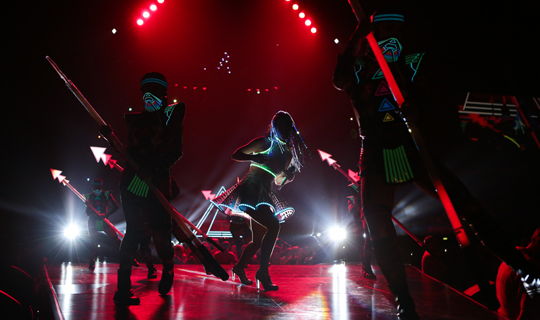 Tribal dancers with tridents and skin-tight, glow-in-the-dark costumes heralded the arrival of Perry, who stormed the stage in a silver crop-top and fluorescent skater skirt and let rip with Roar. It was the start of an explosive, two-hour extravaganza of pomp, pop, fun, frivolity, burlesque and banter.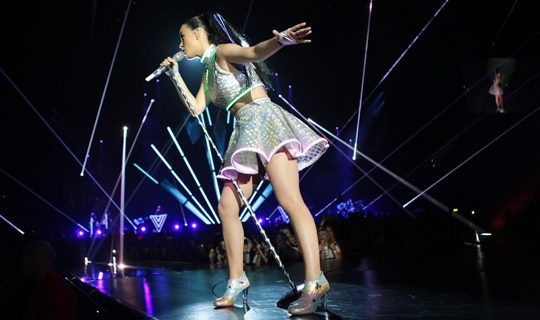 Part of Me was greeted by a cacophonous cheer, as was a disco-fuelled version of Wide Awake, with Perry racing down a moving runway into the crowd before being catapulted high into the air on a raised platform then disappearing into a smokescreen, to re-emerge as an Amazonian warrior to sing This Moment and Love Me. The mood changed, and so did Perry again - into an Egyptian queen outfit - as she emerged from beneath the stage, and trotted around on a golden stallion, to deliver a hypnotic rendition of Dark Horse. ET came accompanied by a full trapeze act of Egyptian-clad dancers, as Perry was herself hoisted aloft to perform vocal - and actual - gymnastics, during Legendary Lovers.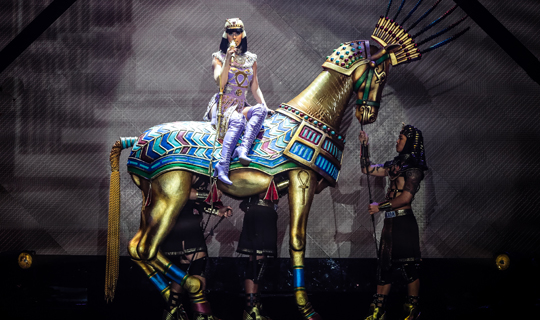 It's proof that the Prismatic tour is an audacious - sometimes ludicrous - mega-bucks, Disneyesque production. It combines both the sublime and the ridiculous, with trapeze artists and acrobatic choreography competing with tap-dancing cats, a giant inflatable Cadillac, pyramids, giant party balloon rides, butterfly hats and dayglo skipping ropes. Perry's role is to play the feisty, mischievous heroine who braves a succession of designer costume and hair changes during a series of spectacular entrances and exits.
Perhaps the most bizarre section of the show came midway through, when Perry recast herself as the animated "Kitty Purry" who lives in "Kittywood" during the "Cat-oure" part of the concert. Dressed head to tail in a catsuit, she meowed her way through I Kissed a Girl, International Smile and a sassy, jazzy version of Hot 'n' Cold. It had my daughter grinning like a Cheshire cat in wide-eyed wonder.
Swapping the silly for the serious, Perry glided into the audience under a giant sunflower canopy for a toned-down, more confessional segment of the show which included By the Grace of God - which she reveals was her response to the lowest point of her life, notably her split from Russell Brand - and the heartfelt One That Got Away and Unconditionally. Cue multiple mobile phones held aloft, as yet another costume and hair change ensued, this time into a Tinker Bell-inspired fairy dress for the pop anthem Teenage Dream and during Walking on Air, Perry did just that - thanks to a guy-wire that whisked her off into the heavens. The carefree, bubblegum pop of It Takes Two and California Gurls, with Perry parading around the stage in a giant, pink, inflatable Cadillac changed gears up again, inspiring a good-time, party feel. "You could have been down the pub this Friday night, but you chose to spend it with me. "I'm touched by that. Shall we do it all again, next Friday night," cooed Perry, before fittingly launching into a poptastic party version of Last Friday Night. "Was it anyone's birthday today, or yesterday? Put your hands up if it was," she added, before beckoning a fan on stage, seating him on a throne, pouring him a beer, giving him a peck on the cheek and singing Birthday to him as the throne ascended into the rafters.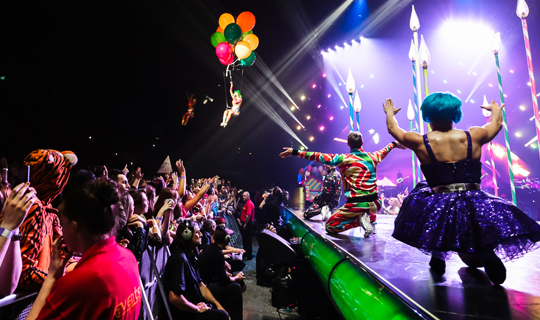 As two hours in the company of the world's most expensive children's entertainer came to a close, it was hard not to smile at the sight of Perry floating above the crowd on the end of a birthday cluster of balloons while the birthday boy, plucked from the crowd, became the cherry on top of his own revolving birthday cake. It was sweet, but mercifully not sickly.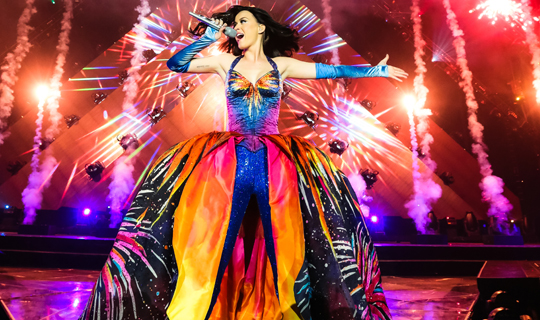 The carnival atmosphere continued with a shower of confetti, as Perry launched into a fitting, fiery finale with a fizzing Firework before disappearing amid an explosion back into the prism she had emerged from at the start of the show. In all, a cracker night, or, as my seven-year-old daughter, Sylvie, remarked: "Kitty Purry was purrfect ..." Who: Katy Perry Where and when: Vector Arena, Friday December 19 and Saturday December 20 (Both shows will go on sale simultaneously and no further dates will be added). Tickets: Visa cardholders pre-sale, from 9am, Tuesday, June 3 until 5pm and Wednesday, June 4 or until presale tickets sell out at visaentertainment.co.nz; General sales from 9am on Friday, June 6 from ticketmaster.co.nz - TimeOut