Fans of popular cartoons The Simpsons and Family Guy are in for a treat when an hour-long crossover episode airs in September.
Fox has confirmed the special's release date and celebrated with not one, but two hotly-awaited first look pictures.
Seth MacFarlane's Family Guy will take the episode, titled The Simpsons Guy, which looks set to involve the Griffins going on a road trip to The Simpsons' famous hometown of Springfield.
Vague details of the storyline have emerged suggesting that the families will get along, with Stewie and Bart and Marge and Lois bonding in particular.
Homer will find a beer-loving pal in "albino" Peter and the pair will debate whether Pawtucket or Duff booze is better.
Bart teaches baby Stewie how to skateboard and Lisa helps Meg find something she is good at.
Fox has also released some amusing character "quotes" about what they make of the forthcoming episode. "Fox hasn't spent this much money since they took Simon Cowell tight T-shirt shopping!" says Peter Griffin with Homer adding: "Finally I can get my hands on this guy!"
Kevin Reilly, Fox's entertainment chairman, has promised that "generations of fans will be talking about this one".
Meanwhile, The Simpsons is gearing up for its own version of Game of Thrones' "Purple Wedding", with a "terrific character" set to die in a coming episode.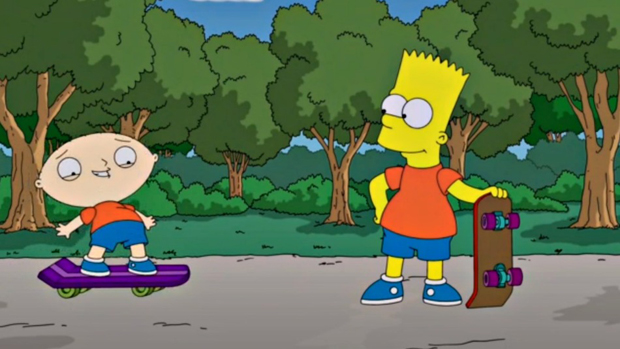 Bart teaches baby Stewie how to skateboard.
The decision to "kill off" a character follows the show's decline in ratings.
The award-winning cartoon series received its lowest viewing figures in the US last month, pulling in just 3.4 million viewers on April 27.
The Simpsons screens on TV3 in New Zealand.
- Independent