He is a favourite of the royals - going golfing, grouse hunting and getting a personal tour of Balmoral by the Queen - but Prime Minister John Key has had his offer of a home-cooked meal at his family home in Auckland's exclusive Parnell turned down by the Duke and Duchess of Cambridge.
The royal couple, who arrive here next week with Prince George for their first tour of New Zealand together, politely declined Key's invitation because they chose not to stay overnight in Auckland.
"They said no because they want to be back in Wellington and close to Prince George," an understanding Key told The Diary.
But you get the sense he would have had fun manning the barbie, pinny on, beer in hand, entertaining Prince William with anecdotes about the leaders of the free and suppressed worlds, America and China. Key is nothing if not a dazzling raconteur.
Son Max would have regaled the second-in-line with his recent adventures - bungy jumping, golfing with Obama in Hawaii and in Queenstown at 1400m.
The Cambridges arrive in Wellington next Monday, and Princess Diana's former private secretary, Patrick Jephson, told The Diary they will be intent on making sure "everybody they meet comes away feeling that they are special".
Jephson said William's mother, "loved going on overseas tours because she could always relate to ordinary people". He recounts one trip to an Aids centre in Zimbabwe run by nuns, and away from the glare of the cameras, where the late Princess Diana tucked the children into bed and said their prayers with them. "There were tears rolling down her cheeks, and no one saw it."
However Jephson, who doted on the world's most famous woman, now takes umbrage with members of the royal family being made into celebrities.
He said: "The royals are not part of the entertainment industry. They are not rock stars. They are not part of showbiz. Their advisers are seduced into thinking they are celebs. But it is duty that is most important ... It is more important than ever that William and Kate are able to be spontaneous, to be authentic, to be real themselves."
A casual meal with the Keys would have been just the ticket.
Carter's celeb mates
He celebrated his son Marco's first birthday on Friday with a round of golf in Hong Kong. Dan Carter has taken to sabbatical life with aplomb.


For the past seven months he's rubbed shoulders with the likes of Jamie Foxx, Ed Sheeran and Steven Tyler at Elton John's Oscars party; racing driver Mark Webber at the Australian Grand Prix; and, last week, attended the Laureus World Sports Awards in Malaysia, posing arm-in-arm with yachting foe Jimmy Spithill.


Next month he heads to the US Masters at Augusta. We trust Honor is tagging along everywhere - or at least getting used to being a schmoozing widow.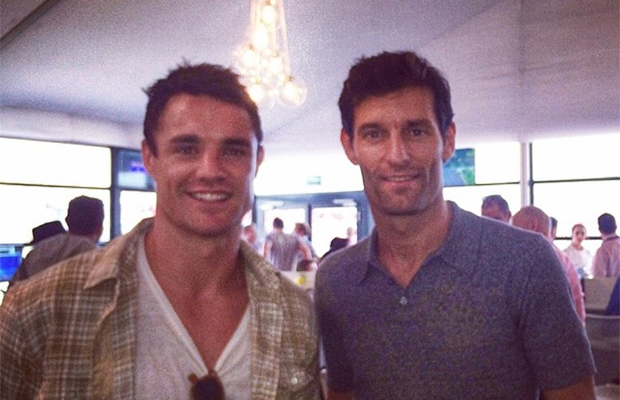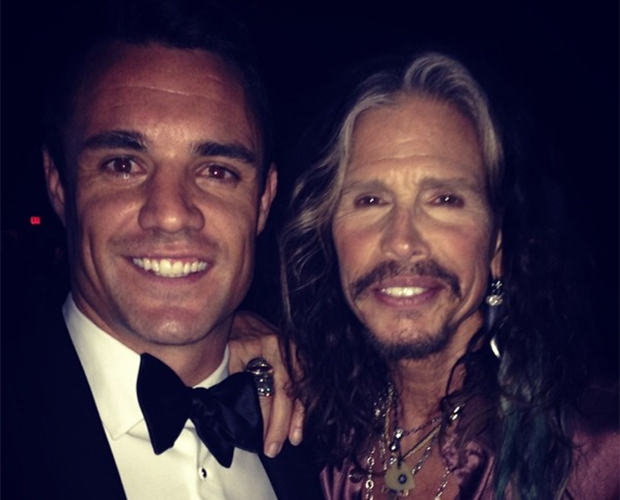 Nats target RNZ journo
Former rugby WAG Nicola Grigg says she has turned down an offer by National Party board member Roger Bridge to put her name in contention for the Port Hills and Waimakariri electorates.


Richie McCaw's ex-girlfriend is a journalist at Radio New Zealand, and is wary of being seen as having political bias. Yesterday she told The Diary she has "no plans to go into politics" with the Nats and believed her family's long standing with the National Party was the core reason she was asked.
"Yes, I was approached for both Waimak and Port Hills, but I declined both. My family have long-standing ties with the National Party, but I am not a card-carrying member."
Prime Minister John Key did not believe she would have made the cut. "I heard from Richie that she's right-wing," he told The Diary. "But she's not part of the [National Party's] Candidate College and she's not a member of the party. Certainly no one has come to me with me her name." However, The Diary understands Grigg does have the support of senior Nat players, including friends Amy Adams, Gerry Brownlee and Nikki Kaye. Boundary changes for the Port Hills electorate are due to be confirmed on April 17.
Politics in brief
The best slap-down, so far, in denying an alliance with Kim Dotcom goes to Labour MP Shane Jones, who, when asked if he is the defecting MP moving to the Internet Party, snorted: "The only Dot in my life is the missus!"
Former TVNZ weatherman Tamati Coffey is used to the bright lights of household fame, which is perhaps why he is retaining his celebrity agent, Sara Tetro. But does Labour's new candidate for Rotorua really need a celebrity wrangler now?
Did Trevor Mallard pop the question to longtime girlfriend Jane Clifton, political wit of The Listener? Rumours swirled on Friday that the lovebirds are engaged. Colleagues across the political divide were not surprised. "Taken long enough," chortled one Labour luvvie. Word is, they're keeping the news on the down-low. So discreet, neither returned The Diary's calls.
Clifton, who has no problem exposing the liaisons of political faces in the pages of the weekly mag, is reticent, however, when it comes to her own love life. Well-placed political sources say she had to break the news to former flame Murray McCully.
Paula Bennett is putting on her pumps and hosting a glamorous fundraiser tonight to raise money for her electoral campaign. Ponsonby Central will be a decked with shoes and accessories to buy for the discerning female. Males will get a look in, too, with a man cave of goodies. Mary Lambie will MC the event, alongside the maven herself. Bennett promises lots of laughs.
Oh, no he di'int!
RadioLive newsreader Hilary Barry broke into a fit of giggles on Friday when the typically adroit Marcus Lush suffered a seriously dim moment. Following her report on the skeleton recently discovered in the Leicester car park possibly not being that of the 15th century king, Richard III, Lush queried: "Why would you have a battle in a carpark?" Barry snorted with laughter.
Lushie clicked: "Oh, it wasn't a carpark then, was it? ... Yes, um, okay."