There are probably a handful of individuals who can make an orthopedic boot look stylish. From watching Gillian Anderson - dressed in an all-black ensemble with matching walking brace on her right foot - navigate her way through the lobby of London's Mayfair Hotel, it's apparent she's one of them.
Before any words are exchanged, she points, and says, "So, I fractured my foot jumping into a swimming pool that was too shallow in Costa Rica." Finding a nearby seat, she gets settled and adds, "It could have been a lot worse."
The award-winning actress, who last year was made an OBE, is promoting the fantasy sci-fi TV series, American Gods, in which she plays the deity, Media. She materialises as such iconic figures as Lucille Ball, Judy Garland, Marilyn Monroe, and David Bowie.
Understandably, it was a role she couldn't turn down. "To get to play all those different roles was a gift. I probably had the most fun playing Marilyn, because she's so bright and lighthearted." She smiles. "And I am not. So it was fun to jump into that persona."
Anderson has had an interesting relationship with the media, going back to her first brush with fame back in 1993, at the beginning of what was to become the phenomenon that was (and continues to be) The X-Files.
"When I see photos of myself when The X-Files had just started, I always had this look of disdain on my face. I have this same grumpy expression of, 'God, do I have to do this? What is all this shit about?'" She says laughing.
"I think that over time, as I have become older, I have learned to appreciate the importance of it. When you work hard on something, you want to get it out there in the right way so it is perceived the right way."
This 48-year-old actress and mother of three has a no-nonsense demeanour, and she's direct and frank. We chat about social media and her involvement with it -- or, rather, lack thereof.
"I don't tweet. I've got a buffer, fortunately for everybody. She's a woman who runs my website, and tweets if it's something to do with a charity or a particular episode. But I don't comment on social things," she says.
As a public figure, perhaps she's concerned about how her posts could be misinterpreted? She laughs. "I just don't think anybody gives a f*** about what I have to say, to be honest. Nor should they.
"I've got nothing really important to say about so many things, so I'm not going to just pitch in. I dabble a bit when it feels like it's useful, created woman but that's the extent of it."
Anderson was born in Chicago. Her mother worked as a computer analyst and her father owned a post-production film company.
When she was 2, the family moved to London to enable her father to attend the London Film School.
By the time she was 11, they had moved back to the US, where she spent her teenage years in Michigan. She currently lives in London and speaks with an English accent.
"Well, I grew up in England and spent my formative years here, in Crouch End and Harringay. And when we moved back to the US in the summertime we would come back regularly, and so it was essentially my first language.
Actually, when I moved to the States, it took me a little while to get rid of my British accent, and now I have lived here for the past 15 years, so it was near impossible for me not to fall back into it. Also, my kids are British and my partners have been British."
Clearly, London is home. "I always knew I'd move back. London has always been where my heart is, and it feels like the city I'm meant to be in. It gives me happiness, and at this stage of my life, I'm very happy. Very, very happy with my life and what's in it.
Anderson is twice married. Her first husband, Clyde Klotz, was an X-Files assistant art director. They married in 1994, the same year her daughter, Piper, was born. They divorced in 1997, and in 2004, she married Julian Ozanne, a documentary film-maker.
They separated two years later. She then began a relationship with businessman Mark Griffiths, with whom she has two sons, Oscar, 10, and Felix, 8. Their relationship ended in 2012.
Like many parents, she's concerned about her children's relationship with technology. "I am nervous for my children and how obsessed in their minds they get.
"They don't have a lot of game time, but it takes over conversations with their friends and they don't seem to be able to talk about other things," she says.
"All of that bothers me. And to be honest, I witness in myself the kind of zoning-out in conversations with friends whom I care a lot about, because I am thinking about the email chain." She shakes her head. "Somehow that has become acceptable."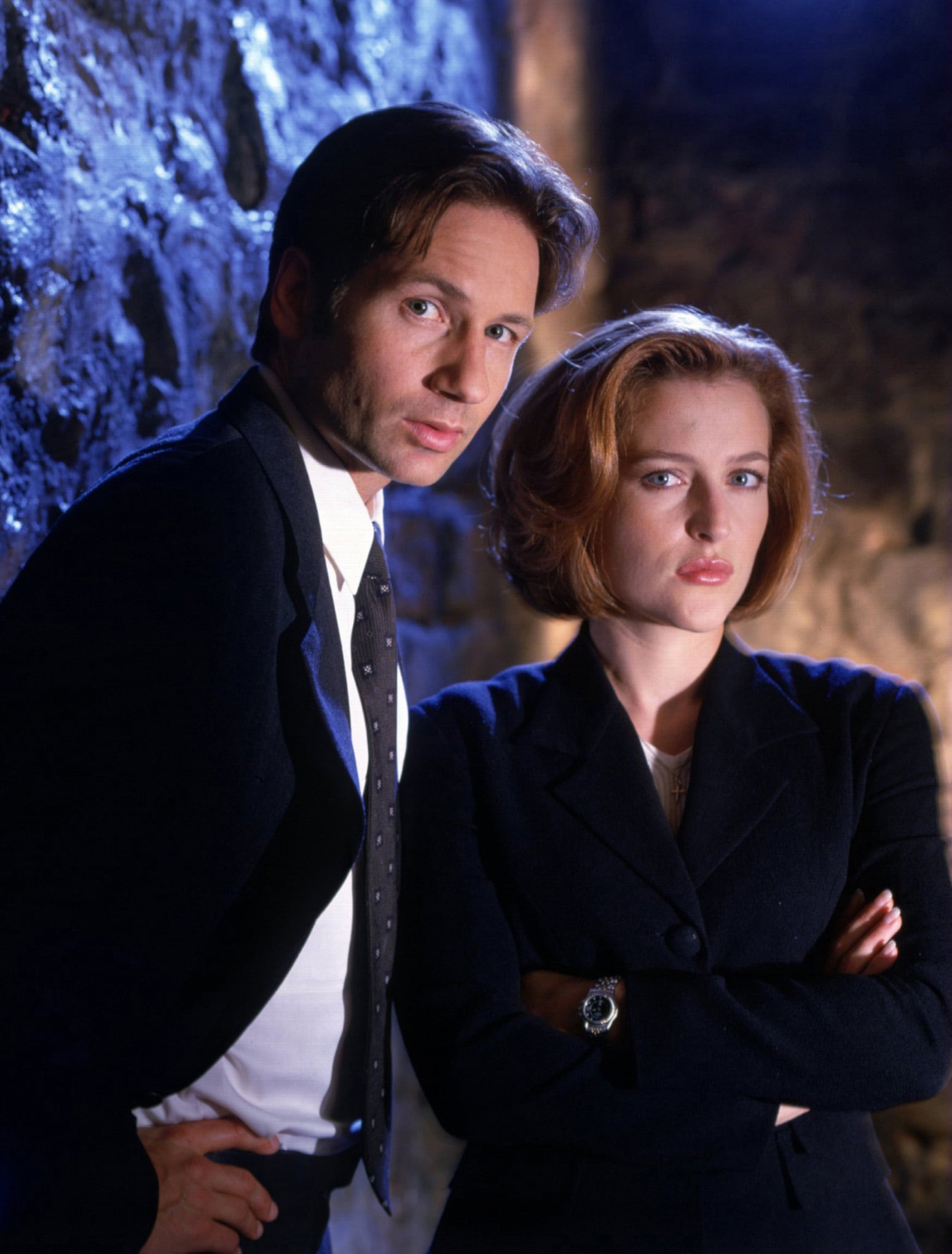 With her ambivalence toward the media and technology, the irony is not lost on her that she would be chosen to play the goddess Media. "If I were really the God of Media, I would probably commit suicide," she jokes. "And kill all the technology with me."
It's interesting that at this time in her life, she is enjoying the most prolific period of her career. She just wrapped Crooked House for the big screen, based on the Agatha Christie novel of the same name, in which she stars alongside Glenn Close and Christina Hendricks.
Last month it was announced that there will be an 11th season of The X-Files, which they will begin shooting soon. She says, "We thought we should have one more go at it. All of us felt that the end of the previous season wasn't a place for us to finish. And we know the fans are still there.
I think the surprising thing was that there's a whole other generation of fans who discovered it through Netflix. To be met by 13 year-olds who are talking about how they've seen all the episodes, or that they've just started watching a year ago and are obsessed over it, that was very surprising," she says.
"The show has a longevity beyond what any of us ever imagined."
Anderson has been able to cultivate a diverse career, which includes theatre, film, and TV, and her roles have run the gamut from Shakespeare to sci-fi. Despite the myriad characters she's inhabited, Anderson is synonymous with her role as FBI Agent Dana Scully.
"It's interesting. I wouldn't necessarily say that I have a relationship to the sci-fi genre except for the fact that I keep working in it." She says laughing. "I've never been a sci-fi reader.
I appreciate certain films -- Close Encounters was a big deal for me when I first saw it but I've never specifically been drawn to the genre." She pauses.
"Apparently it keeps finding me, so maybe sci-fi is where I need to reside a bit longer. I suppose I've become a fan; a reluctant fan."
Lowdown
American Gods is now streaming on Amazon Prime.