Suzanne McFadden uncovers the top 10 interior design trends for 2014.
Key Points:
Luxe Luxe: the condition of being elegantly sumptuous. If in 2014, you suffer from such a sophisticated condition, you'll find yourself surrounded in rich velvets, wide-wale corduroys, high-gloss finishes, brocades and silk. Gone are the crisp, neutral cottons and linens, making way for plusher, rich-hued fabrics. "People don't want sterile anymore; they want a comfy, homely feel," says Shane Senne of Auckland designer furniture house Domo. "You don't want to feel like you're living in your office." On her trip to French interior design fair Maison et Objet in January, Cavit & Co owner Debbie Cavit saw "luxe" everywhere - high-gloss finishes in lacquer and varnish, metallic details, upholstery in sumptuous fabrics and leather. "The fabrics are fabulous brocades, and damask printed on velvets and linens. There is a tremendous amount of velvets from neutrals to beautifully rich colours." It's not just cushions and drapes where velvet is making itself felt, but in bold-coloured sofas and formal chairs. Silk and glazed linen, in deep saturated colours, are also shining in furnishings. Velvet's casual cousin, corduroy, has finally earned some panache in upholstery - the wider the wale (or ribs), the better. Informal luxury is in, Cavit says, "for those wanting to live with beautifully crafted and well-designed items, but have a more relaxed lifestyle". Metallics Copper at home has just got a lot sexier than kitchen pots and downspouts. "We're seeing metallics in candlesticks, mirrors, Tom Dixon fruit bowls - more in the smaller details throughout the home, rather than big bronze walls," says Auckland designer Tim Webber says. Webber has embraced the new desire for metallic accents in his latest press mirrors. Inspired by compasses, the hand-spun powder-coated aluminium frames are finished in copper and bronze. What's the appeal? Copper and bronze emit a warmer glow than silver and are less showy (and less pricey) than gold. Brass and nickel have also become precious metallics. Textile and print designer Emma Hayes has been impressed by Spanish designer Jaime Hayon's metallic lacquer-finished furniture, and Tom Dixon's copper works in lighting. Moody blues Navy is the new neutral. "Dazzling Blue" is the colour of spring 2014, according to authority Pantone. (You may remember Kate Middleton's engagement frock was this bright shade of navy.) Even deep turquoise gets a nod in this year of the blues.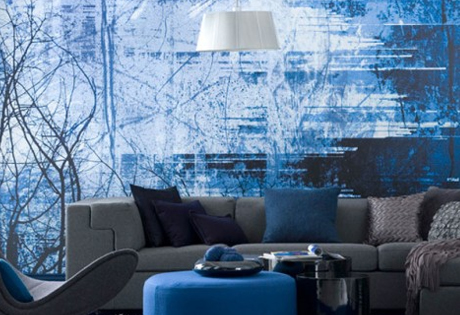 "It's coming through not only in furniture, but on the catwalks and fashion houses of Europe," Senne says. Last year it was grey, but now navy is seen as the new black - softer and more understated. Moody walls in blue are bringing a dramatic backdrop to metallic accents and luxe furnishings. Navy also brings out the best in caramels and warm browns. In this season of saturation, pops of orange and yellow, cerise and violet are also making a play for attention - often in geometric-patterned fabrics and wallpapers. But it's blue - cobalt, indigo, teal - that's leading the mood. Upcycling Whether you're conscious of it or not, you're embracing sustainable living by bringing recycled and upcycled furniture into your home. Old but robust pieces are being reincarnated - reupholstered, repolished or painted to give them new life. Reclaimed wood is getting another lifecycle as floorboards and cabinetry. "Sustainable living is making more sense," says interior designer Donna White, "and so is upcycling - using what you've got and giving it a new life. It's about educating people to see that what they have has a beauty and a value; small signs of wear and tear add character. Good design is green design." Senne agrees that favourite pieces don't have to be perfect. "Kiwis are known for wanting everything pristine and new, where in Europe they like the idea of things being passed down through generations. It's nice to have a bit of a distressed look on your dining table, where every scratch tells a story." Hair on hide Cowhide is being corralled into new corners of design, no longer restricted to the floor. Cavit says hair on hide is being used not only as rugs, in its natural form and in patchwork, but making its move into furniture. "Baxter does a club chair in cowhide, and steel cabinets with cowhide panels which look fabulous in both very contemporary homes and country houses," she says. It's all part of the very tactile look and feel of 2014. If you're not averse to sharing your home with animal hides (and plenty of people are opposed) you can have them on lampshades, cushions and wall hangings. And if you really want to ride this trend, you can go short hair for summer, and long for winter. Macrame It may not be the most-welcomed trend of the year, but the return of 70s craft craze macrame deserves a tip of the crocheted hat. Don't think hanging pot plants and holey tablecloths; today it's wall sculpture - replacing expensive art and funky wallpaper - and even the odd hand-woven chair. Whether you like it or not, fibre-art is making a comeback. Large-scale knits, embroidery and crochet are covering ottomans, storage baskets and lampshades. There's a DIY element to it too if you're creatively inclined. "Macrame, knitting and crochet are all about sustainability and getting back to nature, along with making your own bread, growing your own vegetables," says White. No more matchy-matchy For those who tied themselves in knots worrying about not having the exemplary French country kitchen or cool industrial loft, stop fretting. Design styles no longer need to be letter-perfect - matchy-matchy is out. Mix and match is a much more relaxed and personalised trend.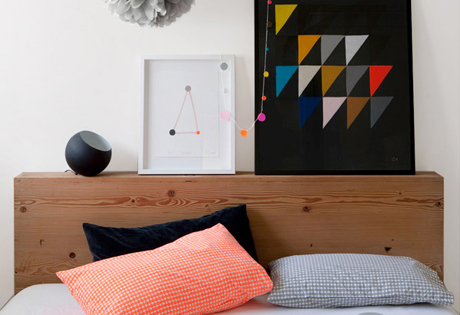 "There's no reason why you can't mix contemporary with classic, or rustic with country or industrial," says Senne. "You can pretty much pull together whatever influences you want to. Pieces that speak to you individually - so don't get a rigid, overdone look." White happily mixes her mother's cherished Lladro figurines with more contemporary pieces. "People are being more eclectic. You don't have to have matching bedside tables: you can have a trunk and a glass table." The non-rule also applies to mixing up patterns, textures and colours. Meaningful pieces "Less is more" could be the design catchphrase of 2014. It's all about tossing out the kitsch and concentrating on single pieces that have meaning or personal significance. "It's items with an element of resonance and history. It might be a piece that has some special meaning to you or is recycled. Something that was made a long time ago, but is a beautiful piece in its own right," says Hayes. "It's totally okay to mix these with new pieces." Just not too many of them ... Better to display artworks, ornaments and photos with sentimental value than "dust collectors", says Senne. "Accessories make memories; they can have great stories to tell." Bringing the outdoors in The lines are blurring between indoors and outdoors. With innovations in the durability of fabrics, designers are creating refined outdoor furniture that's sneaking its way inside.
"The boundaries between outdoors and indoors are disappearing," Senne says. "People are opening their doors, and bringing the outdoor table into the dining room." Take the Rayn range of outdoor furniture, designed by Philippe Starck for Dedon. The modular system comes in different high-tech fabrics for different conditions - a luxurious textile weave for undercover and an all-fibre version for beside the pool. To complete the seamless outdoors-to-indoors flow, there's a growing revival in pot plants - not just your garden-standard potted ficus, but living walls of green. Scandinavian cool From light woods to clean-lined 1950s furniture with a new twist, the Scandinavian look has arrived like an avalanche. Honey-toned, "sun-kissed" woods like oak and walnut have replaced dark and dominating mahogany and cherry timbers in furniture and flooring. "A lot of people are using light-wood floors to lighten up the space, going hand-in-hand with the Scandinavian look," says textile designer Emma Hayes. The simple, sleek lines of Scandinavian furniture of the 1950s is been replicated and updated, but Senne is noticing a twist - wooden chairs have metal legs; pastel colours are incorporated in the designs to give a splash of modern sophistication. "The clean line look is becoming quite fashionable - there's a sense of nostalgia for a bygone era. People yearn for the simple way of life. Our lives are inundated with hustle and bustle, so we want to go back to what our parents and grandparents had," Senne says. Follow Life & Style on Twitter and Facebook.