It's almost the end of the road. Ten days after beginning our odyssey around Aotearoa New Zealand in the Far North, we've reached the Deep South.
Well, almost. This trip concentrates on Queenstown, Central Otago and Dunedin. That's a fair swathe of the Mainland so we'll save Fiordland, Southland and Rakiura Stewart Island for another time.
The final destinations in this series of great Kiwi staycations features the first one that comes to most minds. Of course, the locals would say that's because we've saved the best till last.
So … SnowVegas, here we come. Except that we're looking at Easter and Queen's Birthday trips, so the skifields won't be open. Gosh, that means we'll have to find some other ways to have fun.
In the international holiday playground, that shouldn't be too difficult. Red wine, bungies, jetboats, bike trails and an old-fashioned steamship come to mind, as well as nightlife that boogies well into the small hours.
And while Central Otago might be uber-hot, the other side of the island is ultra-cool. In Dunedin and the Otago Peninsula, amazing wildlife, street art and a pint or two of craft beer offer a lot more to see and do than the traditional image of Scots and Scarfies.
Adventure
From abseiling to ziplining, it's been estimated there are 339 opportunities for adventure tourism around Queenstown. Make that 340, because some bright spark has probably come up with another one in the time it's taken to type this. In the self-proclaimed "adventure capital of the world", there's no mountain that can't be skied down, jumped off, helicoptered onto, climbed; no river that can't be kayaked, jet boated, forded; heck, they've even rigged gear between two cliffs to create the world's biggest swing. Fun (?) happens year-round, for Queenstown long ago ceased to be a winter-only playground. Pack your adrenalin. Or …
WINE
You have trouble choosing a wine for dinner? There are 200 vineyards within 40 minutes' drive of Queenstown's main drag and they produce world-class wines, so it's easy to while away a day (or more) exploring cellar doors and dining in winery restaurants. There's a bunch of ways to taste the grapes: shuttle, bike trail, guided tours – or designate a driver and make your own way. Our local guide, Sam Chambers, favours the growing trend to natural wines: "They tend to be smaller, family-owned vineyards
with a more personal experience. The wines are beautiful." Picks: Mt Edward, Aurum, Carrick, Rippon, Quartz Reef, Lowburn Ferry, Pyramid Valley, Burn Cottage.
SHOTOVER & MORE
Shotover Jet's big red jetboats are a Queenstown icon, skimming across shallow water, around crags and performing 360-degree spins within a hair's breadth of cliffs. The adrenalin-fuelled, family-friendly adventure is not to be missed. But Ngāi Tahu's tourism arm has much more to offer at the Dart River Valley, near Glenorchy at the head of Lake Whakatipu in Mt Aspiring National Park. Stables provide horse treks for riders of all levels, and jetboat rides can be combined with inflatable kayak river trips or 4WD outings to remote Lord of the Rings locations.
EARNSLAW
Talking of iconic boats … TSS Earnslaw. The coal-fired steamship was launched in 1912 (er, so was the Titanic) to service remote settlements. The graceful "lady of the lake" glides Whakatipu's deep, cold waters 11 months of the year (there's a midwinter break) past spectacular alpine scenery. Passengers can include a visit to Walter Peak Station for a guided tour, horse or cycle trek, BBQ lunch or dinner. Local Sam Chambers: "One of the best touristic experiences I've had in New Zealand, finishing with one of the best buffet lunches I've eaten."
ARROWTOWN
Living history, Arrowtown is a taonga. In the wrong hands, the 19th Century goldrush village nestled below mountain peaks beside the Arrow River could have become a souvenir-shopping tourist trap, but it's managed to preserve itself as a charming and quirky heritage gem, just 25 minutes' drive from Queenstown. The town clusters around Buckingham St, a line of historic buildings leading into a tree-lined avenue of tiny miners' cottages. Most have been re-imagined into bespoke shops, galleries, bars and restaurants. Tip: Amble down to the riverbank to transport yourself back to the pioneering Chinese goldminers' village.
MOUNTAIN BIKING & CYCLING
Chain action? Queenstown and its neighbour Wanaka are Nirvana for two-wheelers, whether you're into mountain biking, cross-country, downhill or something more sedate, like a scenic e-bike pedal around the lakeshore. Thanks to an active and energetic cycling community that's cut hundreds of kilometres of trails, you can begin your ride in the town centre and head off in any direction. Even upwards: there are heli-biking trips, Cardrona's ski-lift accessed trails and the only downhill park in the Southern Hemisphere that's reached by mountain gondola. The 130km Queenstown Trail is a network of off-road tracks covering many of the region's most picturesque locations.
OTAGO CENTRAL RAIL TRAIL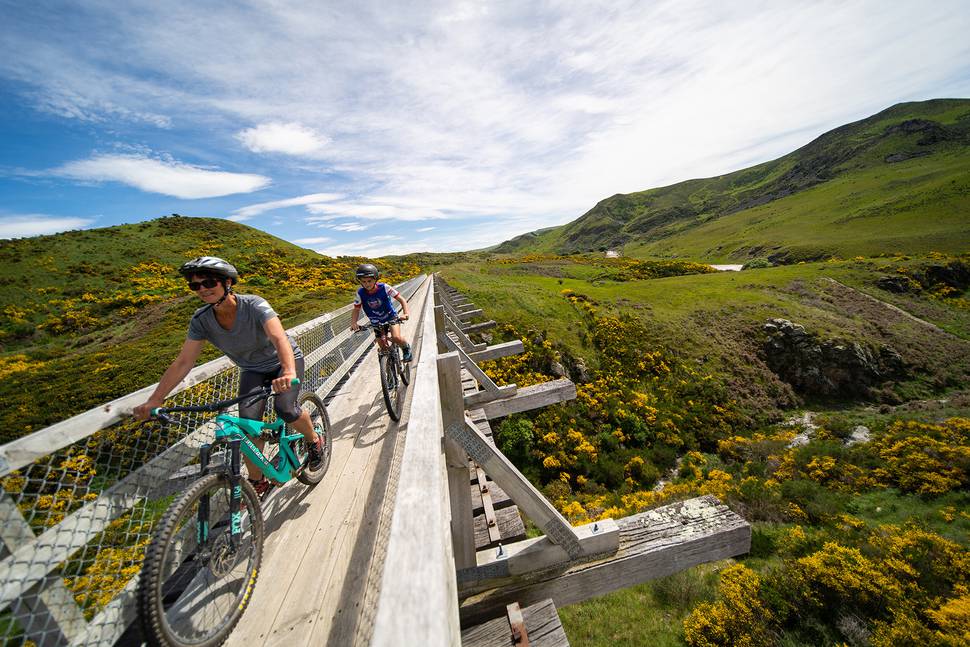 New Zealand's first Rail Trail, the 152km-long cycling and walking route follows the disused railway line from Clyde to Middlemarch. Opened in 2000, its success inspired the government to support the nationwide 22 Great Rides project. The hard, wide track is suitable for all ages, not especially hilly (it was built for steam trains), accessible to wheelchairs and kiddy-trailers, but you should be reasonably fit and competent on a bike. Most cyclists allow 3-4 days for the whole trip; most walkers allow at least six days. Without a doubt, the best way to appreciate Central Otago and meet the locals.
OTAGO PENINSULA
Sir David Attenborough says this wildlife sanctuary is "a very special place that every visitor to Dunedin should see": believe him. Just 30 minutes' drive from the city is the world's only mainland breeding colony of the majestic royal albatross, gliding on its 3m wingspan, nesting an arm's-length from the visitor. Nearby, rare blue and yellow-eyed penguins waddle, seals frolic and a basking sea-lion may block the beach path. Several operators run boat tours to see marine life in its environment. Going home, stop at St Clair village to surf, chillax in esplanade cafes or dip into heated saltwater pools.
STREET ART
We're not talking tagging here. Some years back an advertising agency commissioned a giant artwork for the outside of its building. The tuatara attracted so much attention that building owners, art enthusiasts and the council have commissioned more than 40 artworks around the CBD – some three storeys high. The Dunedin Street Art Trust has run an annual festival since 2014 and brings international artists to add quirk and style to the city. Walking the art trail (about 90 minutes) is a great way to explore Dunedin.
EATING AND DRINKING
Jug of Speight's and a packet of Jaffas? That might have been Dunedin gastronomy a while ago, but you'll now find one of our best artisan food scenes. The decaying Warehouse Precinct has been recast into eateries, bars and galleries; the Post Office, empty for three decades, refurbished as a boutique hotel, apartments, the city's best restaurant (Moeity) and an urban winery; the old Steamer Wharf houses start-ups, cafes and artisans (Ocho chocolate, Bay Road peanut butter). Craft beers include pioneering Emerson's. On Saturday the gorgeous railway station hosts the Otago Farmers Market with organic produce and taste-and-take-home treats.
LOCAL GUIDES
Sam Chapman is a founder and director of Sherwood Community Hotel, Queenstown, a culture-driven destination featuring sustainable abodes, state-of-the-art restaurant, bar and music
venue, film production and co-working facilities, organic vegetable garden, yoga and Pilates studios
Tahu McKenzie is a guide-educator at Orokonui eco-sanctuary and lead singer of Dunedin soul and blues band, Tahu and the Takahes