England's faint hopes of pulling off an Ashes miracle are still alive after an enthralling fourth day at Adelaide Oval.
Australia finished with a lead of 353 after being bundled out for 138 on the stroke of tea. No side has ever chased more than 315 to win a Test in the South Australian capital but the tourists have made a good fist of the challenge so far.
Joe Root led the way with an unbeaten half century as England went to stumps at 4/176.
Here are all the talking points from the day's play.
SMITH'S 'DISRESPECT' BLOWS UP IN HIS FACE
Former Australian and Tasmanian fast bowler Brett Geeves said the hosts are paying the price for Steve Smith's "disrespect" in not enforcing the follow-on on day three.
Smith's decision to bat again came under fire when the Aussies lost four quick wickets on Monday night as they failed to deal with the swinging pink ball under lights. Now England's day four resurgence has heaped further pressure on Smith for allowing the visitors back into the match.
Geeves said Smith didn't properly acknowledge the class of England's bowlers and over-estimated his own batsmen's ability when opting against enforcing the follow-on, which has come back to bite him.
"He's made a blunder, there's absolutely no question about that," Geeves said on Fox Sports' Bill and Boz. "The decision not to send England back in is turning out to be a really strange one and a poor one.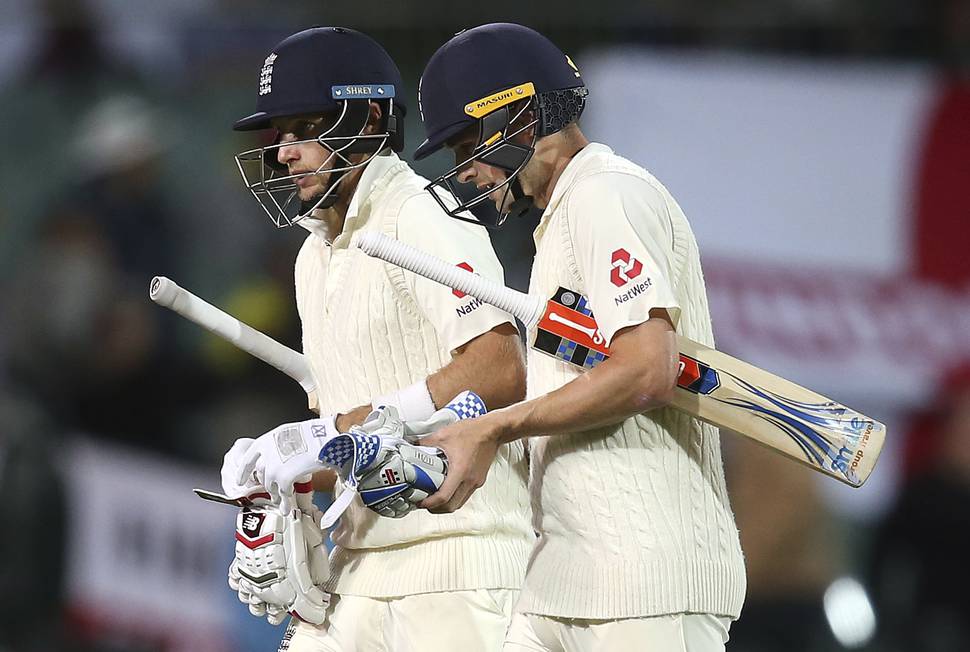 "Largely it's come off the back of disrespect.
"He thought Australia wouldn't get dismissed and they'd get the new ball tonight (Tuesday) on the back of a declaration and you'd roll them and it would be happy days.
"But they actually giftwrapped an opportunity for England to have the momentum in the game. They opened it, took it and now they're actually running with it."
Australia's bowling coach David Saker said Smith's follow-on call might have been a mistake but doesn't believe he's "ruing" the decision.
Two more players vomit on field as smog returns in Delhi
"Steven has obviously made the decision that he felt the guys had bowled enough," Saker said after play. "In hindsight, we didn't get an opportunity to bowl with the new ball under lights — that was our chance.
"Maybe we got it wrong. At the end of the Test match we will review that.
"But if come out of this winning the game, which I still think we will, you can say it was justified in some way."
Smith didn't consult his bowlers before deciding against the follow-on. "He is obviously frustrated at what has happened but I don't think he is really ruing the decision," Saker said.
'HORSE S**T': ASHES 'SHAMBLES' REARS UGLY HEAD
The Decision Review System (DRS) was once again a hot topic in Adelaide after it took centre stage on day four while Steve Smith also played a starring role.
Technology worked both for and against Australia but regardless of who it favoured, greats of the game were baffled by the guessing game taking place.
Controversy first arrived when Smith challenged a not-out call after Nathan Lyon hit Alastair Cook on the front pad with a full delivery. It looked to be sliding down the leg side but Hawkeye said the ball spun enough at the last moment to be on course to hit the stumps and Cook's dig was over.
Former Victorian wicketkeeper Darren Berry said there was no way the system could have determined how far the ball was spinning because it was a half volley that gave nobody a good enough look at how much turn was there.
Then England benefited from some good fortune when Joe Root enjoyed a lucky escape.
He left a ball from Lyon that didn't spin as much as he expected and it cannoned into him in front of the stumps, convincing the umpire to raise his finger. Root was deep in his crease and there was no question the line was good — he looked plumb to the naked eye — but Hawkeye showed the ball was bouncing over the top.
Ex-Australian star Cameron White and former England all-rounder Dimitri Mascarenhas took to Twitter to say they didn't agree with the replays.
Smith's poor run with the DRS only worsened when he called for two unsuccessful reviews in three deliveries. He mistakenly believed Root inside edged Pat Cummins to wicketkeeper Tim Paine then was undone by Hawkeye's belief in the extra bounce of the Adelaide Oval deck when Dawid Malan looked like a dead man walking.
Josh Hazlewood smashed Malan's pad and live it looked like the ball stayed low and was going to crash into the pegs. But Smith and the Australians were denied when Hawkeye once again said there was too much bounce.
Berry fired up again while Tasmanian great Jamie Cox and Test legends Shane Warne and Glenn McGrath questioned the DRS.
"I'm not a huge fan of the DRS. I like the raw emotion you get from taking a wicket. If it is then reviewed, everybody comes down. I'm happy to trust the umpires," McGrath told the BBC.