CEOs agree Jacinda Ardern's charisma has won over world leaders, and is a good thing for Brand NZ.
Jacinda Ardern's charismatic performance on the international stage has won strong endorsement from chief executives.
Seventy-six per cent of respondents to the 2018 Mood of the Boardroom survey agreed she portrayed New Zealand appropriately offshore.
"Great for Brand NZ", "Very assured and comfortable", "Extraordinary cut through", "A lot of positive press internationally", and, "Stellar profile, energetic and charismatic" were just some of the positive CEO comments on the world's youngest female prime minister.
Ardern — just back from New York where she made her debut speech to a United Nations' thinly populated General Assembly chamber — walked into a firestorm over a decision to hire a crew from advertising agency Augusto to film her New York trip.
But her trip was a mixture of the serious and the sublime.
Her addresses to the Nelson Mandela Peace Summit and another to Bloomberg's Global Business Forum where leaders extolled a roster of multilateral pacts: the Trans-Pacific Partnership (now CPTPP), the Paris Agreement on climate change and the Iran nuclear deal — were well-received. Ardern assured the business summit that countries were moving forward with the CPTPP despite President Donald Trump's decision to withdraw the US from the pact. "It is happening, and it is working," she said.
But there was also scepticism. Some 14 per cent of CEO respondents felt she set unrealistic expectations while offshore. "She comes across as young and energetic, and it reflects well on the progressive image that NZ wants to project," said a legal boss. "But she also comes across as a weak leader without any real strategy for the country's economic long term development."
From an agritech chief: "Very likeable and looks good compared to many leaders. But what are we comparing against? Trump, Morrison and a whole bunch of crazies."
"Very assured and comfortable," said a lobbying firm boss. "Her weakness is the need to make poor policy calls, such as the oil and gas one, in an attempt to look better overseas."
Since becoming Prime Minister one year ago, Ardern has been to the Vietnam Apec Leaders Summit where she and Trade Minister David Parker were successful in selling a political fix that enabled the Coalition Government to overcome its scruples and sign up to the renamed TPP.
She has crossed swords with former Australian Prime Minister Malcolm Turnbull over Manus Island "refugees"; pressed for a European FTA in meetings with Germany's Angela Merkel and France's Emmanuel Macron in Europe earlier this year; dined at a Chogm reception hosted by the Queen in London and travelled to Nauru to meet Pacific Island leaders at their annual forum.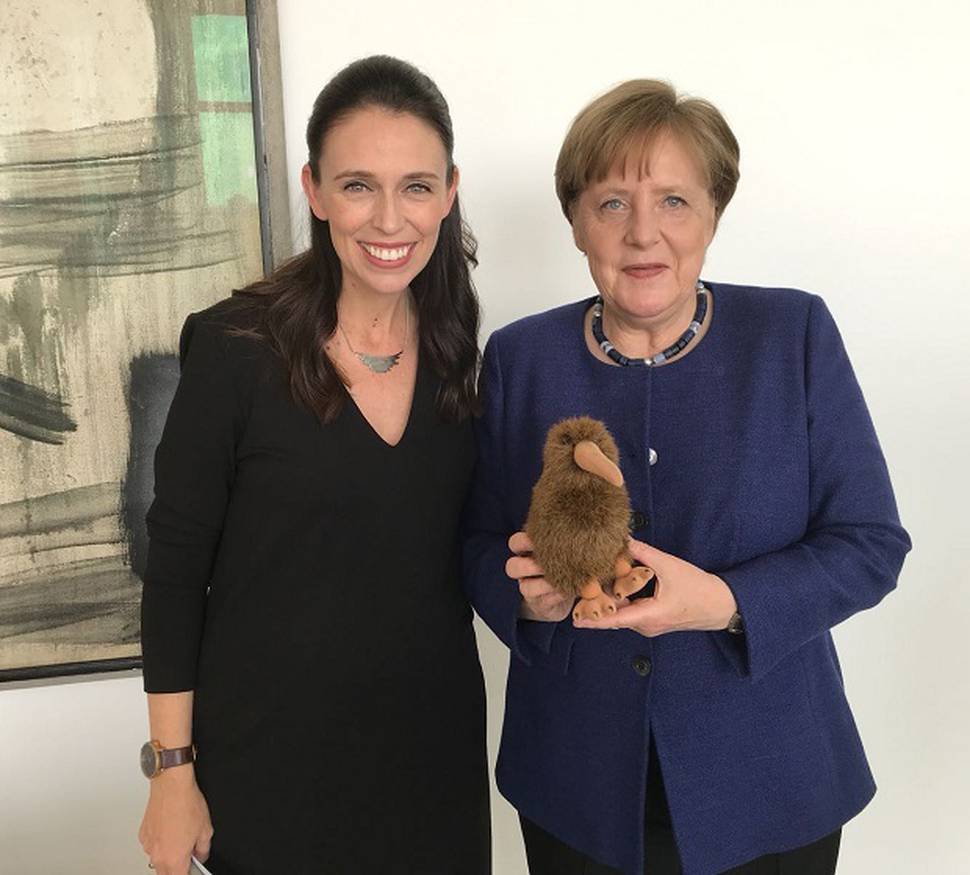 "She has at least obtained profile — she now has to confirm and build on this," said a banker.
Mainfreight's Don Braid said she has not pushed or worked the trade portfolio well enough.
"Just as John Key was accused of not making the most of political capital, I hope Jacinda is making the most of her international capital through trade deals," echoed an energy chief.
"Some of the engagement with Australia has been a little off-piste, particularly around refugees. In these times, we need all the core friendships we can get internationally."
Others questioned how much of the publicity was related to her baby Neve.
The phenomenon of being a leader — and a new mother — led to an invitation to appear on Stephen Colbert's The Late Show.
But though Ardern is not seen as having Key's gravitas or Helen Clark's command of international affairs, she is resting her laurels on being one of a newer generation of leaders like Canada's Justin Trudeau, Spain's Pedro Sanchez and Irish Taoiseach Leo Varadkar.