Budget accommodation provider Jucy Snooze will open its third pod hotel in Auckland's CBD next year.
The four-story, 386-bed hotel will be capable of accommodating more than 466 visitors per night.
Located on the corner of Cook and Nelson Streets, the hotel will have a mixture of pod-style accommodation and ensuite rooms.
Pods are enclosed beds and the hotel's rooms have up to eight of them each.
Tim Alpe, Jucy Snooze chief executive, said while the hotel is primarily designed to meet the needs of budget international tourists, it will have a number of flexible workspaces able to accommodate longer-term business travellers.
"The main target market for Jucy Snooze Auckland will be millennial budget tourists who may travel by themselves, as a couple or part of a larger group. Typically they make a base in Auckland for a few days before leaving to tour the rest of the country," Alpe said.
"The new pod hotel will have a number of flexible workspaces able to accommodate longer-term business travellers. As part of the accommodation package the pod hotel will provide office facilities to this market."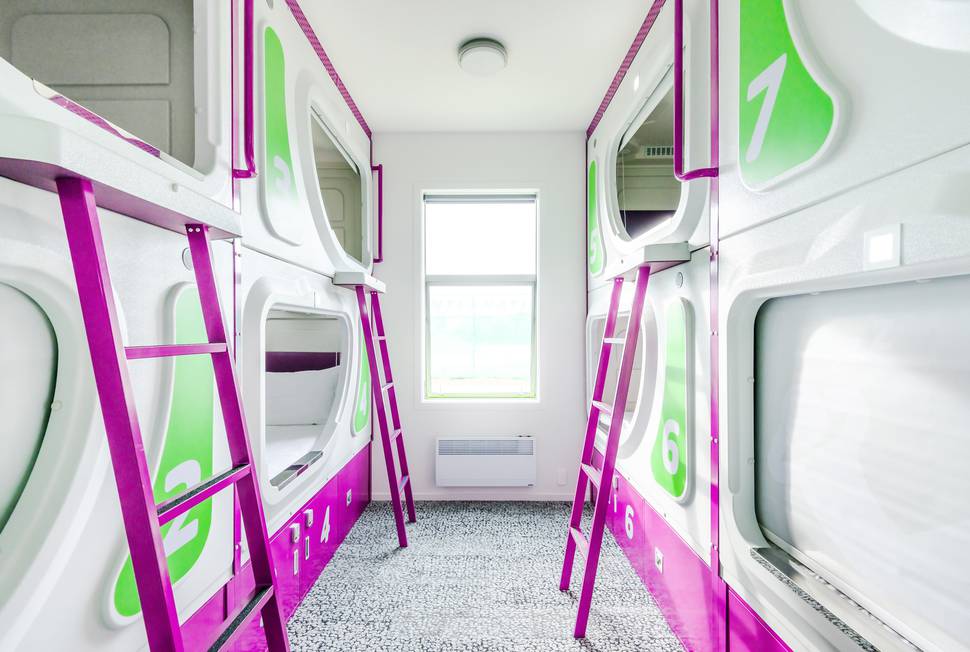 Alpe said the design elements for the Auckland site were adapted from learnings in their Christchurch and Queenstown hotels.
"The Auckland CBD site will feature double pods, more common spaces, as well as our co-working concept which will be called Jucy Share," he said.
"In addition to offering these facilities to our guests, other visitors to the CBD will be able to hire meeting rooms by the hour."
But the pod hotels aren't to everyone's liking.
In June, 18-year-old Aucklander Finn Heenan likened the Queenstown pod hotel to that of being in a coffin.
"It was like being in a coffin - a big one," Finn, who stayed in the pod for a fortnight, said.
"There were no windows or fresh air and it was a bit like being in a spaceship. It cost $45/night. The air was so dry that every morning, I'd wake up with a sore throat."
The new hotel will employ around 30 staff and will be home to a new retail centre as well as a Miss Lucy's pizzeria and bar when it opens.
Jucy opened a five-storey, 276-bed hotel in Queenstown in April, and has another in Christchurch.