Five of the world's best architects are facing off in a competition run by a Melbourne-based property developer to transform Auckland's skyline.
ICD Property is set to build the city's next landmark building, a new hotel-residential building at 65 Federal St, a stone's throw from the Sky Tower.
One of the designs includes a tower with a Sky Garden depicting the Auckland landscape and another's design was inspired by a Māori korowai cloak.
Local firm Warren and Mahoney, international firms Woods Bagot, Cox Architecture, Elenberg Fraser and London-based architect Zaha Hadid are all in the running.
Last night they put all their chips on the table, each having created two designs for the new building.
The first design was to be created following current city planning rules and the second showcasing what could be created with extended liberal planning parameters.
They were unveiled at the "What's Next Auckland?" event which was doubled as a forum to discuss the future of Auckland and the development of the city.
ICD managing director Michael Mai said the designs were impressive and will bring an international standard of high-rise living to Auckland.
"We're very excited to be contributing to the fast-growing nature of Auckland city," he said.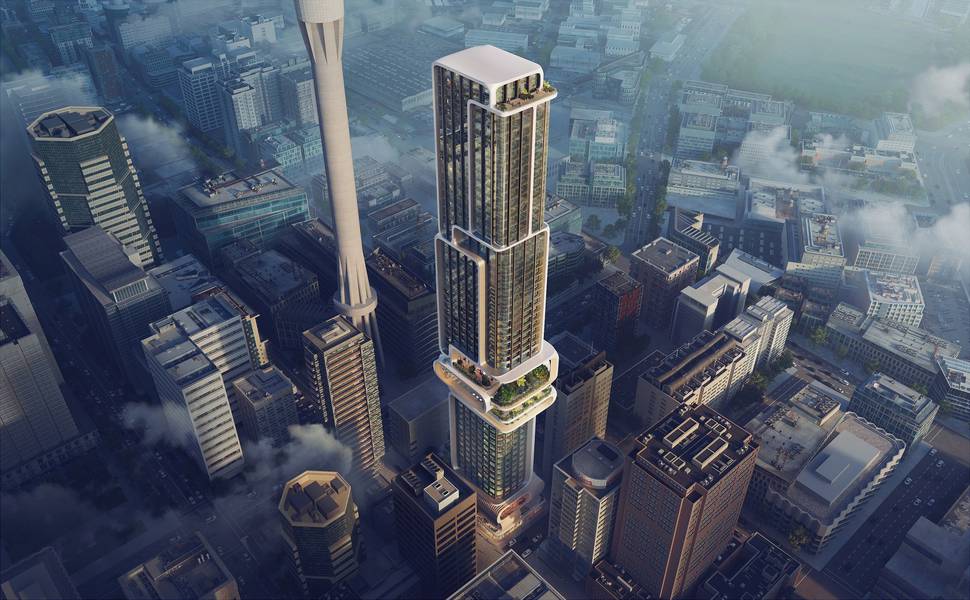 "As ICD's first international project outside of Australia, we chose Auckland because we see a strong future in continuing to work here.
"The city has many positive and unique aspects – from its multicultural makeup through to the stunning scenery and landscape."
Warren and Mahoney's entry was inspired by a korowai, which is seen cascading the building's facade and refers to the building's connection to its city and its people.
Warren and Mahoney principal Andrew Barclay said the competition run by ICD provides an opportunity to invigorate the city and help reflect Auckland's culture.
"At present Auckland does not have a mixed-use hotel and residential building that has these qualities," Barclay said.
"The project is located in one of Auckland's most exciting locations, so it has a responsibility to contribute to Auckland's increasingly vibrant inner-city life, both during the day and by night."
The winning design will be selected next month by ICD Property who will later bring the design to life within four years with a budget of around $200 million.