Skilled construction labour was so scarce during construction of New Zealand's only maximum security prison that blockwork layers and roofers had to be flown across from Australia, a financier said today.
Steven Proctor, executive director of Morrison & Co's Public Infrastructure Partners Fund, spoke at this morning's opening of the new $300m Auckland Prison at Paremoremo, telling Corrections Minister Kelvin Davis, Corrections Department chief executive Ray Smith and others about the fallout from the "hot" construction market.
"Fletcher Construction flew in skilled tradespeople from Australia to keep up the building momentum," Proctor said, saying no one could have imagined the pressure on resources and labour on the site where 3700 people worked.
Read more: $300m maximum security prison suffers 'unforeseen' delays
Asked afterwards about delays, he said: "It happened twice: blockwork layers - there were none available - and roofers."
Civil Contractors New Zealand has said the construction industry needed another 30,000 workers and not enough people were being drawn into the sector. New Zealand Now anticipates that the number of construction workers will need to increase by 25 per cent, while recruitment scheme LookSeeBuild has 15,000 offshore candidates for the 30 companies that make up the talent recruitment company, according to Professor Paul Spoonley, Pro Vice Chancellor of Massey University's College of Humanities and Social Sciences
Last year, Corrections said the Paremoremo buildings all constructed to maximum security standard would be finished by December and prisoners would move in March.
Today, Corrections said the 681 maximum, high and minimum-security prisoners would not now leave the 1960s prison nearby till mid-September.
Smith said the shift would be finished by mid-October.
Read more - Watch: first look inside $300m Auckland prison rebuild
"There was no concern because we already have the existing prison and there's no additional capacity being built because we have not been able to increase our capacity," Smith said, referring to resource consents limiting prisoner numbers to 680 prisoners on the site.
"A delay - you're never happy about it but it didn't impact our operation. But it has held back our aim to get people into decent accommodation. The liability doesn't fall on us but the Next Step Partners," he said referring to the public private partnership arrangement the Crown struck to create the new prison.
"The liability [for delays] doesn't fall on us but Next Step which borrow all the money," he said, so the department doesn't start paying until the work is finished.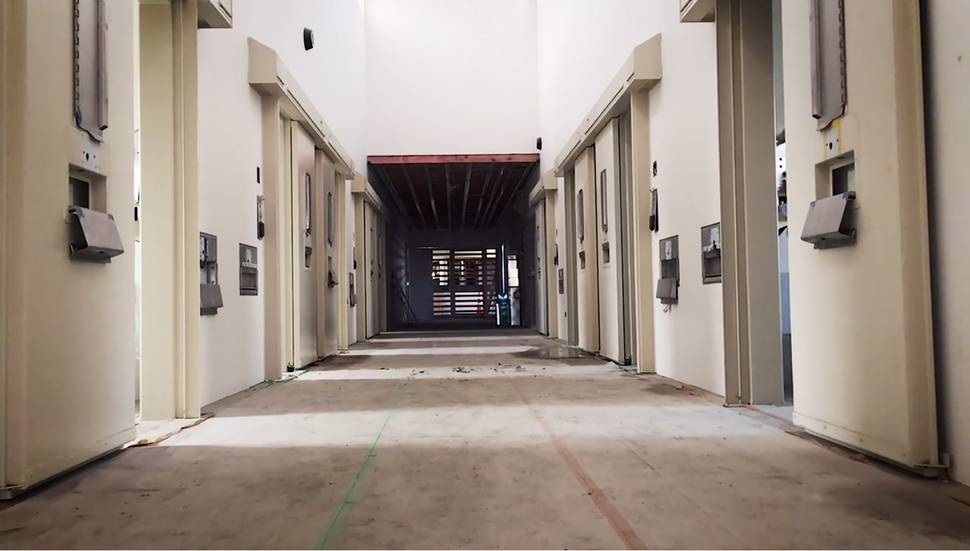 Last month, Corrections said: "Projects as big and as complex as this can, at times, develop unforeseen delays in the construction process. These were addressed by the contractors at no cost to Corrections."
Fletcher Construction - hit by cost over-runs and problems on other sites - was the lead contractor at the project, which is Corrections' biggest development. A Fletcher spokesperson said last month the company had nothing further to add to what Corrections had said.
Proctor said he could not give precise numbers on the PPP funding arrangements, but jobs like the prison were usually funded via 80 per cent debt and 20 per cent equity. Corrections already owns the land, he emphasised, but at the end of 25 years, Corrections will also own the buildings.
Smith said Corrections would pay a monthly fee over the 25 years to the PPP.
"Next Step Partners brings together the Public Infrastructure Partnership equity fund as equity investor, the Fletcher Construction Company as designer and constructor and Cushman & Wakefield as asset manager and facility maintainer," Corrections said today. "The contract covers the design, build, finance and maintenance of the facility for the next 25 years. Corrections will own and operate the prison."
Morrison & Co launched the Public Infrastructure Partners Fund as New Zealand's first entity dedicated to investing in PPPs.
The fund was raised from New Zealand-based investors and has enough money to fund about $1 billion of new infrastructure.
"The New Zealand Superannuation Fund was the cornerstone investor and Morrison & Co secured capital commitments from a number of New Zealand based community trusts and institutional investors. The PIP Fund investor group also included a retail feeder fund managed by a local wealth management business," Morrison & Co says.