INFINZ fellows
A celebration of an individual's career success and contribution to the wider finance industry, the INFINZ Fellowship was awarded jointly to Carmel Fisher and Catherine Savage.
After spending four years in sharebroking, Fisher moved into the funds management industry, and in 1998 founded boutique funds management firm Fisher Funds with her husband Hugh. Fisher Funds is now the country's fifth largest KiwiSaver provider.
"As one of relatively few female fund managers and investment firm owners, Fisher has also blazed a trail for other women working in the financial and capital markets industry," the awards judges said.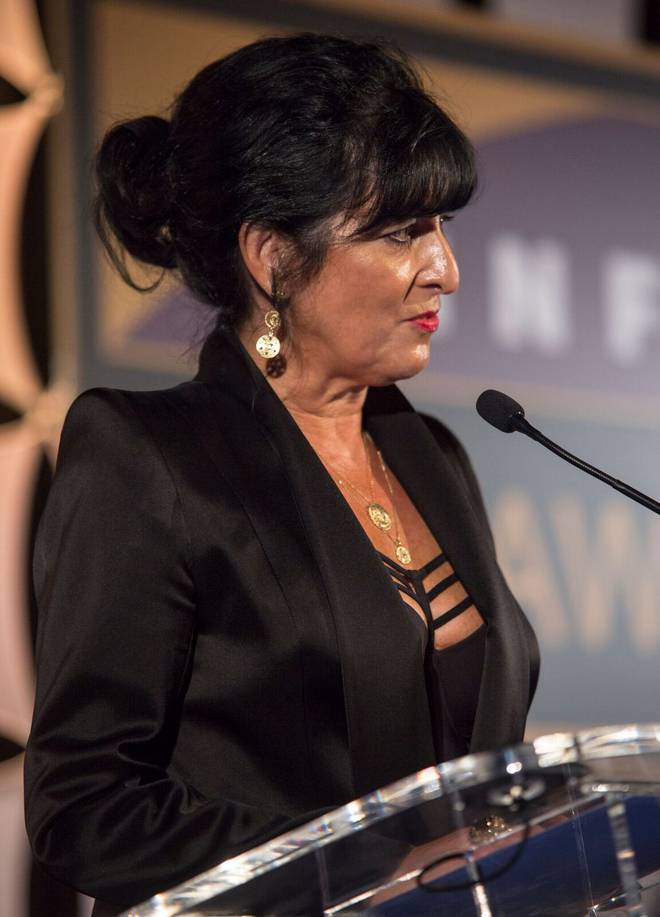 "Carmel has mentored, supported and encouraged lots of peers over the years and is proud to have educated and encouraged countless female investors to take control of their own finances."
Catherine Savage, who was also inducted as an INFINZ Fellow, forged an interest in treasury and taxation early in her career.
She was appointed treasurer of the Natural Gas Corporation from 1991 to 1993, and subsequently joined AMP Capital Investors, holding senior roles at the company including as managing director from 2000 to 2007.
Savage has been on the board of the Guardians of the New Zealand Super Fund since 2009, and was appointed deputy chair in 2012, and chair in 2016.
"Catherine has been able to effect change in the industry through an inclusive approach, supporting other treasury professionals and future female leaders has been a focus," said the judges.
"Catherine also sits on the CFA Societies' Australasian Advocacy Council. The CFA Society and INFINZ work closely together on policy matters through a Joint Advocacy Group."
Craigs Investment Partners Excellence in Treasury
A shakeup in the way the New Zealand Superannuation Fund approaches its foreign exchange trading has paid off in more ways than one.
The project was recognised last week, winning the Craigs Investment Partners Excellence in Treasury Award at the annual INFINZ event.
The award is designed to recognise a corporate treasury team that can demonstrate an improvement or adaptation in its practices over a certain period.
The judges said the Super Fund had fundamentally restructured its approach to foreign exchange trading.
"Through embracing technology and the injection of new thinking to historic models and processes, they have disrupted traditional channels, enhanced price discovery, accessed market liquidity directly and have automated foreign exchange transactions."
Matt Whineray, acting chief executive of the Super Fund, said the project was a great example of how technology could be used to improve business practices and create efficiencies.
"It has reduced operational and financial risk, and improved productivity. We're delighted with the recognition from INFINZ."
The $38b fund was set up in 2003 to help pay for the rising cost of New Zealand Superannuation.
Massey Business School Sharebroking Firm of the Year
"The INFINZ awards are the New Zealand industry standard, so to be selected as Sharebroking Firm of the Year by our institutional clients, from a group of strong competitors, is a special accolade that we are delighted to receive," said Daniel Reynolds, director, institutional equities at winner FNZC.
He described the victory as reflecting FNZC's strong performance culture."We are privileged to have been awarded the INFINZ Sharebroking Firm of the Year award nine out of the past 11 years," said Reynolds.
"While the broader FNZC group is growing in a number of exciting new directions, the institutional franchise remains at our core and we are excited about the initiatives we have in place to improve our client offering."
Distinguished fellow
The 2018 INFINZ Distinguished Fellow was awarded to Linda Robertson. Throughout her career, said the judges, Robertson had set high professional standards, played a significant leadership role and continued to give back to the finance industry.
Robertson was appointed to her first corporate treasurer role at Contact Energy, before moving to Transpower and then Meridian Energy.
Now a full-time company director, she had made a substantial contribution to the development of risk and audit committees, including for the NZ Local Government Funding Agency, where she is a director.
"Another hallmark of Robertson's career has been as a diversity champion," the judges said.
"While working at Meridian Energy, for example, she was a member of the diversity committee and in her governance roles she's encouraged reporting of gender diversity in annual reports, and conversations on pay equity."
Robertson served as a board member of INFINZ and one of its predecessor organisations, the NZ Society of Corporate Treasurers.
Hunter Campbell Diversity & Inclusion Award
Former ASB chief executive Barbara Chapman was chosen as the recipient of the Hunter Campbell Diversity & Inclusion Award at the INFINZ awards.
The award judges acknowledged Chapman has been a long-time advocate for equality in the workplace and in society.
An inaugural trustee of the New Zealand Equal Opportunities Trust, Chapman was praised for her enthusiasm in supporting diversity.
"Barbara has been an enthusiastic supporter of many other diversity initiatives like Champions for Change, the 25 Per Cent Group and Global Women, programmes that were sponsored for various groups like older workers, women's initiatives and the LGBTI community," said the judges.
She was also acknowledged for the Whakaterehia programme to accelerate the development of Māori managers.
Chapman left the ASB this year, after almost seven years as chief executive. Her current roles include membership of the boards of the New Zealand Initiative think tank, electricity company Genesis and media group NZME.
Chapman Tripp Fund Manager of the year — Equities
Harbour Asset Management
took the title of Fund Manager of the year — Equities.
In accepting the prize, managing director Andrew Bascand made an impassioned plea to the industry to work together to grow the local market.
"There is a need for NZ to continue to improve the transparency of our capital markets: continuous disclosure, financial reporting, governance and most importantly to have a dialogue about whether capital markets can add more value to our large mutually and publicly owned entities," he said.
"In a sentence, New Zealand investors (KiwiSaver, superannuation and Mums and Dads) need great investment opportunities."
Bascand said the Harbour team had been following a growth oriented investment process for nearly two decades — "the judges considered the longevity of our processes and that we have stuck closely to our philosophy of growth investing".
He also highlighted the strength of Harbour's research capability.
The best outcomes combined qualitative and quantitative research, he said.
"That is, fundamental research is more compelling when we combine it with consistent mathematical screening of investment ideas.
"We strive to be transparent and open with our communication of investment processes and we back this with our thorough independent research," he said.
"Extensive research enables us to pick and choose particular investments we believe will do well. We publish some of our research to provide clients more insights."
The judges said there was a strong field, making it a difficult decision.
The Business Institutional Banking Innovation Award
The ANZ and Contact Energy's pioneering green borrowing programme scooped the Institutional Banking Innovation Award.
The $1.8b facility was the largest certified climate bond programme globally.
The award — sponsored by The Business — is given to the organisation that introduces the best new or enhanced product or service, and the judges said the Contact/ANZ programme was a "standout".
"This initiative highlights New Zealand's sustainable energy generation capability and commitment to a low carbon economy," they said.
"ANZ's role in structuring the $1.8b facility reinforces their strategic intent to promote green based financing and support capital markets activity in this rapidly growing area of sustainable finance."
MinterEllisonRuddWatts Research Analyst of the Year
This is the second time Stephen Ridgewell has been named as Research Analyst of the Year, but that doesn't make it any less special for the committed Craigs Investment Partners staffer.
Ridgewell said he was humbled and honoured to have taken the award in a very competitive category.
He said good research was vital in helping people to better understand listed companies and to allocate investment capital. When companies performed strongly, it helped the market grow and encouraged further investment. "Research is an important part of the process."
Ridgewell said he was particularly proud of calls he had made on two stocks in the past year: Summerset and Trade Me. He had a non-consensus buy rating on Summerset, whose share price had fallen as low as $4.20 last year but was now trading over $7.
Ridgewell joined Craigs in 2012 from Macquarie and has worked his way up the ranks from senior analyst to his 2016 appointment as deputy head of institutional research, where he covers the technology, healthcare and retirement sectors.
He has been a finalist in the Analyst of the Year category since 2014 and won the award for the first time in 2015.
This time around, the INFINZ judges cited Ridgewell's 100 per cent commitment to alpha generation and said his major calls with good research backing were spot on. They also commended his meetings, research and models on the sectors he covers.
NZX Emerging Leaders Best Investor Relations
NZ King Salmon
was lauded for keeping shareholders in the loop, winning the Emerging Leaders Best Investor Relations Award.
Herald publisher NZME and technology company Serko were among the finalists, drawn from companies outside the S&P/NZX50 index.
The country's largest salmon producer was seen as a leading light for its disclosure and transparency.
"Analysts and investors have commented that management are generous with their time, key operational metrics are provided to the market and their environmental, social and governance reporting is very comprehensive," said NZX chief executive Mark Petersen.
"They also note that disclosure post-listing remains as comprehensive, if not more comprehensive, than the initial product disclosure statement."
Chapman Tripp M&A Transaction of the Year
The judges decided the top M&A transaction was the sale of Solid Energy's assets advised by Goldman Sachs.
They said the deal scored well across all the judging criteria, and noted the complexities it involved — especially at a time when commodity prices were low — including keeping as many jobs as possible.
Other finalists for the award were the acquisition of Sistema Plastics for $660m, where the lead financial advisers were Cameron Partners and Rothschild, and Genesis Energy transactions totalling $585m, where the lead adviser was RBC Capital Markets.
EY Debt Deal of the Year
Fleet management software provider EROAD took the EY Debt Deal of the Year in the 2018 awards.
The company's $48m, multi-option credit facility stood out from the debt instruments of fellow finalists NZ Carbon Farming and Contact Energy.
"This highly innovative funding mechanism enabled EROAD, who were growing rapidly, to leverage its largest asset (and a non balance sheet item), being future contracted income, and intangible assets," the judges said.
They also acknowledged NZ Carbon Farming's $55m facility as a "landmark transaction" that supported the Emissions Trading Scheme.
FNZC Market Leaders Best Investor Relations
Meridian Energy
took the top gong for the way in which it communicates with investors.
The electricity retailer and generator won the prize for Market Leaders Best Investor Relations, beating fellow finalists Air New Zealand and Fisher & Paykel Healthcare.
The award, sponsored by broker FNZC, is judged by polling share broking research teams and leading fund managers, and takes into account the clarity and timeliness of communications with all stakeholders.
Firms within the S&P/NZX50 are eligible for the prize.
The institutional investors who gave the award to Meridian praised the company for its shareholders' day, and for the way it managed the transition last year when Neal Barclay became CEO.
They said Meridian's investor relations team, headed by Owen Hackston, did a great job.
Caldwell Partners Leadership Award
Steering his company through change helped Tourism Holdings chief executive Grant Webster take the Caldwell Partners Leadership Award at this year's INFINZ Awards.
"Taking over the leadership of an underperforming tourism business at the start of the GFC, Grant Webster has come through the experience with flying colours," judges noted in their comments.
"Grant is never content with the status quo and that includes challenging where the business needs to go."
Judges said the company had become a global operator in five countries because of Webster's leadership.
Shareholders who invested in the company have had a 1000 per cent return on that investment over the past five years.
Tourism Holdings' activities include motorhome rentals under brands such as Maui and Britz, vehicle manufacture and sales, and operating attractions such as the Waitomo glowworm caves.
Fitch Ratings Fund Manager of the Year — Bonds
In making their decision in this category, the judges looked primarily at medium term New Zealand asset performance and the quality and consistency of the people and process employed.
They said Nikko stood out, based on its strong track record of good returns and a well-articulated philosophy in relation to the selection of credit securities.
Fergus McDonald, head of bonds and currency, accepted the award on behalf of his team.
He said the win proved the long-term, robust nature of their investment decisions.
"Our primary focus is delivering real value for clients, and we do this in a rigorous risk management environment and research driven culture, which help us generate sustainable returns for our clients," said McDonald.
Nikko Asset Management is one of Asia's largest asset managers.
Managing director George Carter said it was an exciting time for the firm, which had just launched its KiwiSaver scheme for retail investors and intends to offer a robo-advice platform this year.
Trustees Executors NZ Debt Market Issue of the Year
This year's award went to Genesis Energy's $225m, 30-year capital bonds issue.
New Zealand's biggest electricity and gas retailer issued the bonds to support its credit rating following the acquisition of an additional 15 per cent stake in the Kupe joint venture and buying Nova Energy's LPG business.
Joint lead managers were the ANZ Bank, Bank of New Zealand, Deutsche Craigs and Forsyth Barr.
Infinz judges noted that the offer was complicated by its timing, a limited ability to raise equity, and the consultation required.
As the first subordinated issue to utilise the same quoted class exclusion in the Financial Markets Conduct Act, the Genesis offer was made on a term sheet-only basis.
University of Auckland Business School Emerging Leader
Megan Blenkarne
has received the University of Auckland Business School award for emerging leader at this year's INFINZ Awards.
Blenkarne, who works for the New Zealand Stock Exchange as the team leader of issuer compliance, has been at the NZX for three years.
Judges said Blenkarne had been chosen because of her energy, work ethic and leadership qualities.
"We're impressed by Megan's refreshing, hands-on and transparent approach to leadership and to the role of regulators in capital markets," they said.
"Megan has used her leadership and commercial skills to good effect ... with positions on the National Board of Girl Guiding New Zealand and an advisory role with the National Council of Women of New Zealand."