President Donald Trump slammed Amazon chief Jeff Bezos yet again in his war against the billionaire businessman, this time personally pushing the U.S. Postal Service to drive up the delivery prices the giant online retailer pays to ship its packages it has been revealed.
Trump pushed U.S. Postmaster General Megan Brennan to double the rate the post office charges Amazon and other companies to ship packages, reports the Daily Mail.
Brennan has so far resisted Trump's demand, according to the Washington Post, which revealed his series of meetings with her.
Read more: Why Donald Trump went after Jeff Bezos
The Post, citing multiple sources, reported that Brennan told the White House repeatedly that the arrangements with Amazon and other companies are bound by contracts and must be reviewed by a regulatory commission.
She also has told Trump that Amazon benefits the postal service and gave him a slide show that illustrated how Amazon and a variety of companies have partnerships with the U.S. Postal Service for deliveries.
Trump's also met with at least three groups of senior advisers to discuss Amazon's business practices, the Post reported, asking them whether the company pays the appropriate amount of taxes or if it underpays the Postal Service.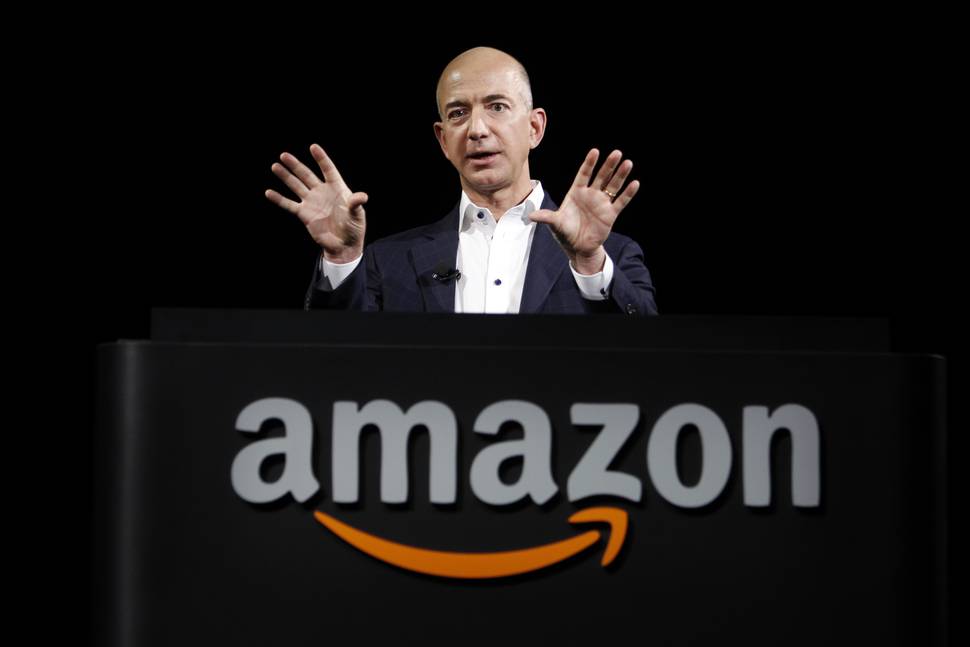 These meetings included Treasury Secretary Steven Mnuchin, then-National Economic Council Director Gary Cohn and Domestic Policy Council Director Andrew Bremberg.
Trump signed an executive order last month mandating a government review of the postal service that could result in the charges made to companies for deliveries.
It is not known how much Amazon pays USPS for delivering its packages. The company argues revealing the contract's details would give its competitors an unfair advantage.
And several analysts argue Amazon and other companies' use of the Postal Service for deliveries has boosted the organisation's coffers.
It is unknown if an increase from the postal service would result in increased shipping charges to consumers.
Amazon uses the U.S. Postal Service, Fed Ex and other companies for its deliveries. Reports estimate the post office delivers about 40 per cent of the company's packages.
The president has attacked Bezos and his companies multiple times in tweets and in interviews.
Bezos, who also owns the Washington Post, has been a repeated targeted of the president's wrath.
Trump has blasted the billionaire businessman on both his business fronts.
He claimed the Postal Service has lost "A FORTUNE" in shipping costs because of Amazon and that the Post publishes "fake news" about the administration.
The president's Twitter attack on Amazon last month saw the company's stock take a temporary drop.
He said of the company in April: "Unlike others, they pay little or no taxes to state & local governments, use our Postal System as their Delivery Boy (causing tremendous loss to the U.S.), and are putting many thousands of retailers out of business!".
Trump has called the Washington Post the "chief lobbyist" for Bezos, a charge editors there deny, saying Bezos doesn't take a hand in editorial decisions.
Its publication of a story about the Post Office's relationship with Amazon is likely to be the subject of interest in the Oval Office.
Read more: White House source says Trump is 'obsessed' with Amazon
"Amazon's gonna have to pay much more money to the Post Office," the president said last month. "There's no doubt about that."
Vanity Fair reported in April that Trump is 'obsessed' with Bezos, who built Amazon into a billion dollar business.
"He gets obsessed with something, and now he's obsessed with Bezos," a source told the magazine. "Trump is like, how can I f*** with him?"
Bezos, meanwhile, has been careful in his dealings with the president and his administration.
Neither he nor his company commented to the Post for its article and the newspaper reports Amazon officials have not been directly involved with White House officials about the review.
Amazon, however, has held events with members of Congress and governors, particularly as the company looks to add fulfillment centers around the country.
While the U.S. Post Office has lost money for years, it is adamant that package delivery is not the reason.
Boosted by e-commerce, including deliveries from companies like Amazon, WalMart and Macy's, the U.S. Postal Service has enjoyed double-digit increases in revenue from delivering packages.
It says its losses mainly come from higher pension and health care costs, as well as declines in first-class letters and marketing mail.