China is warning it will make a "proper and necessary response" as fallout continues to spread from US President Donald Trump's plan to introduce import tariff protections.
China's exports surged in February while its politically sensitive trade surplus widened amid mounting tension with Washington.
Trump has pledged to implement tariffs on steel and aluminum imports of 25 per cent and 10 per cent respectively - a move that rattled markets and prompted a backlash from the EU sparking fears of a trade war.
Trump's Administration has increased duties on Chinese-made washing machines, solar modules and other goods it says are being sold at improperly low prices.
It is due to announce results of a probe into whether Beijing improperly pressures foreign companies to hand over technology, which could lead to further penalties.
Chinese officials said Beijing was not actively pursuing a large trade surplus but is ready to respond to US import controls.
Beijing has accused Trump of threatening the global trade regulation system by taking action under US law instead of through the World Trade Organization. It has filed a challenge in the WTO against Washington's latest trade measures.
Foreign Minister Wang Yi today warned a "trade war" would hurt all sides and appealed for a negotiated settlement.
"China will of course make a proper and necessary response," said Wang at a news conference held during the annual meeting of China's legislature. "We hope both parties will find a mutually beneficial solution through equality and constructive dialogue."
China's exports rose 44.5 per cent over a year earlier to US$171.6 billion ($235.5b), accelerating from January's 11.1 per cent growth, customs data showed.
Imports rose 6.3 per cent to US$137.8b, down sharply from the previous month's 36.9 per cent rate.
Trade data are distorted by the Lunar New Year holiday, which falls at different times in January or February each year. Data for the combined two-month period, which economists often use to screen out the holiday influence, showed exports rising by a robust 24.4 per cent over a year earlier, up from December's 10.9 per cent growth.
"Both foreign and domestic demand look healthy, though imports are not as robust as during the same period last year," said Julian Evans-Pritchard of Capital Economics in a report.
"The bigger picture is that while China's trade surplus with most of the world has declined during the past year thanks to the stronger Chinese demand for commodities, its surplus with the US has continued to expand."
China's global trade surplus widened to US$33.7b from January's US$20.3b. For the two-month period, the surplus expanded by 31 per cent from a year earlier to US$55.3b.
The February surplus with the United States was US$20.9b.
Beijing's steady accumulation of multibillion-dollar trade surpluses with the United States has prompted demands for import controls.
Forecasters expect Chinese demand to weaken this year as Beijing tightens controls on lending to slow a rise in debt. That is a blow to its Asian neighbours, for which China is the biggest export market, and for suppliers of iron ore and other commodities such as Brazil and Australia.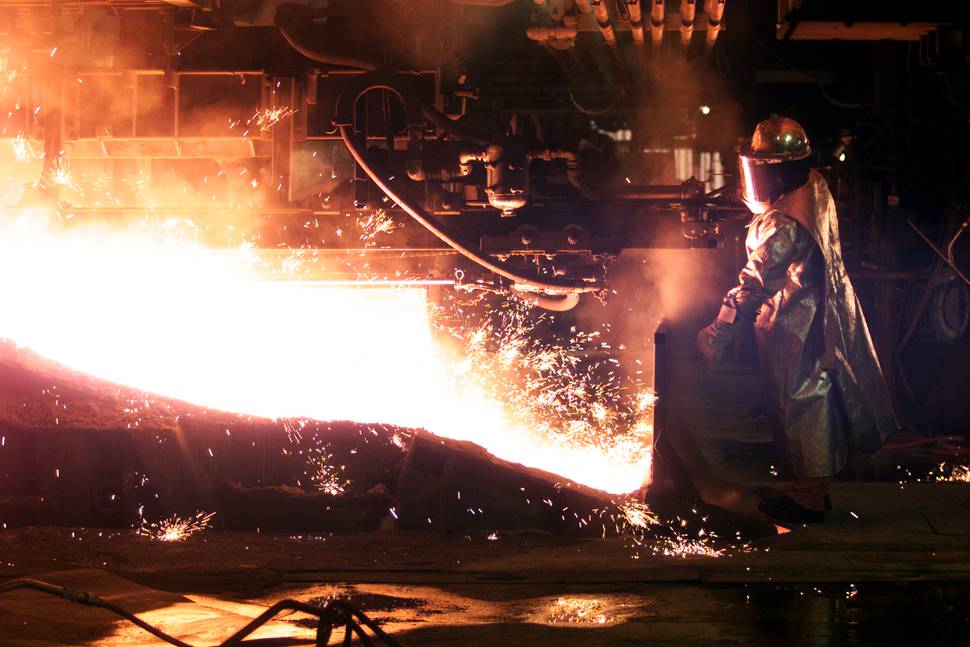 Lawmakers, business groups and US trading partners are bracing for the details of President Trump's plan to slap tariffs on imported steel and aluminum.
Trump is expected to announce the tariffs by week's end.
Trump's trade and manufacturing adviser, Peter Navarro, said the proclamation the president intended to sign would include a clause that would not impose tariffs on Canada and Mexico immediately.
More than 100 Republican House members are urging Trump to reconsider the tariffs, warning of unintended negative consequences to American workers and the national economy.
In addition to lawmakers, business leaders are sounding the alarm about the potential economic fallout, with the president and chief executive of the US Chamber of Commerce raising the spectre of a global trade war.
Trade experts have said the stakes are high for New Zealand, with broader risks to exporters than just the direct impact on sales of steel and aluminium to the US.
New Zealand International Business Forum executive director Stephen Jacobi said he did not want to dismiss those impacts but with just $39m of steel and $22m of aluminium exported to the US the bigger risk was the damage that the US could do to the framework of the global trade network.
"It escalates very quickly and New Zealand could get caught in the cross-fire, especially if they start to target agricultural products," Jacobi said.
But the "big one" and the issue that could do lasting damage was the extent to which the US could undermine the World Trade Organisation (WTO) dispute resolution processes.
Numerous countries would be likely to dispute the US tariffs almost immediately if they were implemented.
"The US is taking this action justified on security grounds and that is very difficult for the WTO to adjudicate."
The process would be long and slow and even if they ruled against the US it may be unwilling to accept a negative decision, further weakening the WTO's authority, Jacobi said.
The strength of the WTO disputes process was vital to a small trading nation like New Zealand, he said.
New Zealand's numerous free-trade agreements such as the China FTA and the CTPP relied on the WTO to resolve disputes.
The European Union said it was ready to retaliate against the US over Trump's proposed tariffs on steel and aluminum — with counter-measures against iconic US products like Harley Davidson motorcycles, Levi's jeans and bourbon.
There was some hope that free trade proponents in the White House, such as economic adviser Gary Cohn, would dissuade Trump from going ahead with the tariffs. But Cohn's resignation this week dealt a blow to that expectation.
EU Trade Commissioner Cecilia Malmstroem said the EU was circulating among member states a list of US goods to target with tariffs so that it can respond as quickly as possible.
The list so far includes US steel and agricultural products, as well as other products like bourbon, peanut butter, cranberries and orange juice.
Malmstroem did not say what level of tariffs the EU would set, leaving it unclear what the economic impact would be.
European Commission President Jean-Claude Juncker has said his bloc planned to hit back at the United States by imposing tariffs on targeted US products.
"This is basically a stupid process, the fact that we have to do this. But we have to do it," Juncker said. "We can also do stupid."
- Staff reporter, AP