The sold-out New Zealand Sevens in Hamilton this weekend is estimated to bring more than $5 million of outside money into the city and leaves no-one in doubt about the quality of Waikato's events industry, says co-promoter Dallas Fisher.
The Waikato business leader, managing director of new private investor company 37 South, formed to own 25 per cent of the Sevens Hamilton event in a partnership with New Zealand Rugby, said the 45-game event at the FMG Waikato Stadium would be a festival of broad-based entertainment, live music and hospitality for all ages in a secure environment.
The two-day Sevens, lost by Wellington to Hamilton after years of wilting fan and corporate support, was costing about $2.5 million to hold, said Fisher.
Tickets had sold out in September, with 23,500 tickets "genuinely" sold to the first cashless rugby game in New Zealand, he said.
Ticket holders will wear electronic wristbands loaded with nominated spending amounts, intended to cut queues and help monitor alcohol purchases.
About 1500 children were expected among the families attending, and more than 1500 event staff and volunteers would be on site over each of the two days, Fisher said.
Families and children will be separated - and in their own large amusement ride area - screened from 9000 Sevens revellers who can move between their own viewing stand in the stadium and the designated R18 "party" area.
Unlimited admittance to entertainment areas for the respective groups was included in the ticket prices of $87 to $97, Fisher said.
The Tron can put on a show ... The atmosphere is already fantastic.
He was "over the moon" at the corporate attendance response. Guests will include World Rugby chief executive Brett Gosper.
Montana Catering, co-owned by Fisher and Troy Reid, is New Zealand's biggest privately-owned caterer and holds the catering contract for Hamilton's stadium. It also employs 100 people in its Auckland operations under the company name Flame Tree Kitchen.
Forty Montana chefs and dozens of staff over the two days will serve up more than 1.5 tonne of chicken, beef and lamb, including 150 whole briskets to become Texas barbecue, and 20kg of salmon. Desserts include more than 21,000 hand-made gingerbread kisses and tarts.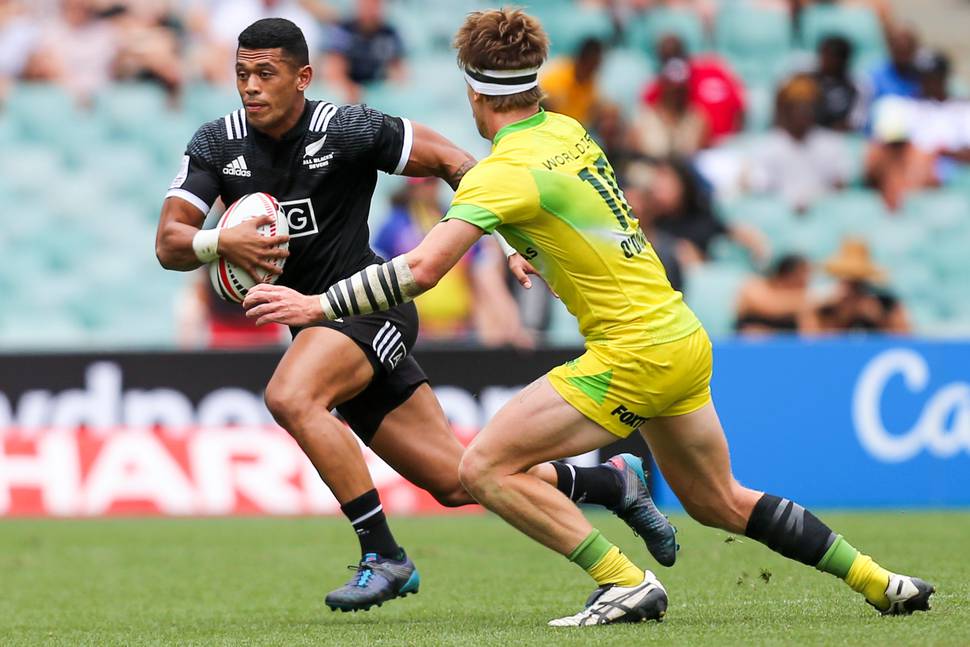 Head chef David Humphry has been preparing on-site at the stadium with 12 full-time staff for more than two weeks.
Montana has taken the Sevens opportunity to undertake a $150,000 renovation and rebranding of its food hall in the stadium, which will include an Asian food hub, Fisher said.
More than 350 Sevens players also need to be fed – according to dieticians' orders. Players will visit movie site Hobbiton, near Matamata, for a meal where the traditional Sevens captains photo will be taken.
Fifty media organisations have been accredited to cover the event, Fisher said.
He ordered 45,000 substantial, recyclable cups for the outdoor festival areas, 10,000 of which are souvenir cups. The cups can be washed for reuse at an on-site hygiene station.
Also on his order list were 350 recycled wooden pallets to be made into seating benches and tables for the outdoor festival areas. No wine or RTDs will be available in the R18 party area. Craft beer will be on offer – to be dialled down in strength from mid-afternoon – along with cocktails and plenty of food.
Fisher, a qualified accountant and chairman of the Chiefs Rugby Club and business development group Waikato Means Business, said people thought he was "nuts" to take a risk on the apparently ailing New Zealand Sevens.
"But the Tron can put on a show. The quality of the events industry here is right up there. It will be spectacular but intimate. The atmosphere is already fantastic."
37 South will commission an independent economic report on the event.