New Zealand is the second largest consumer of ice cream per capita in the world, consuming a whopping 23 litres per year.
Expenditure on ice cream and other edible ices totalled $381 million in the year to September 2017, up from $358m in 2016, with $2.10 of every $100 spent on food in New Zealand going on chilled treats, according to Statistics New Zealand.
With a population of approximately 4.8 million people, this means every person spends $79 per year, or $1.50 a week on average, on ice-cream.
Auckland-based ice cream company Tip Top, which was founded 81 years ago, is a subsidiary of Fonterra Co-operative Group and employs 380 workers.
Fonterra Brands is the largest player in New Zealand's ice cream and frozen desserts industry, holding a 53 per cent share of retail value sales, according to a report released by Euromonitor International earlier this year.
Summer is an important time of the year for the brand, with 60 per cent of all of sales made throughout December, January and February, says director Kim Ballinger.
Chocolate Trumpets, closely followed by Choco Bars and then Boysenberry Trumpets, are Kiwis' individual ice lollies of choice, according to Tip Top.
Standard vanilla ice cream is another firm favourite, with Tip Top sales in the particular flavour spiking "significantly" during the lead up to Christmas. "We sell more vanilla ice cream [then] than we do at any other time of the year," Ballinger says.
Weather is also a determining factor of sales volumes.
Twenty-three degrees Celsius is the magic number for Tip Top, Ballinger says.
"When temperatures go above 23 degrees Celsius, we see a huge spike in our individual ice blocks such as Popsicles and Fruju," she says.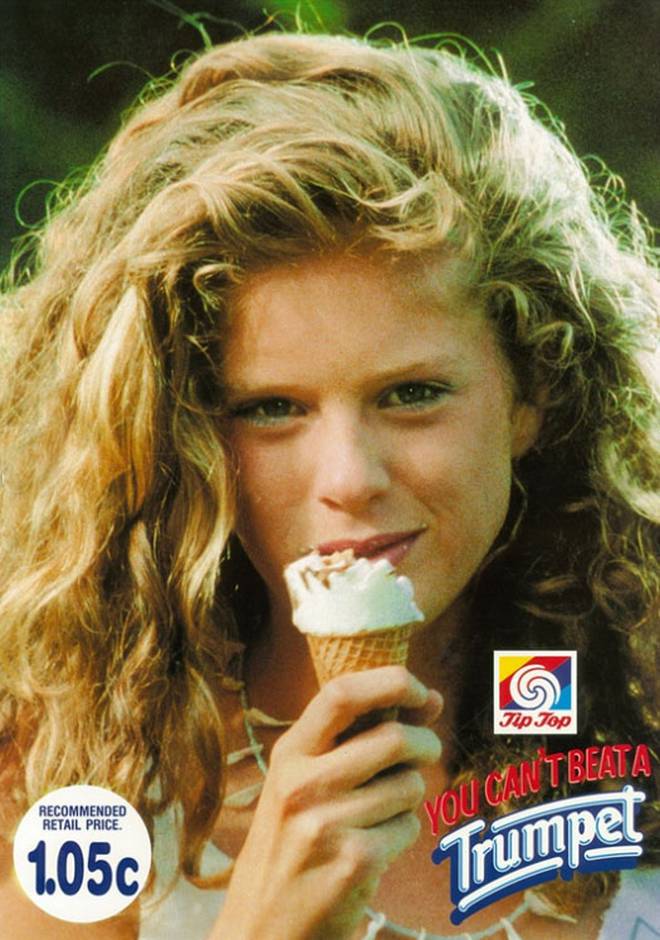 Exporting isn't a priority for the brand, which sells less than 10 per cent of its product overseas.
In total, New Zealand exports approximately 9000 tonnes of ice cream each year, at a value of around $41 million, according to Statistics New Zealand.
The newcomers
Premium ice cream brand Häagen-Dazs is the newest entrant to New Zealand's ice cream industry and is set to take on Swiss rival Mövenpick.
Häagen-Dazs launched in New Zealand in September this year, selling tubs of ice cream in supermarkets nationwide. It was founded in 1961 by Reuben and Rose Mattus, Jewish-Polish immigrants in New York and is now sold in more than 90 countries worldwide.
Keezia Haste, marketing manager for Häagen-Dazs New Zealand, says the ice cream brand had proven popular with Kiwis and was "well on its way to becoming a firm favourite", particularly its salted caramel flavour.
"Since its launch, Haagen-Dazs ice cream has been consistently ranked third in value sales in New Zealand's premium ice cream category," Haste says.
Fellow US ice cream brand Ben & Jerry's launched in New Zealand two years ago, opening its first New Zealand store in the Auckland suburb of Ponsonby in early 2016 followed by others around the country.
For Peter Cullinane, the founder of Lewis Road Creamery, the Eureka moment for launching ice cream came when he was eating ice cream in Shanghai in 2015.
Tucking into a spoonful of strawberry ice cream made by Philadelphia-based and family-owned Bassetts Ice Cream, Cullinane thought the product was a benchmark to create his own.
"Strawberry ice cream is not that popular in New Zealand funnily enough...so that was really the go-to for me, and so this journey started," said Cullinane, who is chair of Herald publisher NZME.
"We thought: 'If Lewis Road Creamery is going to have ice cream it needs to be really creamy'," he said.
Ice cream was added to Lewis Road Creamery's product offering in February last year, launching with a rose-flavoured product.
Its most recent collaboration with Pic's Peanut Butter has gone down a treat with Kiwis lapping up the nutty product in gallons, Cullinane says.
Cullinane says New Zealand's ice cream industry was a busy market.
"Ice cream is just such a naturally happy-place sort of product and its a market that we love being in. I'm all for the more competition, the better because ultimately everyone ends up with better ice cream, and that can't be a bad thing."
The past two summers for sales had been "pretty ordinary".
"We've seen maybe a 20 per cent improvement [in sales] over summer months versus' non-summer months but in a really good, hot summer we expect that to be higher at around 30 or 40 per cent," Cullinane says.
Switzerland comes to Mission Bay
Auckland-based Emerald foods has held the license to premium ice brand Movenpick in New Zealand, owned by Swiss company Nestle, since 2002.
Mission Bay was Movenpick's first ice cream parlour to open in New Zealand and has the second-highest turnover of all of its shops worldwide.
Emerald Foods general manager David Foreman says the Mission Bay location was ideal for the brand.
"I think it's a unique combination of beach, tourist destination, corner location - everything is going for it - restaurants in the area," he says.
Foreman says the brand was "aspirational" and had a high percentage of international visitors, particularly over summer.
"Ice cream being the type of product it is, is seasonal - but less so than people expect," Foreman says. "Movenpick is as much of a nighttime brand as it is daytime brand, with half of sales throughout the year made after 5 o'clock in the evening.
"It is very much a dessert destination as much as it is being an ice cream parlour."
Häagen-Dazs is Movenpick's biggest competitor, but it doesn't have any physical stores in the South Pacific region, with products only sold in supermarkets.
Foreman says having both parlours and supermarket channels was beneficial.
The Mission Bay store often surpasses more than 3700 customers in a busy week, the equivalent of over 500 people through its doors per day.
"We benefit like everyone else, with warm weather and sunshine - it does bring people out, and particularly in the evenings."
It has nine stores in New Zealand, eight in Auckland and one in Paihia.
Down on the farm
Summer is an important season for Jan McIntyre and her husband John, the founders of Kōwhai Creamery based in Waharoa, near Matamata.
The former dairy farmers grow and export blueberries from their own farm - the same home-grown produce used to flavour their ice cream products.
"Summer is utmost important to us. We go from zero to 100 overnight. Currently it really has only been a summer period for us, our retail outlets start cranking up and we are all go," McIntyre says.
The ice cream brand has gone from having one retail outlet in December 2015 to a dozen today and is currently preparing to launch its retail tubs.
The thought of competition in the market never crossed the McIntyre's minds.
"We never really entered the market with the thought we are competing with anyone," Jan says. "We saw what we had in front of us and it was obvious and apparent that in the heart of dairy land why there wasn't ice cream [there].
"We think, although we're in a saturated market, our brand and our story will, and is, carrying us through the crowd."