Buying the 7.65ha section of headland near Waiwera gives rare chance to register naming rights.
Always wanted to walk along a sandy beach that bears your name?
This could be your chance with the sale of a property that sits above what is thought to be Auckland's last un-named bay - and is set to come at a cost around $15 million.
The prime piece of coastal headland near Waiwera, north of Auckland, is a 7.65-hectare property neighbouring the waterfront Waiwera Hill Scenic Reserve.
Bayleys salesman John Greenwood said a land record and title search could not uncover any name for the 450-metre long beach.
"It's entirely feasible that when the property changes, any new owner could register naming rights on the beach," Greenwood said.
"To my knowledge there are no other opportunities like this in the Auckland region."
An Auckland Council spokesperson confirmed the beach and bay were unnamed.
Any proposal for a name to be given to the beach would have to be lodged with the New Zealand Geographical Board.
Both the private headland and council-owned reserve share a 'secret' sandy beach which only a few people know about.
But vehicular and walking path access to the beach are only from the property for sale.
Greenwood said there was technically "public access" to the beach through the reserve, but it was not easy.
"It would be incredibly difficult to achieve with a chilly bin under one arm and blanket under the other."
The beach looks directly out to the small island situated just offshore from the Waiwera thermal springs resort.
The sprawling property has a 2014 council valuation of $4.95 million but Greenwood said the real value would be substantially above $15 million.
The cliff-top section was previously owned by legendary New Zealand doctor Sir Brian Barratt-Boyes who performed the country's first open heart surgery in 1958.
It is now owned by an international businessman looking to return to the United States of America.
The 982 Hibiscus Coast Highway property comes with three separate houses - a large 1970s A-frame house, a smaller two-bedroom cottage built in the 1980s, and an original farm worker's cottage dating from the early 1900s.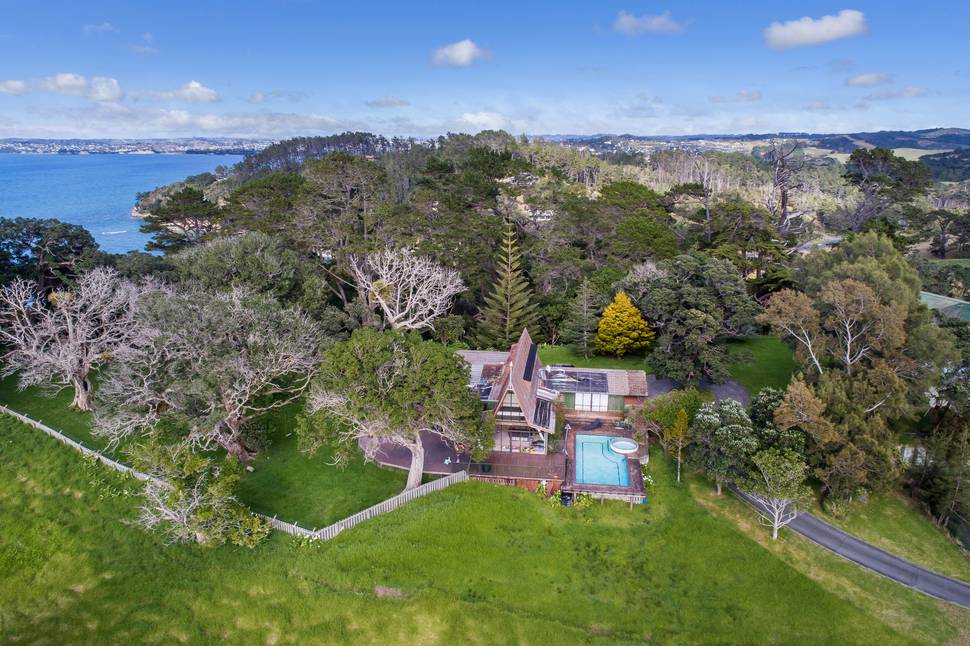 The property has a helipad, a large hangar and a tennis court.
"The residences require varying amounts of maintenance work, but they could be easily converted into country retreat style dwellings or staff residences." Greenwood said.
There was a number of grand pohutukawa, pine, and macrocarpa trees, as well as sloping grass hillside leading down to the beach.

Dozens of beaches, coves, and inlets around Auckland have been named after location, historical activities or after settlers and farmers who once owned the adjacent land.

Nearby beaches and bays named after families include Browns Bay, Bethells Beach, Sullivans Bay, Campbells Bay, Snells Beach, Hobson Bay, Stanley Bay, Tindalls Beach, Clarks Beach, Martins Bay, Murrays Bay, Thorne Bay and Algies Bay.

The property is being marketed for sale by Bayleys Real Estate, with public tenders closing on December 6.