Foreigners got approval to buy $2.7 billion worth of New Zealand assets so far this year, up $1b on this time last year, with the biggest deal being the sale of kiwi plastics business Sistema to American interests.
The Overseas Investment Office released data on Friday showing that from January to August last year, foreigners were granted consent to buy New Zealand assets valued at $1,799,452,788 but that had risen to $2,741,596,000 from January to August this year.
The data has emerged at a time when New Zealand First could hold the balance of power in the formation of a new government and that party has a cornerstone policy which is to "stop the loss of New Zealand's land and assets to foreign ownership".
The OIO said this year's three most valuable deals, where details or price or buyer were not suppressed, are:
• NBS Holdings' proposed acquisition of up to 100 per cent of the shares of Hanger Holdings Limited, a net investment of $660,000,000.
NBS, 87 per cent United States-owned, is a wholly owned subsidiary of Newell Brands Inc which the OIO said was a global marketer of consumer and commercial products including Paper Mate, Sharpie, EXPO, Parker, Marmot, Sunbeam, Mr. Coffee, Rubbermaid Commercial Products, Graco, Baby Jogger, NUK, Rubbermaid and First Alert. Hanger Holdings is the ultimate holding company of Sistema Plastics which designs, makes and supplies plastic food and beverage storage containers.

• Zhejiang Rifa Holding Group Co's proposed acquisition of up to 100 per cent of the shares of Airwork Holdings, a net investment of $203,132,157.
Zhejiang Rifa is 100 per cent Chinese owned and Airwork Holdings is a specialist aviation service provided involved in helicopters and fixed wing aircraft engineering and support services, the OIO said. Zhejiang "seeks to operate Airwork as part of its broader general aviation business. The applicant's overall strategy for its aviation division is to continue to expand its general aviation business and establish a presence in the entire value chain of the wider aviation business, including landing base construction, equipment manufacturing, aircraft operation and maintenance, and personnel training," the OIO said in granting consent.

• Vero Insurance New Zealand's proposed acquisition of up to 100 per cent of the shares of Tower Limited, a net investment of $174,325,000.
Vero, 74 per cent Australian owned, "is ultimately wholly-owned by Suncorp Group Limited, a company incorporated in Australia and listed on the ASX". Its Tower purchase consolidates Suncorp's business in New Zealand and "combined business would generate significant shareholder value through operating efficiencies, as well as reinsurance and technology synergies".
Although the values rose, the overall number of deals by foreigners buying New Zealand assets this year has fallen. From last January to August, 80 deals were approved but in the same time this year, that was only 67.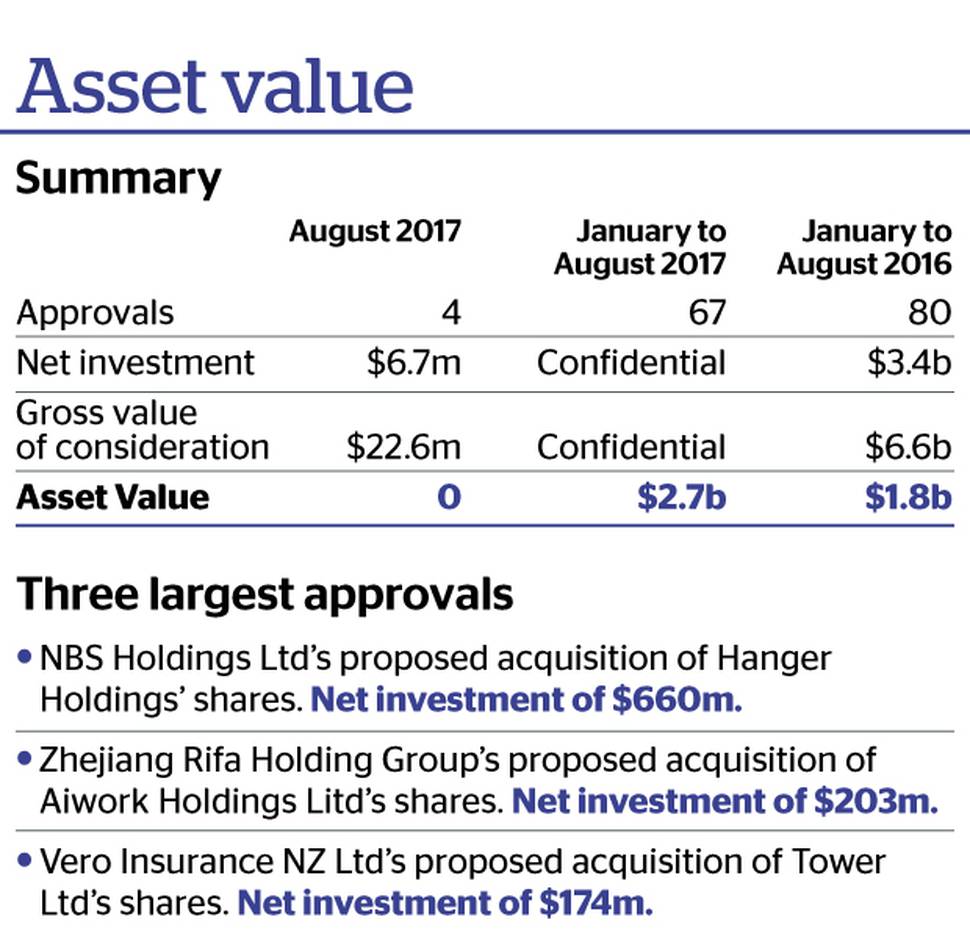 Approval was granted for 16,502 net hectares of New Zealand land to be sold to foreigners, compared to 12, 337 net hectares in the same eight months last year, the OIO said.
In terms of net freehold land areas, the three largest approvals to date in 2017 which can be disclosed were for:
• Nelson Forests' proposed acquisition of 9,454.0191 hectares of freehold land at Wairau Valley, Marlborough, a net land area of 9,170.3985 hectares;

• BT Mining's proposed acquisition of 3,588.0586 hectares of freehold land in the Waikato and Buller districts from Solid Energy, a net land area of 1,819.1457 hectares;

• Monte Capital's proposed acquisition of approximately 1,583.1301 hectares of land at 558 Te Kumi Rd, Waikura in the Gisborne district, a net land area of 1,583.1301 hectares.
The highest-value approved sales of land leases and crown pastoral leases not suppressed so far this year were:
• Orange Lakes (NZ) proposed acquisition of 10,759ha of pastoral lease and special lease land at Hunter Valley Station;

• BT Mining's proposed acquisition of 749ha of leasehold land in the Waikato and Buller districts from Solid Energy New Zealand, a net land area of 380ha;

• Te Hau Station's proposed acquisition of 15.9ha of leasehold land at various locations at Whatatutu, Gisborne.