Following months of anticipation, Apple has finally unveiled its souped-up "anniversary" phone, the iPhone X.
The US$999 iPhone X features an edge-to-edge display with richer colours and facial recognition software calle Face ID that allows users to unlock the phone without the need for a fingerprint reader or physical home button, the Daily Mail reported.
Apple has also revealed the new iPhone 8 and iPhone 8 Plus, alongside an upgrade to the Apple Watch and a higher-definition Apple TV.
• Live blog: New iPhone announcement from Apple
Tim Cook, CEO of Apple, took to the stage of the new Steve Jobs Theater at Apple's new Apple Park "spaceship" campus - widely considered to be the final product designed by Jobs, who died in 2011.
He began with a tribute to Steve Jobs: "It was only fitting that Steve should open his theater," he said.
"There's not a day we don't think of him, memories have come rushing back as we prepared for today. It's taken time, but we can now reflect with joy instead of sadness. We dedicate this theatre because we loved him, and he loved days like this.
"We're here today to talk about some incredible products."
Cook explained that the Apple campus was designed to be seamless with nature, bringing the "outside in".
A visitor centre will open to the campus later this year, with an augmented reality tour available.
Angela Ahrendts, Apple retail boss took to the stage next, explaining Apple's plans to redesign the firm's Fifth Avenue store in New York, building in skylights.
iPhone X
Having revealed several new devices throughout the presentation Tim Cook unveiled the much anticipated iPhone X (pronounced iPhone Ten).
Cook said: "We're not stopping there, we have one more thing.
"Our teams have been hard at work for years on the future of the smartphone.
"Now, 10 years later it is only fitting we are here, in this place on this day that will set the path for for technology for the next decade."
A video then showed the iPhone X in action.
Phil Schiller, senior vice president of worldwide marketing at Apple explained: "It is all screen, it is beautiful to look at, incredible to hold. There has never been anything like it."
The phone features a glass front and back, with a band around the edge made from surgical grade stainless steel, as well as an edgeless display.
The iPhone will be dust and waterproof at a microscopic level.
iPhone X has an all new display, called the "super retina display".
On the diagonal, the display is 5.8 inch, with over two million pixels - the highest resolution and pixel density ever seen in an iPhone.
It also features an OLED display.
Schiller said: "It's the point of this technology that matters - it's easier to use, and more intuitive."

With the phone, users will be able to raise it to wake, or tap the screen to wake - because Apple has ditched the home button.
Now, to reach the home screen, users now swipe up from the bottom of the screen.
Schiller said: "We also use the home button for Siri, but how do you do that now? You can now press the side button, which has been made larger, and speak to Siri."

To unlock the phone, users can now use facial recognition, which Apple calls Face ID.
Schiller said: "Nothing has ever been so simple. This is the future of how we'll unlock our phones."
A new TrueDepth camera system includes an infrared camera, and other new technology.
The Face ID will learn your face, so every time you glance at the iPhone, it detects your face - even in the dark.
It works by projecting infrared dots out onto your face, which feeds information back into an AI computer, to create a model of the face and check it against the owner.
Schiller said: "This happens in real time, and invisibly."

The built in chip that controls Face ID is built with a neural engine, allowing it to execute 600 billion operations per second.
While you might think that Face ID could be tricked by a photo, Schiller reassured that this wasn't the case.
He said: "We worked to make sure it can't be fooled by photographs, and worked with Hollywood teams to make sure masks don't even work."

Face ID will also work with Apple Pay, as well as third party apps.
Another new feature in the iPhone X is animoji - 3D animated emoji that you can control with your face.
The animoji work by tracking more than 50 facial movements and replicating these in your choice of dozens of animal emoji.
Unfortunately, when Craig Federighi, Apple's senior vice president of Software Engineering, came on stage to demonstrate the Face ID, it didn't work on first attempt, and he was forced to revert to a backup phone.
But when he showed the animojis in action, he joked: "If you were wondering what humanity would do when given access to the most advanced facial recognition technology, here it is," before showing off a talking poop.
The iPhone X has dual 12MP cameras, with dual optical image stabilisation and quad LED true tone flash.
The front camera is a breakthrough for selfies, and can take photos in Portrait Mode with Portrait Lighting.
Schiller said: "People will be blown away by the selfies you can take with the iPhone X."
The iPhone also features the same A11 bionic chip as iPhone 8, and will also have wireless charging built in.
Battery life will be two hours better than the iPhone 7.
Schiller said: "We think we have an idea of how to make charging a better experience."
He then revealed the new AirPower Charging mat, that can charge iPhone, Apple Watch and Airpods simultaneously.
AirPower will be available next year.
There will be a 64GB version and a 256GB version of the iPhone X available, with a starting price of US$999 and going up to US$1149.
It will be available in space grey and silver, and ships on November 3.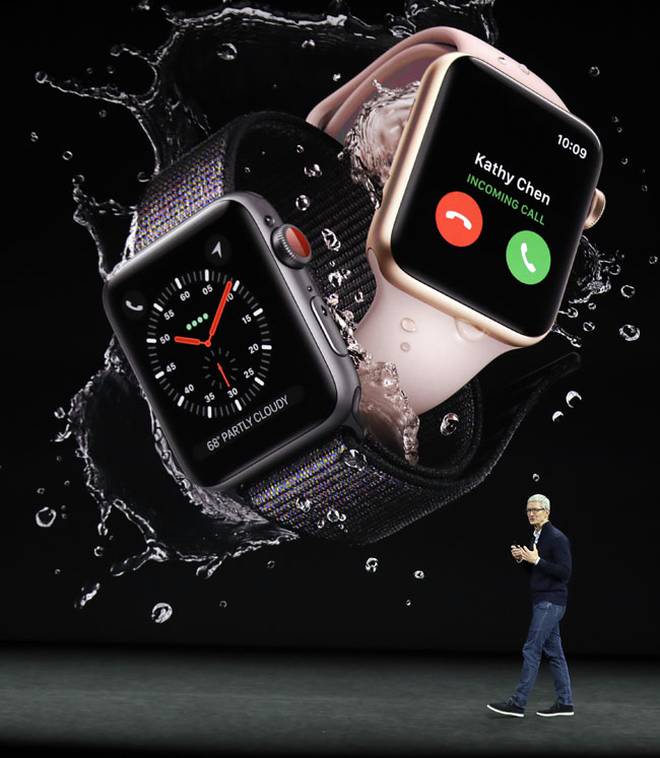 Apple Watch
Tim Cook took to the stage to speak about the Apple Watch.
He said: "Apple Watch was designed to keep people motivated, since the launch of series 2, it has grown over 50 per cent year on year.
"Apple Watch is now the number one watch in the world, overtaking Rolex."
Jeff Williams, COO of Apple, then revealed the firm's updated Watch.
The software has been redesigned with new features for exercises and the ability to link to gym machines.
Williams said: "We want to help use the heart rate sensor to help more people."
The watch can now measure resting heart rate, and recovery heart rate, and will also alert users if their heart rate becomes elevated.
Watch OS4 will be available on September 19.
Apple has also revealed the series 3 Apple Watch with cellular capabilities built in.
Williams said: "Now you can go anywhere with just your Apple Watch.
"You can leave your phone at home, and be reached if needed. The number will be the same as your iPhone.
"You will be able to stream 40 million songs from Apple Music using the connection.
The Series 3 watch has new dual core processor, and comes built-in with Apple's smart assistant, Siri.
The display itself becomes the antenna, and the sim card is integrated into the electronics.
Williams added: "It's really magical to make a call on a device this small."
Williams demonstrated making a call on stage to someone paddleboarding, and the call could be heard clearly.
He joked: "It's just darn close to magic."
The Series 3 will be available in gold, silver, space grey and ceramic grey.
There will be two versions available - one without cellular capabilities, that will cost US$329, and one with, that will be US$399.
Apple TV
Apple TV has also been given an update.
Tim Cook took to the stage once again, and said: "Apple TV has changed the way we watch TV.
"There have been some key development that changed TV, from colour to HD. Now, we're at the next major inflection point. I'm so excited to introduce Apple TV 4K."

Apple is also adding HDR capabilities to Apple TV.
Eddy Cue, senior vice president of Internet Software and Services explained: "4K is about the number of pixels, HDR is about better pixels."

The Apple TV will contain an A10x chip - the same as is in the iPad Pro.
The firm will be working with large studios to bring 4K movies to iTunes - all which will be available at the same prices as HD rental.
Apple has also been working with Netflix and Amazon to bring their content to Apple TV in 4K and HDR.
The Apple TV app is also coming to the UK and seven other countries.
Cue added: "Later this year, Apple TV will do even more."
Apple TV will support Live TV, and will even send users notifications when a game is starting.
The 4K Apple TV will cost US$179-$199, and will ship from September 22.
Cook returned to the stage to talk about Apple's new iPhones.
He said: "Apple has always believed technology infused with humanity can change the world. No other device in our lifetime has the impact the iPhone has.
"It's truly amazing how much the iPhone impacts the world every day. We want to create something so immersive the hardware disappears.
"Over the past decade we've pushed ford with innovation after innovation, bringing us to this moment. We have huge iPhone news for you today.'
iPhone 8 and iPhone 8 Plus
Phil Schiller, senior vice president of worldwide marketing at Apple, came to the stage to reveal the new iPhone 8 and 8+.
Schiller said: "iPhone 8 is a huge step forward for iPhone.
"These are a new generation of iPhone, and they improve on everything we love about iPhone."
The smartphones have glass in both the front and back, and come in silver, space grey and gold.
It is made from aluminium, with stell-reinforced glass.
Schiller said: "This glass is the most durable ever seen in a smartphone."
The iPhone 8 has a 4.7 inch retina HD display, while the 8+ has a 5.5 inch retina HD display.
The phones feature an A11 bionic chip - the most powerful and smartest chip ever in a smartphone.
In terms of camera, the iPhone 8+ has dual 12MP sensor cameras, providing 83 per cent more light, with deeper pixels.
A new Portrait Lighting mode can alter lighting in an image, using artificial intelligence to change lighting over the face.
Schiller said: "These aren't filters, they are real time analysis of light on the subject's face."

The smartphones will also feature new 40K 60 frames per second video mode, and a Slo-Mo option that runs at 240 frames a second.
The cameras are calibrated for augmented reality (AR).
For example, Schiller explained that the MLB app will be able to show player information if you hold up phone at a baseball game.
Both the iPhone 8 and 8+ will have wireless charging built in.
Schiller joked: "I can't describe how much nicer it is not to have to plug in a cable!"
Wireless charging will work with hundreds of already available chargers, from Ikea to Ford, although Apple will also sell third party wireless chargers in stores.
The iPhone 8 and 8+ will each come in two versions - a 64GB, with a second at 256GB.
iPhone 8 will start at $699 (£699), and 8+ will start at $799 (£799).
They will both be available on September 22.
iWatering prices in New Zealand