A cluster of new "affordable" homes - complete with a large outdoor swimming pool - will soon be towering above the heart of Mt Albert.
Construction of the 110 homes in three blocks across eight sections off New North Rd and Soljak Pl began yesterday, and 90 per cent were being sold for less than $650,000.
Co-founder and director of Ockham Residential Mark Todd said the target market for the compact living spaces was those "excluded from housing".
"Young couples with a small child, solo parents who need a house they can afford, downsizers and the elderly who want to stay in Mt Albert, but don't want to live in a $1.5m property."
Todd said under the development agreement 20 per cent of the site has to be priced at less than the HomeStart price cap of $650,000, but he estimated 90 per cent were in this affordable bracket.
Prices range from as little as $470,000 for a studio apartment, to $620,000 for a two-bedroom apartment.
He said 20 per cent were designated for first-home buyers.
To be eligible, a single person must earn no more than $85,000 and a couple no more than $130,000 a year.
The property must also be their primary place of residence for six months after settlement and it must be their only property at the time of settlement.
After the first weekend the project was opened for pre-sales Todd estimated about 30 per cent of the apartments were now under contract - all of whom he said were first-home buyers.
Todd expected the project would be finished in three stages in July 2018, November 2018 and April 2019.
He said the first block to be built would include 104 carparks, 36 units and the communal garden and spaces.
Images of the plans revealed compact, but light-filled apartments with red, white and black brick facades.
The complex name, Tuatahi, meaning "The First" represents the first partnership between Ockham Residential and the Marutuahu Iwi.
The design colours reflect the traditional Maori palette and the pitched roof echoed that of the marae.
The Mt Albert project is on land formerly set aside by NZTA for roading. It has a total CV of more than $5.71m. It is part of the Government's work to boost housing supply in Auckland.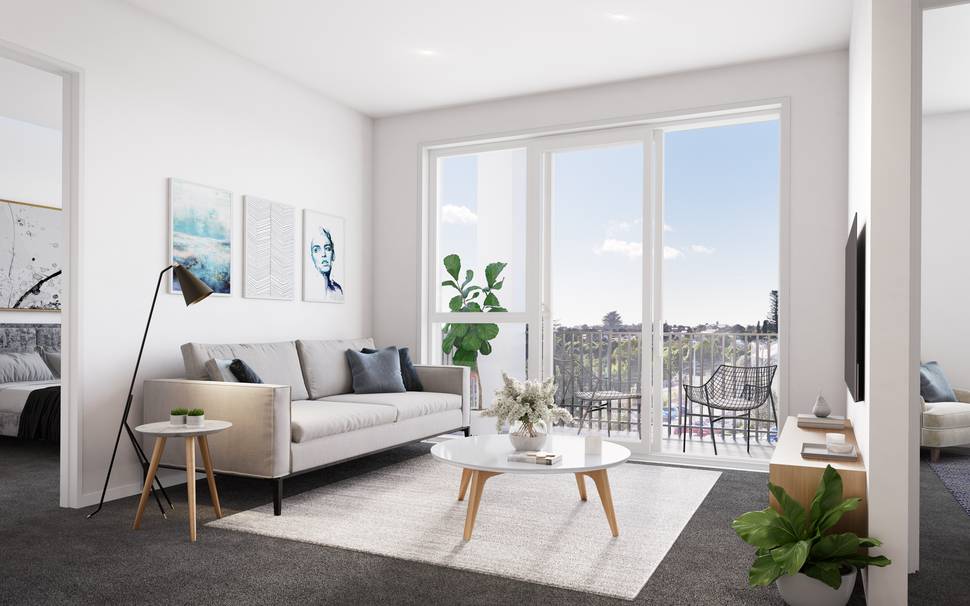 In October 2016 an agreement was signed with Marutuahu Ropu and Ockham Residential Limited to develop vacant land for new houses in Auckland.
Todd said it was a good example of how the private sector could build new homes, of good quality and low prices and enables those "excluded from living within the existing suburban footprint" to get a foot on the property ladder.