Owners of a big Auckland residential complex are facing a potential $32.8 million bill to fix leaky, fire, roof, structural and even methamphetamine issues - one of New Zealand's biggest repairs of its kind.
Peter Scott, body corporate chairman of the Mountain View Apartments at 68 Mountain Rd at the foot of Mt Wellington, has written to owners in the four-block estate, about the huge bill.
That $32.8m could mean Mountain View Apartments is one of the country's most expensive leaky buildings, second to an estimated $40m repair on Victopia in Auckland's central business district.
Mountain View's bill comprises $26.3m construction costs, $4.3m in GST, $1.4m project management to Maynard Marks, $200,000 to the owners' representative the Home Owners & Buyers Association, $270,000 for Auckland Council and insurance and $400,000 contingency fees, owners were told in an update this month.
The Government's Financial Assistance Package, which offers eligible home owners a contribution towards repairing their leaky homes, appears in the accounts at $7.8m - the amount the tax payers could be up for.
Paul McCormack, an owner of a Mountain View apartment empty for about two years, said he expected a bill closer to Victopia's $40m.
"I can't lease it out because it's uninhabitable, it's only partly fixed," he said.
McCormack estimated he had lost about $50,000 in rent and said he was being asked to pay $300,000 in repairs. He bought the unit in 2007 for $255,000. It is worth about $500,000 to $520,000, he said.
Victopia is the high-rise on the corner of Victoria St and Nelson St and is yet to be fixed. Owners were told in body corporate minutes that the total repair bill "could approach $40 million".
Read more: NZ's biggest leaky building case looms
Stuart Wilson of property and building consultants Maynard Marks wrote to owners of Mountain View in March to address issues "raised by committee members and owners regarding the level of increased cost of the remediation works".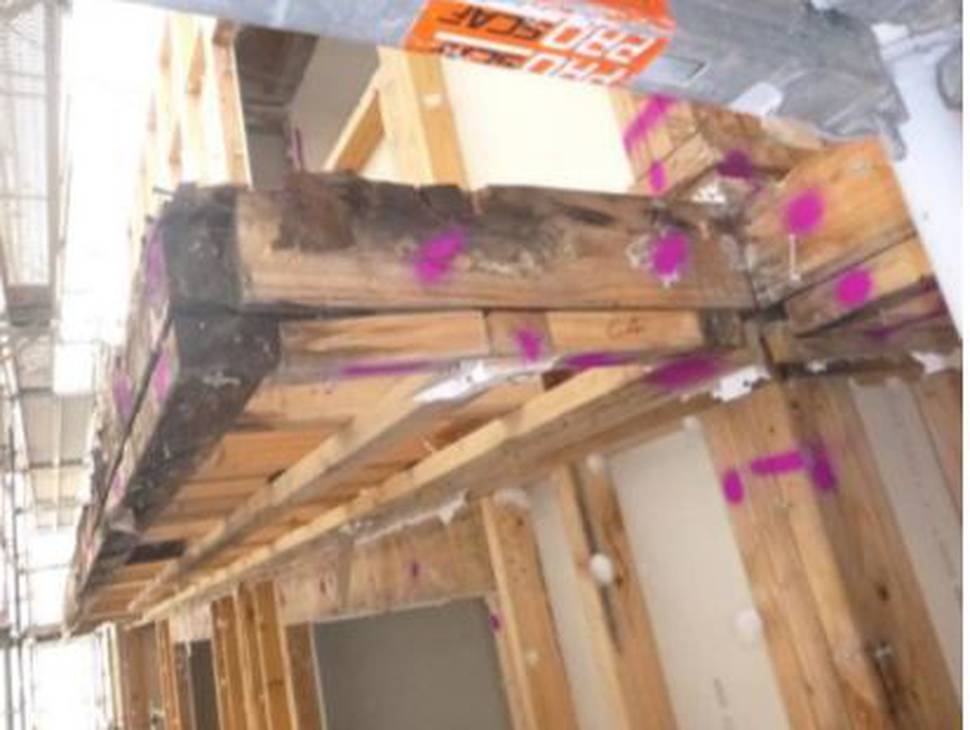 Wilson cited "structural strengthening works, new roof structure and cladding along with extensive passive fire remedial works" in block two although he said each block had its own set of issues.
"Methamphetamine contamination was identified in seven of the 30 apartments," Wilson wrote of block four. Six of seven units had been decontaminated by March 9, he said. Block four needs a new roof and cladding, extensive fire protection measures and was subject to the same issues as blocks two and three, Wilson wrote.
Block one suffered from "inadequate provision of structural bracing" as well as roof and cladding issues. All internal walls and ceilings had to be removed "to deal with lack of passive fire compliance throughout", Wilson wrote. Significant electrical and plumbing work was also needed.
Block three had a unique split-level roof and internal guttering, pushing up costs for those areas. Repairs were due to be completed to that block by November, "a duration of 26 months on what is a more complex and larger block than block two", Wilson wrote.
The property has a separate gym, estimated to cost $1.4m to fix.
Wilson said Maynard Marks estimated block one would cost $6.4m, block two $6.69m, block three and block four $7.1m each.
Roger Levie of the Home Owners & Buyers Association said an initial assessment of the entire project as a weathertightness repair job about four years ago showed that it would cost $10m.
"But when work started on the first block, all the buildings were found to be neither fire compliant and they all had structural issues so the scope of works increased significantly," Levie said.
"The $32.8m is an appropriate cost due to the level of repair required," he said.
"The question is: had we known that cost before the project commenced, would we have made different decisions? We reviewed the demolition option but repair would still have been the most viable option."