Prosecutors have on Friday arrested the de facto head of South Korea's largest conglomerate, Samsung, on bribery and other charges related to a political corruption scandal that triggered the impeachment of President Park Geun-Hye.
In a fresh blow to the electronics giant's corporate image, a district court cited new evidence in approving the arrest warrant against vice-chairman Lee Jae-Yong, who oversees the family-run conglomerate in the absence of his ailing father.
Among other allegations, Lee is accused of paying nearly US$40 million (A52 million) in bribes to a confidante of President Park's to secure policy favours, reports News Corp Australia.
"It is acknowledged that it is necessary to arrest (Lee Jae-Yong) in light of a newly added criminal charge and new evidence," a court spokesman said in a statement.
Shares of many Samsung units took a hit on the Seoul stock market following the news, with the group's flagship Samsung Electronics sliding 0.4 percent.
Its de-facto holdings firm, Samsung C&T, dropped two percent and another key unit, Samsung Life Insurance, fell 1.4 percent.
"We will do our best to ensure that the truth is revealed in future court proceedings," the group said in a statement.
Lee was already being held at a detention centre after appearing in court Thursday as judges deliberated whether to issue an arrest warrant. He will remain in custody as he awaits a trial likely to begin within a few months.
Prosecutors said they planned to summon him Saturday for further questioning, raising the prospect of Lee appearing in public in handcuffs - a rare sight in the nation dubbed the "Republic of Samsung" due to the group's huge lobbying power.
Lee, the son of Samsung group boss Lee Kun-Hee, has been quizzed several times over his alleged role in the scandal.
The 48-year-old, described as a key suspect, narrowly avoided being formally arrested last month, after the court ruled there was insufficient evidence.
But prosecutors on Tuesday made a second bid, saying they had collected more evidence in recent weeks.
His arrest, the first for a Samsung chief, will send shock waves through the group, which is a major part of the South Korean economy and includes the world's largest smartphone maker, Samsung Electronics.
"This is a blow to Samsung's image as a global player in the short term", HMC Investment Securities' analyst Greg Roh told AFP.
IBK Investment Securities' Lee Seung-Woo said that given the cloud over Lee, at a time when the firm is attempting a complicated restructuring, Samsung could refrain from pursuing long-term investments such as overseas mergers and acquisitions.
The company is already reeling from the debacle over the recall of its flagship Galaxy Note 7 device and reports have suggested it could face sanctions from overseas authorities if Lee is punished.
Lee's father and grandfather repeatedly had close brushes with the law but were never jailed.
Heart of the scandal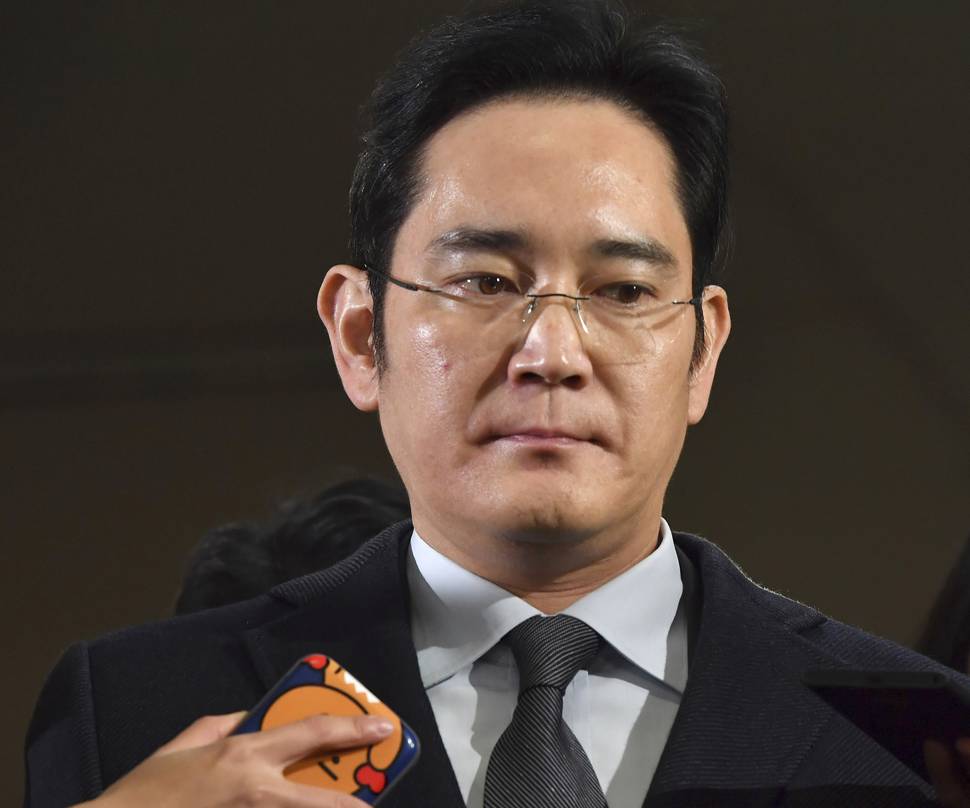 The scandal centres on Choi Soon-Sil, who is accused of using her close ties with Park to force local firms to "donate" nearly US$70 million to non-profit foundations which Choi allegedly used for personal gain.
Samsung was the single biggest donor to the foundations. It is also accused of separately giving millions of euros to Choi to bankroll her daughter's equestrian training in Germany.
The court turned down prosecutors' demand for a separate arrest warrant for another Samsung executive, who is also the head of the Korea Equestrian Federation, citing his limited role in the scandal.
Lee has effectively taken the helm of Samsung -- South Korea's biggest business group -- since his father suffered a heart attack in 2014.
Prosecutors are probing whether Samsung had paid Choi to secure state approval for the controversial merger of two Samsung units seen as a key step towards ensuring a smooth power transfer to Lee.
The merger in 2015 of Samsung C&T and Cheil Industries was opposed by many investors who said it wilfully undervalued the former unit's shares.
But the deal went through after Seoul's state pension fund -- a major Samsung shareholder -- approved it.
Samsung is South Korea's largest business group and its revenue is equivalent to about a fifth of the country's GDP.
Lee's arrest was seen as a blow to Park who is staging an uphill battle at the Constitutional Court to overturn her impeachment by parliament.
The Constitutional Court on Thursday said it would wrap up hearings on the impeachment case Friday next week, sparking expectations that it will reach a verdict around March 10.
Impact on samsung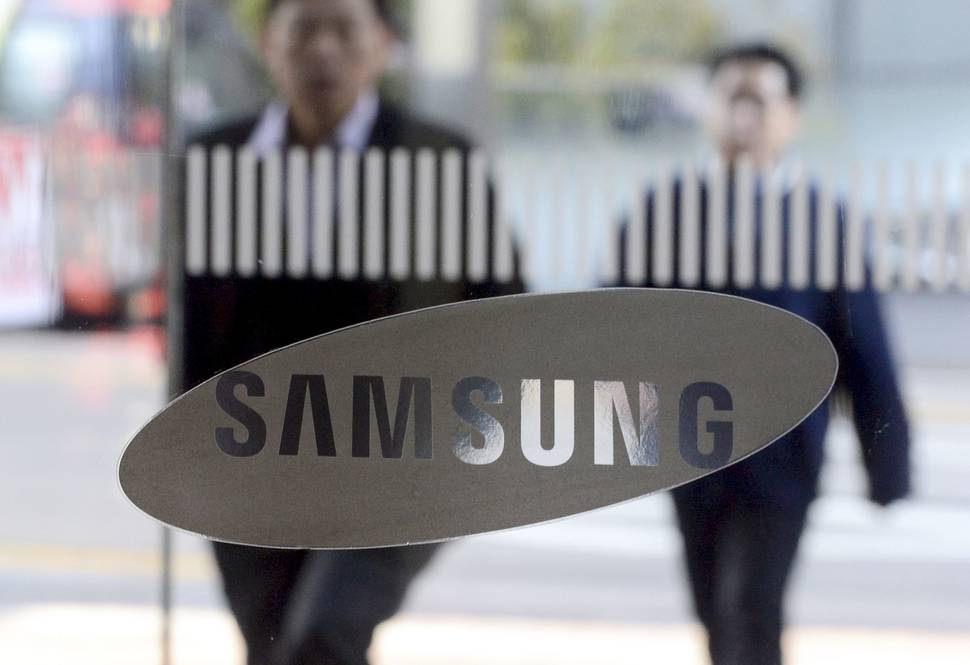 Some conservative commentators are worried that Lee's arrest could hurt Samsung's businesses and therefore the economy, which relies on such companies for exports and jobs.
But others dismiss such concern as exaggerated. "What would affect its businesses are the Galaxy phone's success, the performance of the semiconductor sector and how fast Chinese rivals are catching up, not whether Lee Jae-yong is arrested or not," said Park Sang-in, a professor at Seoul National University.
Chiefs of companies such as Hyundai Motor Group and SK Group have been jailed before but still ran their companies from behind bars.
Samsung Electronics, which is the world's largest maker of mobile phones, TVs and computer memory chips, has three separate chief executive officers each overseeing its electronic component, mobile phone and television divisions.
But long-term business decisions, such as appointing executives and deciding on mergers and acquisitions, may be put on hold.
Samsung normally announces personnel reshuffling and promotions each December, but postponed those announcements in 2016 as it was dragged deeper into the political scandal.
Lee is not the first in his family to face criminal charges. His father was convicted in 2008 and 2009 for embezzlement and tax evasion related to business dealings designed to pass down wealth to his son.
Lee Kun-hee, the ailing chairman, stepped away from his role at the company when prosecutors indicted him in 2008.
The younger Lee will likely follow a similar course and stay away from leadership role once investigators formally bring charges against him.
Family succession
As he stepped up his role in the absence of his ailing father, Lee was seen as the new face of Samsung, fluent in foreign languages and educated oversees.
Since Lee assumed a bigger role, Samsung promised to inject the company's top- down hierarchy with a nimble, startup-like attitude.
Corruption allegations similar to those that took down his father may mean the damage to Lee's reputation is irreversible.
Prosecutors were able to secure Lee's arrest in their second attempt, thanks to new evidence showing President Park's broader involvement in Samsung's family succession plan.
Initially, prosecutors focused on their argument that Samsung offered bribes and in return, the government backed a controversial merger of two Samsung companies in 2015, which was a key step in the leadership transition.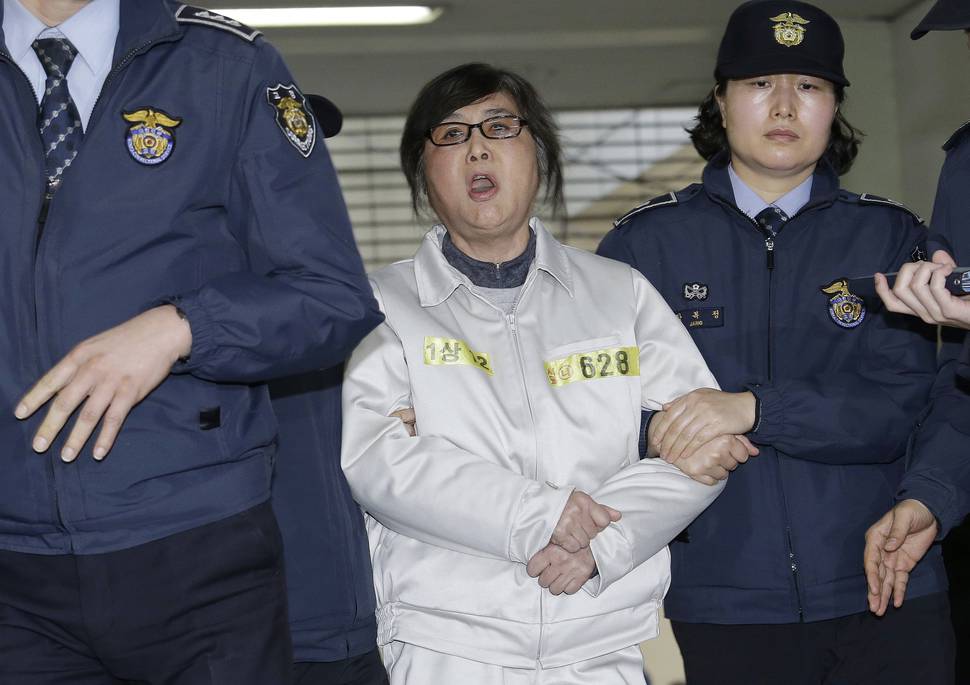 But after the initial request was dismissed, additional evidence from a notebook that belonged to a top presidential adviser showed that the government gave favors to Samsung in other areas related to the Lee family's father-to-son succession, said Lee Kyu-chul, a spokesman for the special prosecution team.
Thanks to the family's decades long succession plan, the 48-year-old heir to Samsung was able to amass enormous wealth even before starting his own business. Lee's net worth is estimated at US$6 billion.
Here's how: In 1995, the elder Lee gave his only son, then in his 20s, 6 billion won (US$52 million), which became the seed money to purchase unlisted stock in several Samsung companies.
And during the next two decades those unlisted Samsung companies saw increased revenues based on lucrative deals done with other Samsung firms.
The shares could then be sold when the companies went public. Some Samsung securities were sold at illegally cheap prices to Lee before he sold them off with huge returns, which later led to the conviction of his father.
Chance of reform?
With the Samsung scion's arrest, others saw an opportunity to change a business community long criticized for poor corporate governance and a lack of transparency.
Even though Lee has less than a 1 percent stake in Samsung Electronics and his father owns a 3.5 percent stake, the family's influence on the consumer electronics giant and other Samsung companies exceed other shareholders thanks in part to the way they control the business empire through a complicated web of cross-shareholding.
The merger between Samsung C&T; and Cheil Industries in 2015 was one example showing how the Lee family could exert an outsized influence on Samsung Group.
Opponents of the merger, mostly minority shareholders, said the deal unfairly benefits the founding family while hurting other shareholders by devaluing the price of one company.
Samsung narrowly won the shareholder approval thanks to the support from the National Pension Fund, its key investor.
Lee became the majority shareholder of the merged entity and he gained control over Samsung Electronics stock owned by Samsung C&T; before the merger.
If Lee had bought more Samsung Electronics stock, it would have cost him billions of dollars. But by merging two companies, he did not have to spend a penny.
"The arrest of Lee Jae-yong should provide a momentum for fundamental changes to end the collusion between the government and businesses, and reform the chaebol," said Park, referring to the family-controlled business conglomerates that dominate the economy.