Hundreds of passengers have finally been able to depart Auckland Airport for Singapore - eight hours after a problem with the nose wheel of a plane forced it to abort take-off.
Witnesses saw smoke and smelt "burning rubber" coming from the Singapore Airlines' Airbus A380, which was bound for Singapore from Auckland before the flight was aborted.
The SQ286 flight, which is carrying 324 passengers - including families with young children and elderly people - was due to take off at 1.30pm, but was delayed while an investigation was carried out.
It finally took off at 9.26pm after several changes to the departure time, Auckland Airport operations duty supervisor Sam Cook said.
Frustrated passengers started booing when they were told at 8pm they would not depart until 9pm.
Singapore Airlines spokesman Karl Schubert said it was decided to keep passengers on board so the plane could leave as soon as repairs and inspections were completed.
But there was an "unforeseen delay" during the inspections which meant it took longer than anticipated to depart.
The plane parked at a remote bay at Auckland Airport awaiting inspection.
Schubert said the airline made sure the customers onboard were comfortable while the engineering team assessed the aircraft.
Passengers were provided with refreshments and the airline would assist all customers with rebookings should they miss any onward connections, he said.
Erik Engstrom's parents were on the plane.
"People started to boo when they were told they wouldn't be leaving until 9pm. They said there's parents on the flight with restless children.
"Everyone's getting sick of being stuck there."
Engstrom's parents were flying to Singapore on their way to their home country of Sweden. They would miss their connecting flight.
Another passenger, Gabriel Xie, who is heading to Tokyo with his wife for their honeymoon, said the plan was "wobbly" when they tried to take off.
He described the atmosphere as more relaxed.
"Everyone's pretty chilled actually, either getting boozed up or watching movies," he told Fairfax.
Staff were making sure all passengers were okay.
"They're trying to arrange everything for connecting flights, but we'll have to confirm them once we arrive in Singapore,"Xie said.
"It's frustrating, but at the same time the crew is doing their best and the passengers are civilised, so it's not too bad."
Cook, of airport operations, said the flight had been scheduled to depart at 5pm, but it had been delayed for the third time today and was scheduled to take off at 8pm.
However, at just after 8pm Cook said the departure was now scheduled to take place at 9pm.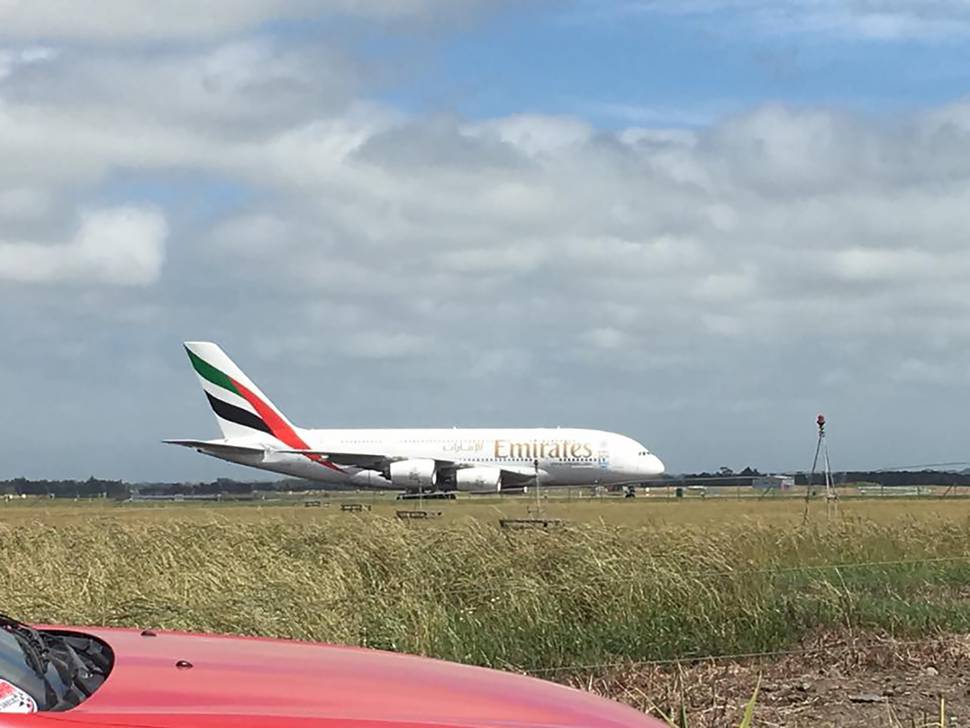 Meanwhile, passengers on Emirates EK406 arrived at Auckland Airport at 6.21pm after the flight was diverted following the problem with the Singapore Airlines aircraft. The plane could not land because the runway was closed for a short period after the incident.
It was carrying 430 passengers and had originally been scheduled to arrive at Auckland Airport at 1.45pm.
Tony Werner was driving past Ohakea on his way to Tauranga when he the unusual sight of an Airbus at the airfield. "We saw the Airbus A380 coming in and thought 'What the hell is going on here? A380s don't come to Ohakea'."