What's happening?
The Dow Jones Industrial average has hit the psychologically important 20,000 mark, having repeatedly tested this level in the run-up to Christmas and consistently hit record highs.
What is the Dow Jones?
It's a price-weighted index of 30 of the largest and/or most important publicly traded companies in the US. Invented by Charles Dow in 1896, it acts as a proxy for the wider health of the US economy.
What's so important about the 20,000 level?
In many ways, nothing - it's just a number that relates to performance. However, to humans trading shares, rather than computer algorithms, it represents a significant marker. It's a "resistance level" that can be difficult to break through for human dealers who often trade on fears.But we've got here. How?
Myriad factors.
1. President Trump
Perhaps the most important one is President Donald Trump. There was a degree of nervousness ahead of the US election but once the bombshell result had been digested, investors decided that Trump would be good for business, and particularly some of the companies that are Dow members.
2. Industry's likely to be stronger
Trump has pledged to strengthen US manufacturing and bring work home, bolstering companies such as Caterpillar, which is up more than a third in the year to date, and United Technologies, 15 per cent stronger. Other big winners are 3M and IBM, both about a fifth more valuable.
Trump's tweeted threats about the repercussions for US companies which elected to offshore work caused some consternation, but did have the effect of least encouraging some high-profile names to bring work home or invest in domestic production facilities.
Companies with big manufacturing operations such as Johnson & Johnson and Procter & Gamble have also soared, as their prospects are closely linked to economic growth.
There's also been the promise to rebuild the US's worn-down infrastructure, which will generate jobs and in turn boost economic growth domestically.
Today, Trump is expected to sign legislation promising to build his controversial wall on the US-Mexico border, a massive infrastructure project which will deliver a huge lift to construction and building materials businesses.
3. A shot in the arm for pharma businesses
Drug companies also surged immediately after the election, on the belief that Trump would support a free market in healthcare and a potential roll-back of the controversial Obamacare, though the president-elect has since tempered this enthusiasm, saying: "I'm going to bring down drug prices... I don't like what's happened to drug prices." Still, companies in the sector such as United Health and Merck have risen by almost 40 per cent and 20 per cent respectively.
4. Banks are in the money
The real stock market darlings are in the banking sector, which has surged on the prospect of lighter regulation.
As the Dow neared the 20,000 mark just before Christmas, analysts calculated that investment in Goldman Sachs, up 34 per cent in the year to date, was responsible for 419 points of the index's rise since the start of the year. Rival JP Morgan wasn't far behind, with its shares rising a hair less than 30 per cent in the year to date.
Higher interest rates - Fed chair Janet Yellen has already hiked once and signalled two or three more rises to come - have also helped, as banks perform better when rates are higher as they can charge more for loans.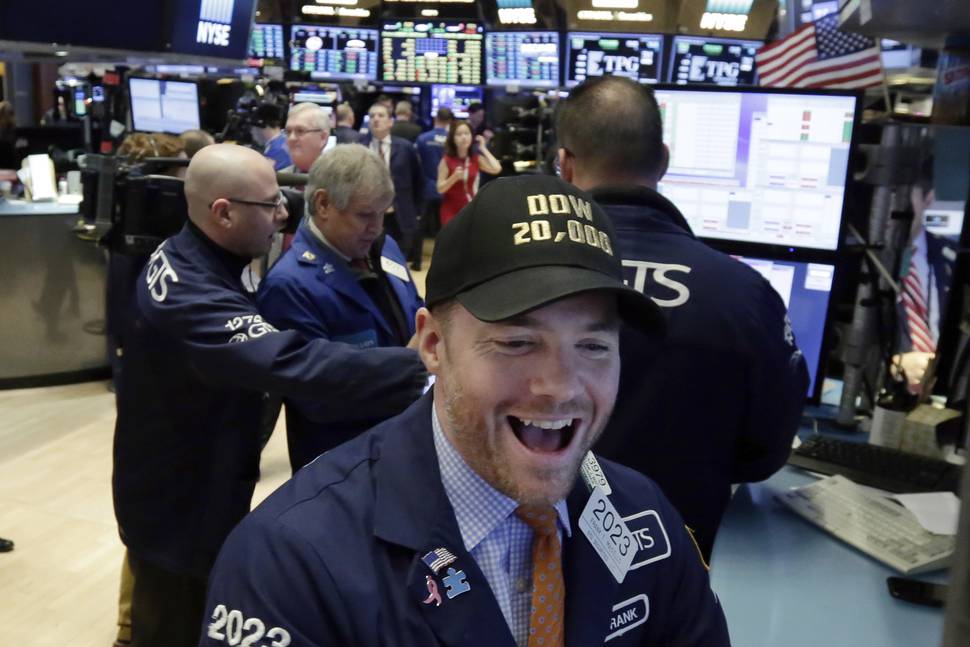 5. Oiling the wheels
Trump's Cabinet appointments also send a loud signal that his administration could be good for big business. Most notable is ExxonMobil boss Rex Tillerson as secretary of state - it's no wonder that Dow constituent Exxon is a major gainer over the year, rising 16pc, though this is far behind Chevron, which is up more than 30 per cent.
6. A cabinet of billionaires
Other big business names will be joining Trump in the White House. Investor and former banker Wilbur Ross - who has an estimated fortune of US$2.5 billion - is slated to be secretary of commerce. The nomination for army secretary is Vinnie Viola, the founder of trading firm Virtu Financial; he's estimated to be worth US$1.8b. Other leading business figures in Trump's cabinet include a former Goldman COO.
There's a lot of bad things going on, though - why is the Dow rising?
Despite terrorist attacks, markets have proven surprisingly resilient, shrugging off fears. It seems that there's a newfound confidence in the air.
Anything else driving this?
Well, there's the traditional Santa rally that took place before Christmas which set up the Dow to get to the 20,000 mark. As the year ends, shares tend to rise. There are many theories about what drives it, from dealers clearing up trades for the end of the year, people investing bonuses, and just general seasonal good cheer driving stocks higher. Whatever the reason, it held true at the end of 2016, and set up the Dow for a winning start to 2017.