Plans to build the tallest tower in London's Square Mile were today given the green light by City planners.
The building at 1 Undershaft, known as the Trellis, will be 304.94 metres tall once built, making it the second tallest building in Western Europe after the Shard.
Singapore-based developer Aroland Holdings was today granted planning permission for the tower by the City of London Corporation's planning and transport committee, which voted in favour by 19 votes to two.
The existing Aviva tower will be demolished to make way for the new Eric Parry-designed building, which will have a free public viewing gallery at the top - the UK's highest - and a public square at the bottom. Aroland Holdings is working with the Museum of London for an exhibition space at the top of the tower.
Once final negotiations have happened with the council and existing tenants, the team behind the building said it expected demolition of the current building to take about 18 months and construction of the new building to take between three and four years.
An estimated 10,000 workers will be housed in the building on completion. It said it was too early to speculate on the final construction costs of the building, which will run into hundreds of millions of pounds.
Chris Hayward, chairman of the City of London's committee, said the 73-storey building showed that there was still a high level of investor confidence in the Square Mile after the European Union referendum.
"Over the next 30 years I expect that we will need to deliver office space for more than 50,000 extra workers within the Square Mile, and this development is important in reaching that end goal," he said.
How 1 Undershaft compares to other London towers: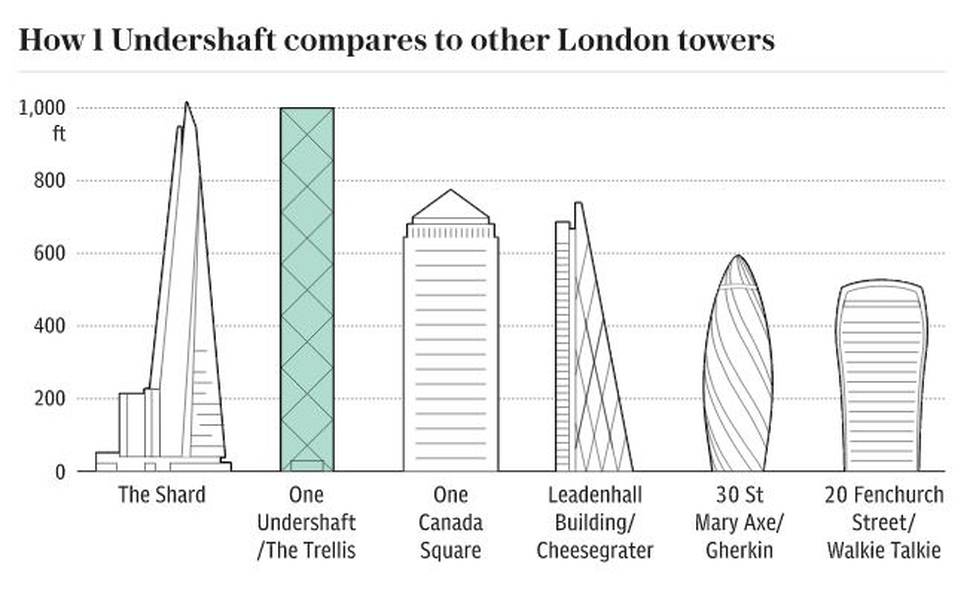 "I believe this building will play an important part in increasing London's attraction as the world's leading financial centre."
Aroland Holdings was forced to revise its plans for the tower last month, slicing 5 metres off the top in response to concerns from aviation authorities about it impinging on space allocated to approach routes for planes travelling to London City Airport.