Shares in Ardent Leisure dropped almost 20 per cent in the first few minutes of trade on Wednesday. Ardent shares fell 20 cents, or 7.8 per cent, to $2.35 in the immediate aftermath of the tragedy on Tuesday. Just after 10:00am they had recovered some of the losses but were still down 22 cents, or 9.4 per cent, at $2.13 loosing roughly $200m in value.
The company had been expected to request a trading halt when the bourse reopened.
As authorities investigate the tragedy that claimed four lives at Dreamworld, a stunned public awaits news of what caused the horrific accident.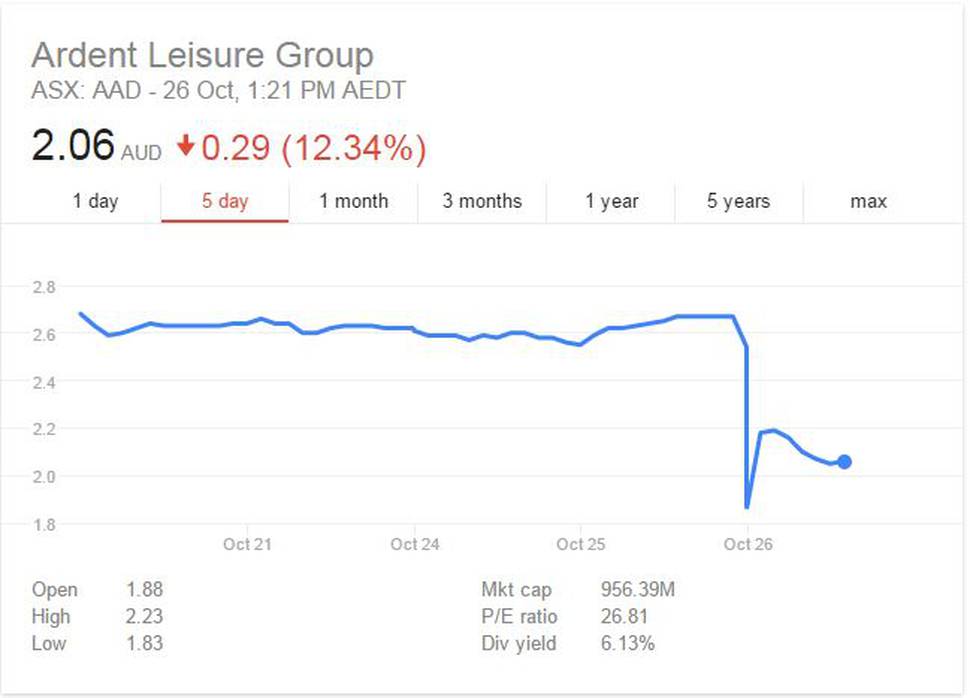 Attention is turning to the operators of the Gold Coast theme park.
How did the Thunder River Rapids Ride flip with riders on board, and why was the malfunction not prevented?
These will be the questions asked of Dreamworld management and its parent company Ardent Leisure, a publicly listed Australian company run by former publishing executive Deborah Thomas.
With the company in damage control, Thomas will no doubt be feeling the heavy weight of responding to the worst theme park disaster in Australian history.
The tragedy struck just as the glamorous former Bauer Media executive and Woollahra councillor was proving her mettle as the head of a major listed group of companies, her first such position.
In a candid interview after her appointment in February, Thomas revealed her response to critics who had asked if she knew how to operate a rollercoaster.
"It was one of those questions which indicated the misconceptions around me and why I was brought into the company," she told The Weekend Australian.
"My response was that I am not here to operate the rollercoaster; I am here to make sure that people queue up and want to spend their money to take a ride on it."
Thomas' opponents had labelled her too inexperienced to run a listed group of companies, but she looked to be proving them wrong when she unveiled the company's 2015-16 full year results in August.
Ardent's revenue was up 11 per cent to A$687.6 million - including A$107.6 million from its theme parks division, where visitor numbers were up 13.2 per cent to more than 2.4 million, thanks to a favourable exchange rate and increased flights from China.
It remains unclear what impact the accident will have on the company's future.
Along with Dreamworld, Ardent owns entertainment assets in Australia and the United States, including the AMF bowling chain, WhiteWater World, Skypoint Observation Deck, Main Event Entertainment, D'Albora Marinas and Hypoxi.
The horror news came just days before the company's annual general meeting, scheduled for October 27.
The share market reacted in late trade, with Ardent Leisure shares falling 20 cents, or 7.8 per cent, to A$2.35 at 5pm. The company is expected to request a trading halt when the bourse reopens on Wednesday.
Two months ago, the company was a share market darling, having unveiled a healthy profits and a compelling strategic for the future.
Ardent had just signed a A$260 million private equity deal to spin off its health clubs division, and confirmed plans to offload its marinas.
Selling its gyms to Quadrant Private Equity Group would raise capital "to strengthen the group's balance sheet and enable the group to execute on the development pipeline of new Main Event Entertainment centres in the US, as well as focused investment in the theme parks and bowling businesses," company secretary Alan Shedden said in a statement to investors.
The rollout of Main Event leisure centres in the US, where seven new centres opened, brought a 22 per cent spike in revenue.
"Management's ongoing focus and disciplined approach to cost control helped lift margins, particularly in the second half of the year," Shedden told investors.