Around 300 excited shoppers turned up for the opening of New Zealand's first Zara store at Sylvia Park this morning.
Customers began lining up from 7am, two and a half hours before the doors opened, excited to see what the store would offer and how it compared with international outlets.
First in line were Mandy and Ellie Siu who said they had been to Zara in other countries and were excited for the opening.
Further down, 19-year-old Michelle Smith said she was looking forward to the statement pieces that the brand was known for.
"I'm most looking forward to the new fashion styles, I think Zara is quite different to what's in the New Zealand market already," she said.
"It's different to the usual Glassons and Dotti type clothing and they change the styles for every country and adapt it to the market so they'll have a few similar things but I'm excited to see what's in the New Zealand store."
The New Zealand launch marks Zara's 93rd market with the one-storey Sylvia Park store offering all of the brand's clothing collections including women's, men's and children's clothing, with stock updated twice a week.
The company has assigned staff to create its Southern Hemisphere collection with a team focused specifically on understanding the New Zealand market.
The simply furnished store was similar to Zara in other markets - tiled floor, white-washed walls and bright lights showcasing the spring and summer collections.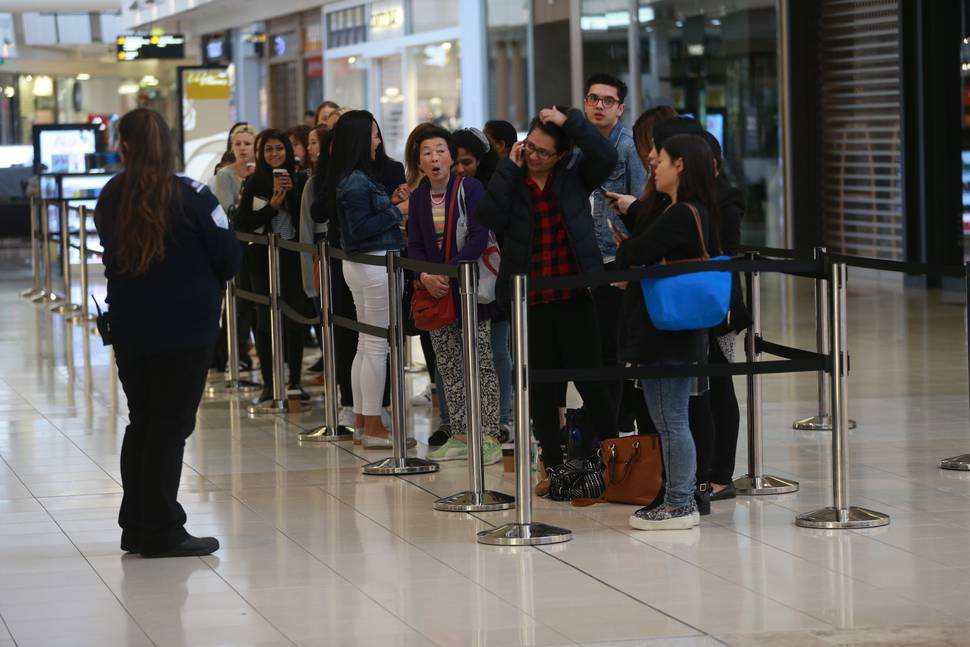 Several of the pieces in store had been designed exclusively for the New Zealand market.
The world's second largest retailer behind Zara, H&M's launched just last week to fanfare with dancers, DJ's and entertainment for the thousand or so shoppers waiting outside.
In contrast, Zara's opening was a low-key affair with media shown around the store an hour before the opening and coffee handed out to the waiting line outside.
First Retail managing director Chris Wilkinson said this reflected the difference between Zara and H&M.
"I think the difference between the brands is Zara has a quiet confidence, and that's one of the things we have noticed," Wilkinson said.
"They have got so many stores going in at the moment so while it's a big deal for us, for Zara it's probably one of three stores opening that week around the globe," he said.
"For them it's nothing really that special - they probably want to get the store open and start making some money."
Zara's chief communications officer Jesus Echevarria said he was excited to be launching in the country and hoped to meet customer expectations.
"We see a lot of opportunity in New Zealand, customers here love fashion," Echevarria said.
"We'll have to see how Zara's collections are going to be received and learn from it. This is our constant challenge - to try to learn from customers' demands and adapt the collections in store consequently with the correct customer service."