The world's largest fashion retailer Zara will today open the doors to its first New Zealand store at 9.30am. Business reporter Holly Ryan is at the Sylvia Park store ahead of its grand opening.
9.40am:
Hundreds of shoppers are now rummaging through the garment racks taking a look at the collection on offer.
When the doors opened at 9.30am there was cheering and applause from the Zara staff inside.
As the crowd pours through the shop there is a feeling of organised chaos as people jostle to grab the items they want.
9.25am:
Watch: The opening live

9.15am: The doors will be opening in 15 minutes time. The crowd has grown to about 300 people who are excited to see what's on offer in store.
9.05am:
Michelle Smith, 19, has been waiting outside the store since about 7.20am.
"I'm most looking forward to the new fashion styles, I think Zara is quite different to what's in the New Zealand market already," she said.
She didn't attend the grand opening of H&M last Saturday at Sylvia Park, but has visisted other Zara stores in Europe and the US.
8.55am: The men's section has suits, shirts, trousers, shoes and accessories. The women's section has dresses, shirts, jeans, t shirts, and a military-style jacket that is only available in New Zealand.
The colour palette for the women's section store is bright and vibrant for spring.
As well as clothes, the store is full of shoes, handbags and other accessories.
8.45am:
Mandy and Ellie Siu were the first outside the Zara store at 7am today. Since then over 100 people have gathered and are waiting for the doors to open.
"We've been waiting since 7am," Ellie said.
"I'm really excited about today, I've been to Zara in Spain and Hong Kong but looking forward to seeing what's in the New Zealand store"
8.40am: The excited crowds are being served coffees to make the wait a little easier. Inside the store media have been shown the clothes on offer, including garments exclusive to New Zealand market.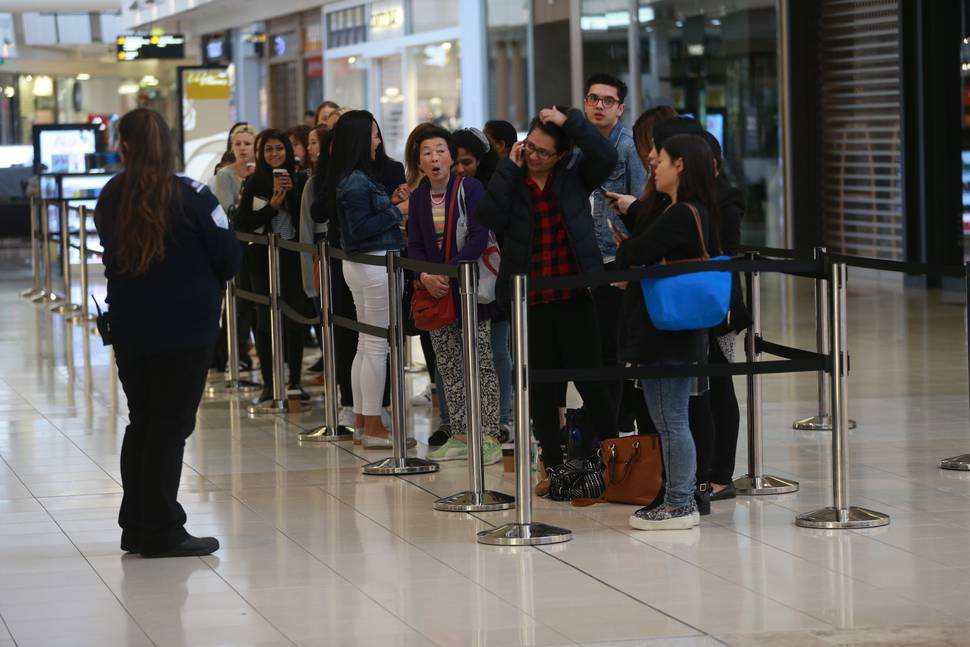 The kids section is very big and features clothing up to kids size 14. The clothes suit Kiwi fashion style for summer.
8.25am: Around 50 people have gathered at Auckland's Sylvia Park ahead of the official opening. Excitement has been building since the brand announced last year it would be bringing a store to the country.
Media have been shown inside the store, which is white-washed with bright, elegant lighting and designed in an open-plan style.
The store isn't as large as some in overseas market, but is packed full of spring and summer clothing.
The New Zealand launch marks Zara's 93rd market with the one-storey Sylvia Park store based set to offer all of the brand's clothing collections including women's, men's and children's clothing.
First Retail Group managing director Chris Wilkinson tipped the store would likely next open another in Wellington.
The company has assigned staff to create its Southern Hemisphere collection with a team focused specifically on understanding the New Zealand market.
Zara's chief communications officer Jesus Echevarria said he was excited to be launching in the country and hoped to meet customer expectations.
"We see a lot of opportunity in New Zealand, customers here love fashion."
Zara, which is part of Inditex Group, has 2,021 stores worldwide and is renowned for its reproduction of designer clothes. It opened its first store in Spain in 1975 and is worth US$10.7 billion (NZ$14.9b).