As the dairy co-op tries to sell infant formula to Chinese parents, it's playing catch-up with competitors who got there first, Christopher Adams reports.
Sizhang and Shasha are forces to be reckoned with.
Independent, affluent and deeply concerned about food safety, they are the kind of Chinese consumers that brands the world over want a piece of.
Over lunch in an upmarket Shanghai restaurant, they describe the fears that often drive their purchasing decisions, particularly when it comes to feeding their children.
And it's not just the mums who are worried.
Shasha, a 30-year-old parenting consultant, says her husband insists on using Evian mineral water, imported from France, when making their toddler's rice. Even she admits this is a little extreme, but he just doesn't trust local bottled water.
"We worry, but we have to eat," Shasha says.
These attitudes have driven the white goldrush among dairy companies, including New Zealand's Fonterra, all chasing a slice of China's vast infant formula trade, estimated to be worth roughly US$18 billion ($26 billion) and growing fast.
Imported products are in high demand and fetch eye-popping premiums over their domestic rivals.
In the city of Hangzhou, near Shanghai, The Business visited supermarkets where foreign-made baby milk is priced at up to 480 yuan ($108) a can.
A string of food safety disasters - including the 2008 melamine scandal, in which six babies died and thousands more became sick after consuming tainted milk - has instilled a pervasive suspicion of locally-manufactured products.
Then there are the very real concerns about soil contamination and water quality.
Sizhang, a marketing specialist, says imported foods provide Chinese consumers with a "psychological escape" from the pollution that often surrounds them.
Though Fonterra's ingredients have long been used in infant formula sold in China, the co-operative is a latecomer to the branded market: its own Anmum product was launched in China only in 2013.
Fonterra's disastrous joint venture with Sanlu, one of the Chinese companies caught up in the melamine scandal, was a major blow to its plans in that area.
"The simple reality is that after Sanlu we went back to basics," Fonterra's former head of milk products, Gary Romano, told the Business Herald in 2013.
Eight years on, securing a meaningful slice of the baby milk trade is one of Fonterra's top priorities in China as it looks to grow value-added sales.
The company spent about $754 million last year acquiring an 18.8 per cent stake in Shenzhen-listed Chinese formula maker Beingmate Baby & Child.
The tie-up with the Hangzhou-based company, which operates four plants and 80,000 retail outlets across China, includes a potentially lucrative distribution deal for Anmum and a joint venture manufacturing operation in Australia.
"We certainly want to, through Beingmate, participate in the [Chinese] growth of infant formula," says Fonterra's managing director for Greater China, Christina Zhu. "It would be very hard for us to do it on our own with Anmum ... we think the best way to achieve it is through a strong local partner."
When the deal was announced in 2014, Fonterra said Beingmate had the largest market share of all the domestic formula players in China, at 10 per cent.
But the co-op's Chinese formula push is anything but an easy task.
Go to a supermarket in New Zealand and you will find only a handful of infant nutrition brands on sale. And Karicare, manufactured by French dairy giant Danone, accounts for close to half the market.
But the trade is much less consolidated in China, where supermarkets devote entire aisles to formula and there are dozens of brands to choose from.
Meanwhile, the booming e-commerce marketplace is awash with baby milk - much of which enters the country through the unofficial "grey channel" - and has been shaking up the market for traditional players, including Beingmate.
A mooted ban on infant formula advertising, aimed at addressing China's low level of breastfeeding, could become another challenge for producers.
Large-scale market consolidation is expected to result from potential new regulation, including a three-brand limit for manufacturers and a requirement for brands to be registered with the China Food and Drug Administration, bringing formula into line with pharmaceutical products.
Major firms, such as Fonterra and its Chinese partner, are expected to benefit from that consolidation in the long term.
As things stand, though, more than 2000 brands are estimated to be on sale in the world's most populous nation.
It's a hard market in which to stand out. Tellingly, Sizhang and Shasha are well aware of Japanese and European formula products but have never heard of Anmum.
It's difficult to gauge exactly how much traction Anmum baby formula has gained since its China launch which, inconveniently, happened only a few weeks after Fonterra's 2013 botulism scare.
The brand, which also includes a maternal formula product for pregnant women, achieved 107 per cent volume growth in the Chinese market in the 12 months to March 2016, the first year of the Beingmate partnership, according to Fonterra.
But the company won't release detailed figures on sales or volumes, citing commercial sensitivity.
"We have always acknowledged that this growth is off a low base and there is more we need to do to grow the brand in China, but we are heading in a positive direction," a spokeswoman says.
Anmum is now stocked in more than 3000 retail stores in China (it was even spotted by The Business at a Carrefour outlet in Kunming, in the country's deep southwest) and the co-op has set a target of selling 10,000 tonnes of Anmum infant and maternal formula annually in the Asian superpower within three years.
The brand was recently listed in six national supermarket chains.
Still, during an interview in Hangzhou, Beingmate vice-chairman Chen Huixiang is surprisingly candid about the challenges Fonterra faces.
"European brands have an advantage because they came earlier," he says through a translator. "Secondly, they came in groups." Europe, Chen adds, has a strong reputation in China for its technical expertise in dairy manufacturing.
New Zealand, on the other hand, is well known as a major milk source and for its clean, green image, but doesn't have the status of its European counterparts such as France, Germany and the Netherlands when it comes to high-tech processing and branded products, Chen says.
"For Anmum the biggest challenge is how to establish this expertise image, or technical image so consumers think it is a safe and high quality product." Chen reckons the New Zealand Government needs to ramp up its efforts in this area.
"More thinking and more action is needed in China to deliver the message that infant formula powders [from New Zealand] not only have good milk sources but also contain high-tech expertise," he says.
Beijing-based investment adviser David Mahon, of Mahon China, has a similar view to Chen.
"One thing New Zealand needs to think more about is how to establish brands in China and it's a big task," says Mahon, a Kiwi who has lived in China since the 1980s.
"Having not done it in the more seminal days of Chinese economic reform and consumerism, we're now up against the likes of Danone, Nestle, Mead Johnson and Abbott - these big global brands and in these I'm referring to infant formula."
He says establishing a brand in China is costly and hugely time-consuming.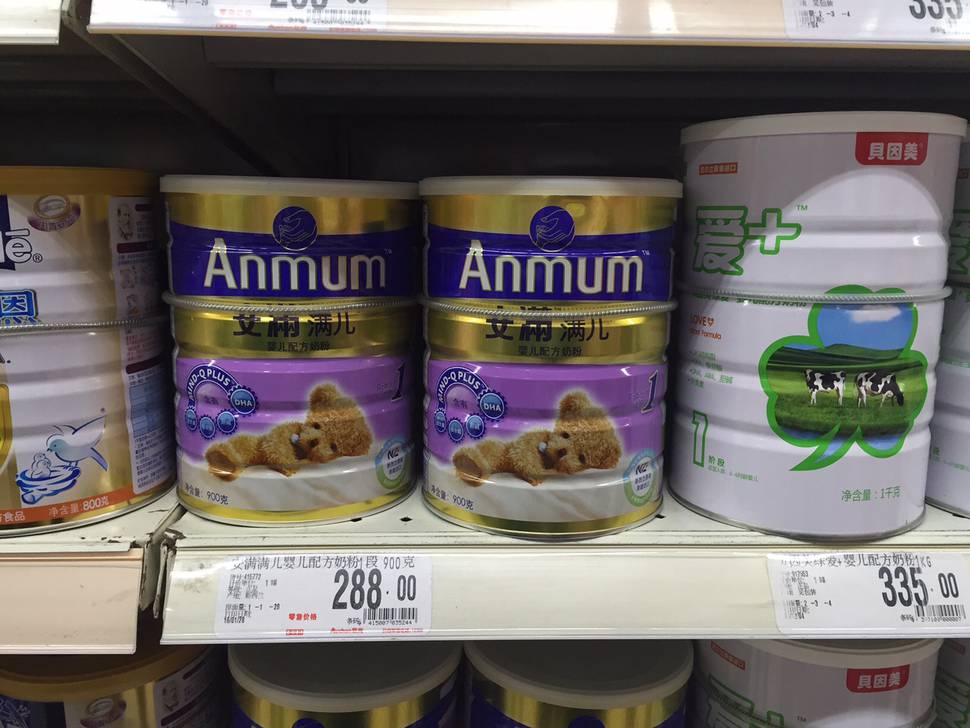 "The established brands that are here are dominant and whatever premiums are to be taken they are receiving because Chinese consumers trust them," Mahon says. "It's all about telling a story and if New Zealand would tell its agricultural story better it would demonstrate in the process of doing that the technology and know-how that's behind it."
Though Zhu agrees that Anmum faces many challenges, she's convinced it can grab a decent slice of the Chinese market. "That's a non-negotiable goal," she says. "I've never had a doubt in my mind that we can get there. Will it be easy? No. But I can't see any reasons why we can't get that. We have a good product and a good country of origin [New Zealand] to support it."
Chen is also bullish on Anmum's Chinese prospects, given ongoing expansion in the country's middle class (despite slowing economic growth) and the scrapping of the one-child policy to allow couples to have two children.
"Anmum is already a strong player in the maternal [formula for pregnant women] category in China so we are confident this brand will have a bright future in the market," he says.
Zhu says another factor working in Anmum's favour is that it is well established in markets outside China.
In Malaysia, where Fonterra has a strong, branded presence, Anmum infant formula is the second-biggest player at the premium end of the market, behind US-based Mead Johnson.
The brand is also marketed in Indonesia and was recently launched in New Zealand - a move almost certainly aimed at bolstering Anmum's chances in China, where parents have more confidence in purchasing formula that is also sold in its country of origin.
Many questions have been raised about the Beingmate partnership, however, including whether the Chinese company has more to gain through the deal, through securing a 51 per cent share of Fonterra's high-tech Darnum manufacturing plant in Victoria, and a favoured position in the co-op's milk supply chain.
Fonterra said in February that, subject to final regulatory approvals, the first products destined for Beingmate's Chinese customers were expected to begin rolling off the Darnum line in the second half of this year.
Beingmate reported a more than 50 per cent lift in 2015 profit, to 104 million yuan, although the bottom-line result was reportedly bolstered by government subsidies.
Operating income fell 10 per cent.
Its stock was trading at 13.40 at 5pm yesterday, well below the 18 yuan a share price Fonterra paid for its holding.
Beingmate's traditional distribution model has been disrupted by China's changing formula market, which is rapidly moving online.
Zhu, who has a seat on Beingmate's board, says the Chinese firm understands it has a lot of work to do to lift its e-commerce profile.
"We certainly want to, through Beingmate, participate in the [Chinese] growth of infant formula. It would be very hard for us to do it on our own with Anmum ... we think the best way to achieve it is through a strong local partner."

SHARE THIS QUOTE:
Beingmate's financial performance is where Fonterra stands to gain the most value from the partnership, rather than the Anmum distribution deal alone, she adds.
"The bigger benefit for Fonterra comes from making sure Beingmate is really successful in this marketplace and Anmum is part of that." For its part, Fonterra is targeting online sales growth for Anmum on Chinese online platforms, including Alibaba's Tmall.
Zhu says it is Beingmate's strength in traditional retail channels in China's tier 2, 3 and 4 cities that's important for Fonterra, which is focusing on those smaller cities for the Anmum push.
"If you think about where all the real growth is coming, it's not in the tier 1 cities [such as Guangzhou, Beijing and Shanghai] because they're pretty well served already." She says Anmum isn't being targeted at the "super premium" end of the Chinese market, where products sell for well over 400 yuan.
At stores visited by The Business in Hangzhou, Anmum was selling for 288 yuan per 900g can. "It's affordable premium," Zhu says.
Affordability has been one of the factors driving the popularity of grey channel formula in China.
Firms such as NZX-listed A2 Milk and Bellamy's Australia have enjoyed spectacular revenue growth thanks to formula being purchased off the shelves of Australian supermarkets, then shipped to China for re-sale, often via online platforms such as Alibaba's Taobao.com or WeChat, a messaging app.
Products imported this way are generally cheaper than those sold in supermarkets and other retailers, although a new e-commerce tax has made the online channel somewhat less competitive.
Shasha says many of her friends prefer to buy English-labelled formula that has come from a Western supermarket because, in addition to being cheaper, it's seen as more trustworthy.
Zhu, however, says the grey market won't be a sustainable channel for formula sales in the long term.
"There's no easy way to do business in China," she says, adding that having a significant presence on the ground is crucial. "At the end of the day, being big is really important."
Beingmate
• Founded in 1992 and based in Hangzhou, near Shanghai
• Had a 10% share of the Chinese formula market in 2014, the largest share of any domestic player, according to Fonterra
• Operates four manufacturing sites in China, as well as a joint venture facility in Australia with Fonterra
• Employs more than 7000 core staff and 20,000 maternal service consultants
• Operates more than 80,000 retail terminals and 1000 authorised stores across China
• Posted a more than 50% increase in net profit, to 104 million yuan, for the 2015 financial year
Anmum
• Infant formula product first launched in China in 2013, where it joined a maternal (for pregnant women) product also under the same brand
• Achieved 107% volume growth in China in the year to March
• Stocked in more than 3000 Chinese retail outlets and online platforms including Alibaba's Tmall
• Fonterra is aiming to sell 10,000 tonnes of Anmum infant and maternal formula annually in China within three years, but won't disclose current volumes
• Infant formula product sells for around 288 yuan ($65) for a 900g can in Chinese supermarkets
Christopher Adams travelled to China as a recipient of the New Zealand China Council Media Award.