A Hermes Birkin bag is the ultimate status symbol, carried only by a select group of A-listers. As a Daily Mail investigation recently revealed, it is almost impossible for an ordinary woman to buy one, even if she can afford the $12,000-plus price. With no waiting list, no ordering system and no way of knowing when the next bag will be available, the Birkin is so elusive that only those who are deemed high-profile enough have a hope of snapping one up. But handbags aren't the only luxury product that money can't buy.
Here, we reveal other treats available only to the lucky elite...
JEWELLER WHO ONLY SELLS TO THE STARS
Bespoke jewellery is the only way to make sure your gems are unique - and celebrities have been turning to New York jeweller Jacob Arabo for decades.
Victoria Beckham has graced the red carpet in his US$1.1 million earrings, model Miranda Kerr frequently flaunts his US$350,000 emerald flower ring, and pop star Rihanna wowed at the 2014 Met Ball wearing his US$1 million 18-carat white gold choker necklace.
But not just anybody can get their hands on his jewellery - even if they've got the funds to copy their favourite celebrities. Because Jacob, 50, only designs for VIPs.
'Celebrities come to me for daring, one-of-a-kind pieces that aren't available within other brands,' he explains.
WATCH THAT TAKES A VERY LONG TIME TO GET HOLD OF
If you want to tell the time like a star, you need a RW Smith watch.There's just one problem: the coveted timepieces, made by award-winning watchmaker Roger Smith (a former repairman for Ratners), from the Isle of Man, cost more than most supercars - £100,000 to £500,000 - and they are impossible to get hold of.
Each watch takes 11 months to make and there is a four-year waiting list, with only VIPs able to skip to the front. At present, about 50 people in the world own one. Mr Smith's corporate mantra is 'No one makes fewer'.
In fact, these watches are so rare, you can't even find them second-hand - only one has come up for sale in the past decade. It went for £115,000.
RESTAURANT THAT'S NOT HAD A TABLE TO BOOK IN 38 YEARS
You can't simply book a table at 120-year-old Rao's restaurant in New York - there hasn't been one available in 38 years. Even top food critics can't get in: the last review of the Italian restaurant was more than 35 years ago (the critic raved about it).
Perhaps this privacy is why tiny Rao's is a favourite among celebrities such as Angelina Jolie, Leonardo DiCaprio, Madonna and Liza Minnelli.
Its ten tables are 'owned' on a timeshare basis by their secretive but wealthy owners, and they pass on reservations to their A-list guests.
When the Mail called Rao's last night, an answering machine told us reservations were closed and it was pointless to leave a message as 'we cannot honour them'.
In fact, the only way to get a glimpse inside is to watch the film The Wolf Of Wall Street - Rao's is where amoral banker Leonardo DiCaprio takes his lawyer.
HOTEL SUITE RESERVED FOR VIP GUESTS
You may dream of staying in the plush penthouse of your favourite hotel, but many of the best rooms are reserved on a rolling basis for VIP guests.
The Royal Suite at the Lanesborough Hotel in London (£14,000 a night) is usually occupied by a celebrity - Madonna, Leonardo DiCaprio and Jim Carrey have all stayed there. Even if it's not rented out, ordinary guests may be turned away in case someone more important shows up.
And no wonder. The 4,800 sq ft suite has seven bedrooms and bathrooms, two living rooms and a dining room. If you do want to go out, the hotel's chauffeur-driven Rolls-Royce Phantom is available as a complimentary service. Breakfast isn't cheap: a full English is £28, and a crumpet with mushrooms and bacon is £22.
JET THAT'S ONLY FOR VERY HIGH-FLIERS
For the A-lister who likes to splurge, the G650 Gulfstream jet ticks all the boxes.
There are only 40 in the world, each costing US$57 million, and there's a three-year waiting list with 160 VIP hopefuls on it, including chat show host Oprah Winfrey. Only the creme de la creme get to the top.
Another elite preserve is art. With more and more celebrity collectors, including Madonna and the Beckhams, works by leading artists may be impossible to come by if you're not a household name. An art world source says: 'It's set up to make people feel like outsiders unless they have a connection or can demonstrate fame and influence.'
BAGS THAT SELL IN SIX SECONDS FLAT
If you're bored of your Birkin, there is another sought-after bag owned only by the elite - for a knock-down price. Shame you'll never be able to get your hands on one.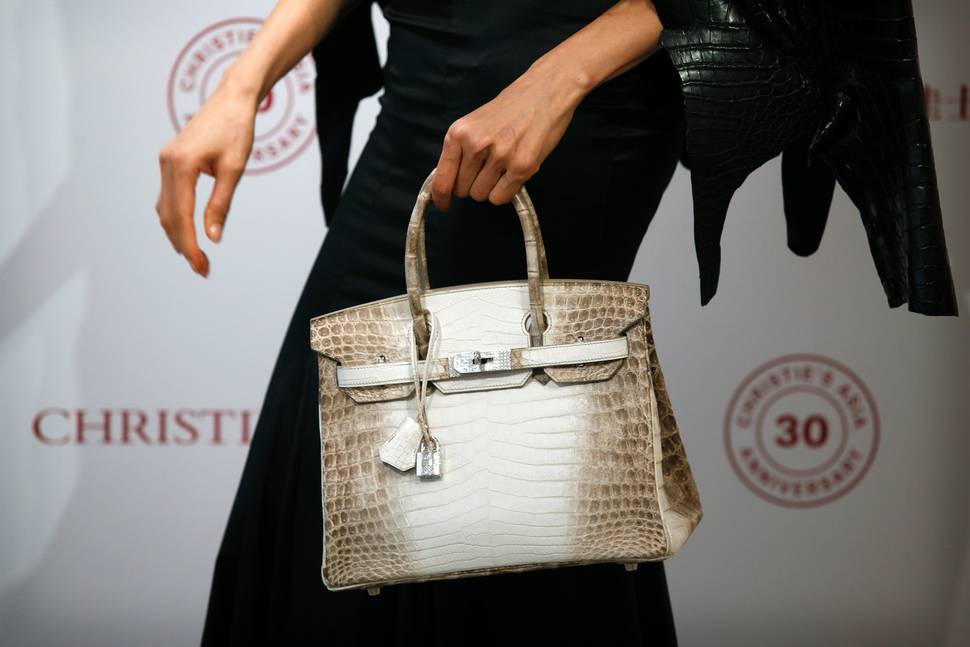 Since its inception in 2012, New York label Mansur Gavriel has been the A-list accessory producer of choice - its iconic US$570 bucket bag sold out within hours of going on sale.
Thanks to its sensible price, it became known as the first post- recession It bag, and its subtle styling suggests taste rather than bling.
Now, Mansur Gavriel bags can sell out in six seconds.
That's because for every bag that becomes available, there are 300 prospective buyers, meaning ordinary shoppers simply can't get their hands on one.
The scarcity of these bags is no accident - the brand works with only one factory, which means tiny production runs.
Despite the scarcity, however, certain celebrities - including actresses Sienna Miller and Kirsten Dunst - seem to have had no trouble getting one. Perhaps that's not surprising, as the Mansur Gavriel designers have said they have Excel spreadsheets working out where their bags are best placed.
£20,500 MANICURE YOU SIMPLY CAN'T GET YOUR HANDS ON
You don't stand a chance of seeing A-list manicurist Leighton Denny unless you're Joan Collins or Kate Moss. The nail artist, whose treatments cost up to £20,500, has been known to make a Saudi Arabian princess wait for his services - and as many as 200 others are in the queue.