Unless you worked for FCB Media, there would be almost no point in having attended the CAANZ 2016 Beacon Awards - aside from the dress ups and free wine.
As the night wore on, the guessing game of "who will get the gold for this category" was replaced with "surely not FCB again", so much so, that emcee Mel Homer from The Hits joked that the media company could play dominoes across the stage with all its trophies.
The Viaduct Events Centre, decked out for the night, seated just under 1000 guests from across the media industry. FCB Media laid claim to a total of nine golds and 11 silvers over the night, before topping off its collection with three of the five major awards - the supreme award for Best in Show, Media Agency of the Year, and Advertiser of the Year which it won jointly with OMD NZ.
The agency's more memorable work from the year included campaigns for the Ministry of Social Development, Audi, Maritime NZ, New World, the NZ Fire Service, the Health Promotion Agency, Flight Centre and European Motor Distributors.
Special mention has to go to the "Jono vs Ben" campaign credited to media agency OMD as well as Beat Communications and MediaWorks, which picked up three golds and two silvers. In typical media agency fashion, the wine was flowing with Homer given the unenviable task of attempting to hold audience attention long enough to award the trophies before the party got into full flow.
NZME's chief executive Michael Boggs made his awards night debut in his new role - stepping on stage to accept the award for Media Company of the Year - in a jovial mood thanks to Radio Survey results released that morning.
The last major award, the Inspiring Individual Award, went to Matt Bale from MBM. In an emotional speech, Bale discussed work the company had done and thanked his team whom he described as his "famiglia" or family.
The awards featured a Donald Trump impersonator - who looked suspiciously similar to the one present at the Axis Awards, as well as a Lady Gaga imitator and a performance from live band The Hipstamatics.
Powell for National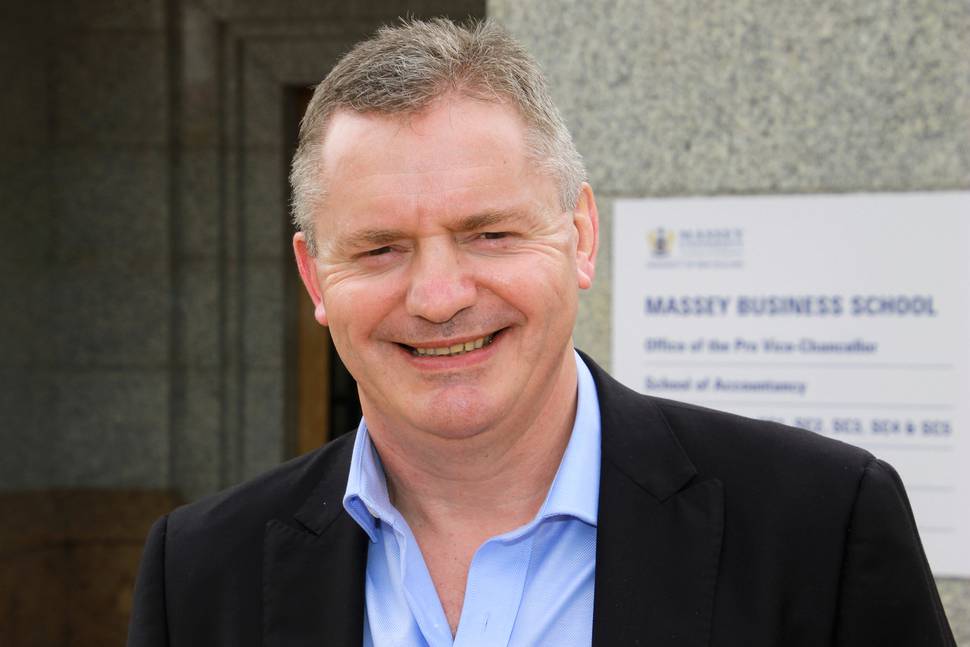 Having spent almost five years running a large listed company, it's not surprising that Mark Powell may be finding he now has a lot more spare time on his hands.
The former Warehouse chief executive officially handed over the reins in February with a plan to finish off his Masters in Christian Apologetics - the theory of religion.
Powell has also added a role as chief executive in residence at Massey University, but it seems he may have political ambitions too - which might see him swapping his red Warehouse hat for a blue National one. Powell has been asked to speak at the National Professionals group - a newly formed special interest group for supporters of the National Party who are in the "professional" stage of life.
Having previously spoken at a Young Nats event, Powell said he was looking forward to talking business, leadership and broader society with members and guests. It may just be a speech but Powell is coy on the extent of his work with the party.
Ciao Bella
After a year's hiatus, Kiwis can again experience a taste of Italy after The Cinema Italiano Festival rolled into town last week, opening in Auckland on Wednesday.
Italian ambassador to New Zealand Carmelo Barbarello flew into Auckland for the occasion, welcoming guests at the Bridgeway before the opening film Latin Lover.
Barbarello said the relationship between Italy and New Zealand was growing with more Italians emigrating to this country. The Cinema Italiano Festival is in Auckland until the end of this week before heading to Tauranga, Wellington and Christchurch.
Artistic director for the festival Paolo Rotondo said he hoped it would help share some of Italy's culture with New Zealand. Highlights include Bella Vita, which documents surfer, artist and environmentalist Chris Del Moro as he rediscovers his Italian homeland, and Misunderstood. Set in 1984 Rome, the film follows 9-year-old Aria on her escapades and stars Charlotte Gainsbourg as her mother.
The Italian Film Festival was first screened in New Zealand in 1996 and was the country's second largest film festival, but was put on hold last year after its director Tony Lambert said it was no longer financially viable. Barbarello said he was looking forward to seeing the festival return to New Zealand.
Let us know
This is not a gossip column but ... The weekly Page 2 is a chance to share stories and pictures about business personalities and events so please drop us a line at page2@nzherald.co.nz