People who don't own their own home are more likely to live payday to payday and more than half feel their prospects of getting on the property ladder in their home town within five years are slim.
Research by the BNZ looking at Kiwi's financial futures has revealed vastly different money habits and attitudes between those who own property and those who do not.
While 50 per cent of non-home owners said they lived pay cheque to pay cheque just 23 per cent of home-owners were doing that.
Read also:
• Rising cost of new homes could affect KiwiSaver
• Cheapest homes still $100 a week more than 2014
• $700k for a first home in Auckland: Young house-hunters' property market fears
When it came to surviving the financial speed bumps in life home-owners were also much more resilient with 77 per cent saying they could cope compared to only half of non-home-owners.
Home-owners also appeared to be better at saving.
A third of non-home owners said they spent more than what they earned where as 43 per cent of homeowners were making lifestyle sacrifices like reducing their spend on holidays, clothes and technology to make extra payments on their mortgage.
Craig Herbison, BNZ's director of retail and marketing said the research suggested home owners were more likely to be thinking long term about their finances than non-property owners.
"This will have big consequences for their finances."
Herbison said nearly three quarters of home-owners regularly reviewed their mortgage which could allow people to pay off their loan sooner.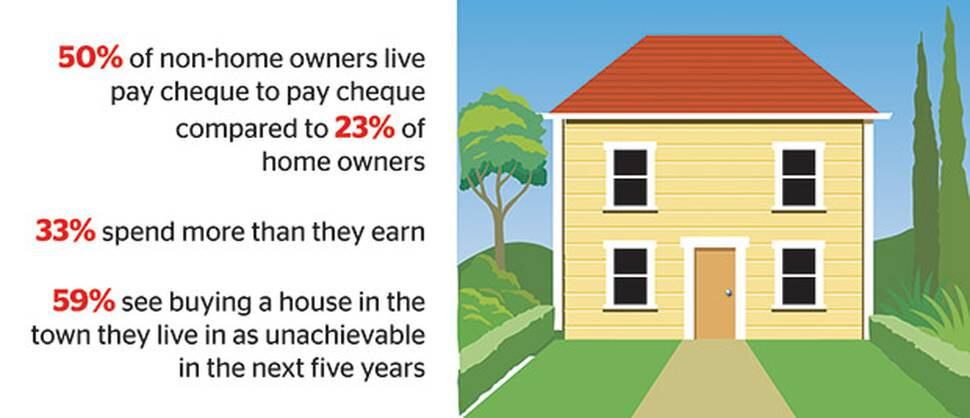 He said more non-home-owners needed to take a hands on approach with managing their money.
"Ideally we'd like to see this discipline in a greater number of non-homeowners, more than a third of whom said they let their finances take care of themselves.
"This is unlikely to set them up for the future they want and deserve."
Non-home owners were also overly pessimistic about buying a house in the future with 70 per cent saying it was a lot harder to buy property in today's market than in the past.
So the missing ingredient is a commitment to saving.
Just 37 per cent believed it was a good time to buy a first home compared to 63 per cent of home-owners.
While 64 per cent of non-home owners said they had the capacity to save some money more than half (59 per cent) did not believe they could get on the property ladder in the next five years.
To buy a first home nearly half (47 per cent) would raid their retirement savings by accessing KiwiSaver while 18 per cent would take money from parents or family and a 15 per cent would have their parents go as guarantors.
The online research was carried out by Colmar Brunton in March and had 2000 respondents.