PROPERTY PRICES
An entry-level property such as a one- or two-bedroom unit or apartments in established blocks can be bought for under $1 million. A modern two-bedroom apartment sells for more than $1 million. A mid-level property would be a three- or four-bedroom villa or contemporary home on 400sq m-plus site that would go for more than $2 million. A quality four-bedroom home on 700sq m-plus sells for more than $4 million, while an exclusive number of homes have sold for $9 million-plus. SCHOOLS
Bayfield School, Ponsonby Primary, Ponsonby Intermediate, Western Springs College, Auckland Girls Grammar.
RENTS
Two-bedroom units rent for about $550 upwards a week, while small three-bedroom homes can be found for around $650 a week; quality three-bedroom homes rent for more than $1000. Larger homes of a good standard start at $1300 a week.
BEST STREETS
Marine Pde, Masons Ave, Bella Vista Rd, Cremorne St, Wanganui Ave, Herne Bay Rd, Galatea Tce.
LOCAL ATTRACTIONS
The beaches
A lot of effort has gone into improving the water quality of the harbour and resanding beaches around the city over the past 10 years or so. Herne Bay is one of the beneficiaries and has some interesting little coves and beaches, as well as a wharf and picturesque boathouses.
Jervois Rd
With a north-facing aspect, Jervois Rd is a sunny place to shop or hang out at the increasing number of cafes, bars and restaurants. Residents love being able to go out for dinner and walk home afterwards.
Walkability
Residents enjoy walking and greeting their neighbours in Herne Bay. The quiet, tree-lined streets provide ample scope for strolling about and admiring some of the neighbourhood's grand homes. For the more energetic, there is an easy connection to walkways around the harbour.
Marketed by Andrea Ritchie and Luke McCaw, of Bayleys, 30 Wharf Rd, a two-bedroom character bungalow in need of renovation, sold for $1.04 million. Karen Spires, of Bayleys, marketed 13 Wallace St, a Warren & Mahoney-designed solid concrete block home with swimming pool and outdoor fire that sold for $3.7 million.
John Wills and Nic Blackie, of Custom Residential, have four examples of typical prices in the area: 14 Trinity St, a return veranda villa with swimming pool on a 531sq m site sold for $2.67 million, 24 per cent above CV. A four-bedroom, modernised square-front villa with internal access garaging at 54 Albany Rd changed hands for $2.365 million, 34 per cent above CV.
An appealing four-bedroom bay villa with garden studio at 46 Albany Rd went for $2.32 million, 33 per cent above CV. And an easy-care three-bedroom contemporary home designed by Jessop Architects with garaging and swimming pool at 79L Kelmarna Ave sold for $2.15 million, 40.5 per cent above CV.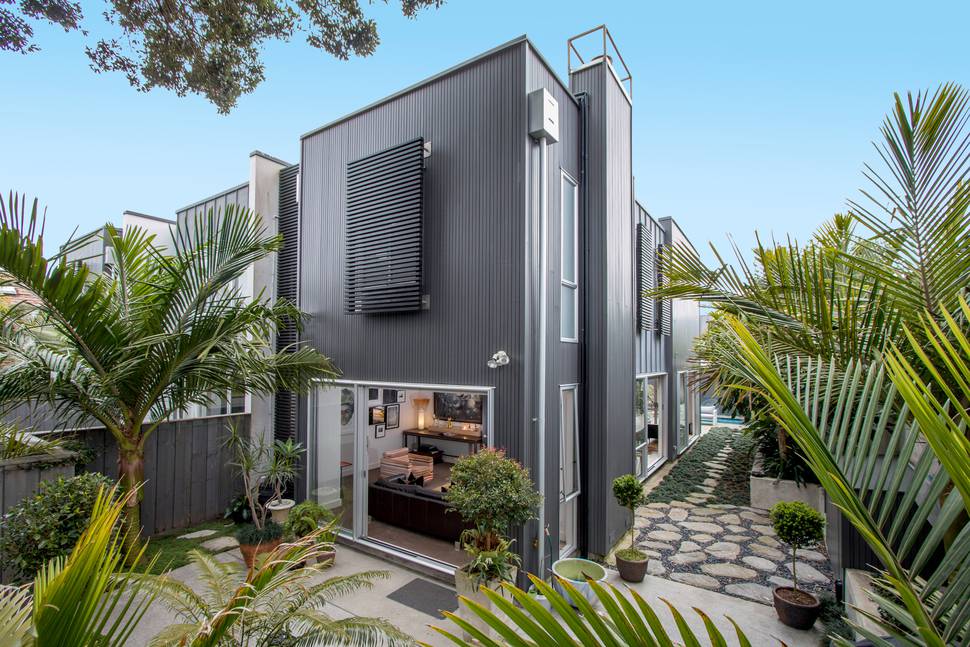 Nic Blackie says, "As a rule, the area is very tightly held and evidence of large scale investment by way of significant renovation through Kelmarna, Wanganui, Albany, Ardmore and Trinity indicates a strong confidence in the area both from a family lifestyle and investment point of view.
"In our experience, throughout 2015, most properties in the 'Herne Bay Avenues' area sold quickly and with multiple offers or registered bidders at auction."
PROPERTY PRICES
A new apartment in Hobsonville Point can be bought for around $600,000 while original homes in the older part of Hobsonville change hands for $700,000 to $900,000. That sort of money will get you a new terraced two- or three-bedroom home in Hobsonville Point. Larger homes sell for up to $1.5 million.
Sally Giles, of Barfoot & Thompson, is marketing terraced homes in the Hobsonville Village complex at 124 Hobsonville Rd, just next to the new Countdown supermarket. Mike Greer Homes is building 95 terrace houses on the site. An entry-level property at Hobsonville Village with two bedrooms, one bathroom and a single garage on a site of 75sq m to 124sq m sells for between $739,000 and $785,000. A mid-level property with three bedrooms, two bathrooms and single garage on 82sq m to 173sq m is priced at $829,000 to $875,000. Four bedroom, two-bathroom homes with single garage on 113sq m to 163sq m range in price from $865,000 to $890,000.
SCHOOLS
Marina View, Hobsonville Point primary and secondary, St Paul's Primary (Massey), Massey High School.
RENTS
Two-bedroom homes rent for $500-$600 a week, older three-bedroom homes can be found from $500 a week but newer ones are priced towards $800. Larger homes are $800-plus.
BEST STREETS
Ferntree Tce, Mansion Cres, Seacrest Dr, Kahala Pl, Marguerita Pl, Reflection Dr, Scott Rd, Bluefin Way, Ockleston Landing, Bocage Ln.
LOCAL ATTRACTIONS
Hobsonville Marina
With about 600 berths and a boat ramp allowing access to the Waitemata Harbour and Hauraki Gulf, Hobsonville Marina is a real asset.
Ferry service
Residents can depart from The Landing and be at the Auckland downtown ferry terminal in 25 minutes.
Farmers Market
The Hobsonville Point Farmers Market operates out of the old seaplane hangar at The Landing on Saturday and Sunday mornings. The waterfront is a huge attraction, as is the fresh local produce.
Terry and Janet Jones, of Bayleys, have had the following sales of late: a character four-bedroom weatherboard home at 50 Hobsonville Rd sold for $790,000. It sits on an 814sq m section with a fenced backyard and plenty of off-street parking.
7 Bocage Lane changed hands for $1.75 million and is a 265sq m four-bedroom home in a north-facing, quiet cul-de-sac position and also comes with a share in the Bocage Lane tennis court.
An architecturally designed cedar home that had been redecorated at 33 Cherub Place with four bedrooms, multiple living areas and an office sold for $1.126 million.
A five-bedroom 380sq m brick home with a 60sq m self-contained apartment at 22 Bonnard Pl sold for $1.6 million.
PROPERTY PRICES
An entry-level property would be a three-bedroom home on a site of 600sq m-plus that would sell for $800,000 to $1 million. A mid-level property of 800sq m-plus with a home with three or more bedrooms sells for $1 million to $1.6 million. A top-end property of 1ha or more with a large home would sell for $1.6 million-plus. Garry Knapp, of Premium real Estate, says, "There is a shortage of good listings, particularly between $800k and $1.5 million. There is significant development occurring both commercially with new shops and offices opening up in the Matakana Village itself and substantial new subdivisions within or very close to the village precincts.
RENTS
Rentals are hard to come by in Matakana but three-bedroom homes are about $500 a week, while four-bedroom homes generally cost $700-$800 a week.
SCHOOLS
Matakana School, Mahurangi College
BEST STREETS
Oak River Dr and Takatu Rd.
LOCAL ATTRACTIONS
Matakana Village Farmers Market
Foodies come from far and wide for this market, which has stalls selling seasonal produce and gourmet items such as olive oil, cheese, sausages, preserves, chocolate and pastries. There is local wine and beer to be tried, and usually live music.
Matakana Country Park
A huge venue, the Country Park has places to eat and drink and hosts a range of events and concerts throughout the year. On site there are also shops, a miniature train, pony rides, an animal experience, and a playground.
Vineyards
If you love sampling wines, Matakana is the place for you with a variety of wineries in picturesque settings. Brick Bay has the spectacular Glass House for tastings and a sculpture trail. The Tuscan-style Ascension Wine Estate also hosts indoor shows and outdoor concerts as well as functions and weddings.
Bisset and Dahnie Burton, of Bayleys, sold a four-bedroom home with separate studio retreat on 1311sq m of land at 992 Matakana Rd for $900,000. In central Matakana, it also has access to the Matakana River.
A sale price of $1.385 million was achieved for Lot 10 Bishop Hill by Dahnie Burton and Shailenne Parkes, of Bayleys. The 1.75ha site has water and rural views and a private cove.
An architecturally designed three-bedroom country home on about 3ha at 1072 Leigh Rd with stunning views over Point Wells and Omaha changed hands for $2.4 million in a sale overseen by Dahnie Burton and Dallas Honey, of Bayleys.
Jim Mays and Teresa Gibson, of Premium Real Estate, sold a character house in a beautiful garden setting at 144 Jones Rd for $1.888 million.
Boyd Gunn sold an eco home on an elevated 2.7995ha site at 1074 Leigh Rd by tender for $2.01 million.