New Hope
The smooth-dressing of outgoing Bankers' Association boss Kirk Hope was highlighted at his leaving do on Wednesday.
BNZ chief executive Anthony Healy, who chairs the association, even went as far as calling him a "dandy" in his farewell speech.
After heading the banking lobby group since 2012, Hope has called it a day to take the helm of BusinessNZ. Hope's smart attire is hardly surprising considering his partner is model and stylist Angela Stone who was last week tipped to be part of the New Zealand version of the Real Housewives franchise. Stone has spent her life in fashion since she was first scouted as a model at 14, before setting up her own modelling agency by 21.
In his speech, Healy jokingly pointed out that Fairfax media had described Hope as the "sharp-dressing head of the New Zealand Bankers' Association" when his appointment to the BusinessNZ role was announced in November.
He also recounted a story of how Hope, in a previous role at Westpac, had counselled a colleague who turned up to work in an unflattering cardigan.
To be fair, Healy also discussed his contribution to the banking industry through building strong relationships and communicating issues through the media.
The Bankers' Association announced Hope's replacement on Friday - Broadcasting Standards Authority chief executive Karen Scott-Howman will take over the role.
Scott-Howman, whose fiance is ANZ chief economist Cameron Bagrie, had previously worked as the deputy chief executive and head of advocacy at the Bankers' Association from 2009 before leaving for the BSA in January last year. She has extensive experience in the banking sector.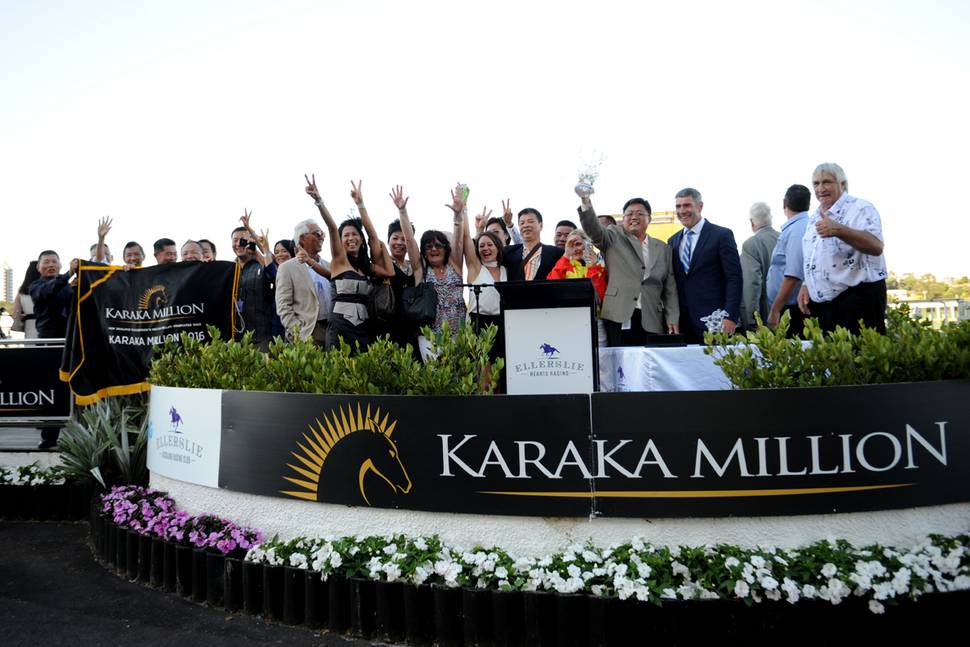 One in a million
One of the men to watch at last week's Karaka races was Singaporean Stanley Tan. The businessman was not the biggest spender, nor the most famous - but all eyes were on his favourites after his horse Xiong Feng won the Karaka Million, against the odds, last Sunday. Even Tan seemed surprised, having bought the winner for just $30,000 at last year's sales.
The win was the first Karaka Million with a female jockey, Danielle Johnson, and the first for trainer Stephen McKee. Tan said he was optimistic about his chances of finding another winner at this year's sales, and was looking for horses to continue racing in New Zealand.
"I came [to New Zealand] to look at property and ended up looking at horses so my vision has been diverted to horse racing," Tan said. "I have horses in Singapore and manage some racehorses for friends as well.
"Racing in Singapore is growing because the prize money is growing so it's a good investment ... "everyone is trying to buy good horses but I want to buy good horses and keep them in New Zealand," he said, adding he was on the hunt for another Xiong Feng.
Tan purchased two racehorses at last year's sales and was looking to buy five last week, with the intent to keep them in New Zealand and race at the next Karaka Million.
Xiong Feng means rising to the top - something Tan said had been lucky for the horse. "Winning this kind of race that everyone dreams of is not easy, but we're very happy," Tan said. His plan was to give the 2-year-old a break and then bring him back into work and race him in the 3-year-old race next year.
Tan will be hoping he is as lucky in his picks this year as he was last year with Xiong Feng, although he admitted a lot was down to how things went on the day.
Marketing on skinny side
Since launching its broadband service last month, Spark-owned Skinny says it has had significant uptake - although it would not disclose figures. More interesting is the way in which it is marketing itself, with its traditional customer focus more on the younger market now shifting to families and a wider customer base.
Head of marketing Shelley Johnston said not advertising on TV gave the option to spend across a wider range of platforms which were growing in audience numbers.
"The trend at the moment in terms of our customers is that they're watching less TV so advertising [has been moving away from] TV and towards digital," she said.
"We also haven't been advertising on TV for probably a year and a half now because our marketing budget is a lot smaller than our main competitors so the best way around that was taking it off TV and spending it elsewhere, and that's been working very well for us."
Let us know
This is not a gossip column but ...
The weekly Page 2 is a chance to share stories and pictures about business personalities and events so please drop us a line at page2@nzherald.co.nz.