The New Zealand property market settled in December, ending a booming year for property sales on a quiet note.
According to new statistics issued today by TradeMe Property, the average asking price of Auckland-based housing rose just 0.2 per cent in December from the month before compared with 0.4 per cent for the rest of the country.
READ MORE:
• Auckland house values up less than 1pc
• Auckland home affordability improves (marginally)
Head of Trade Me Property Nigel Jeffries said the cooldown at the end of 2015 was unsurprising, following one of the most heated years for the Auckland property market.
"For a year that witnessed unprecedented rises in expected selling prices, the market ended the year on a subdued note," he said. "House prices in Auckland often posted month-on-month growth rates over the year but as the year wound down, the focus shifted to the holiday season."
Last year the average asking price for an Auckland property was $805,300 in December, a modest rise of just over $1,000 for the month.
Over the past five years, Auckland properties have seen a 60 per cent rise in expected selling price.
Properties in the Bay of Plenty set a new record in 2015 with the average asking prices beating both Wellington and Canterbury to become the first region outside Auckland to break through the $500,000 barrier.
December was a good month for nearly every region throughout the country, with Taranaki the only region to see a decrease in average asking prices.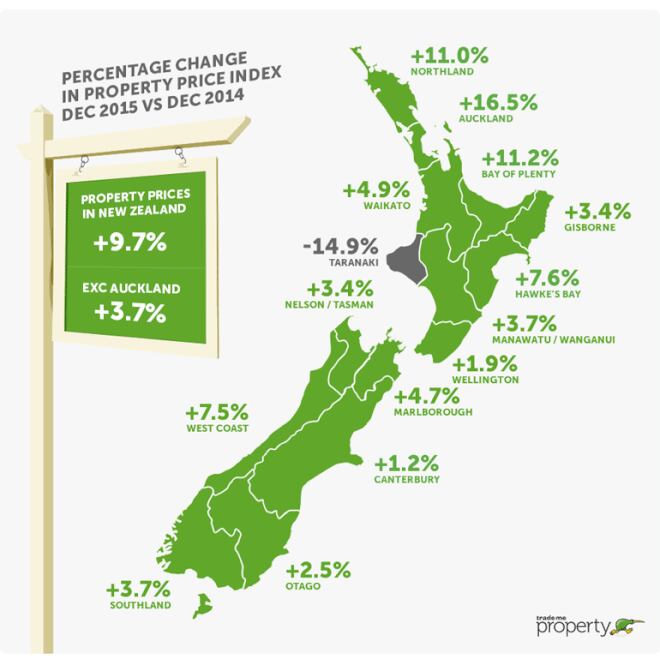 "The regions with the fastest growth rates are those surrounding the red-hot Auckland market - Northland and Bay of Plenty was up 11 per cent and Hawkes Bay up 8 per cent," Jeffries said.
Regions further south saw more modest increases, ranging from 1 per cent in Canterbury to 8 per cent on the West Coast.
Statistics released yesterday by Quotable Value revealed Auckland's house value increases slowed to almost snail's pace, up less than 1 per cent in December.
Barfoot & Thompson data also outlined a decrease in December, citing December and January as the slowest months of the year for the housing sector.