A superyacht worth up to $60 million is floating at a marina on the Tamaki River in Auckland until this Saturday.
The 50m custom-built superyacht was launched today from the McMullen & Wing shipyard in Mt Wellington, a symbolic event which went smoothly, if slowly.
It was eased into the water at high tide and tugged a short distance to the private marina owned by the company where it will stay until being taken to Auckland's Viaduct to receive its finishing touches.
The yacht, which weighs 550 tonnes, is the largest McMullen & Wing has made.
Its owner, whose identity and nationality remained anonymous by request, planned to take the boat on adventures all over the world, said chief executive Michael Eaglen.
The boat's name was also a closely guarded secret, it is identified only by its yard number 1016.
The superyacht would set sail from Auckland's Viaduct in April, Mr Eaglen said.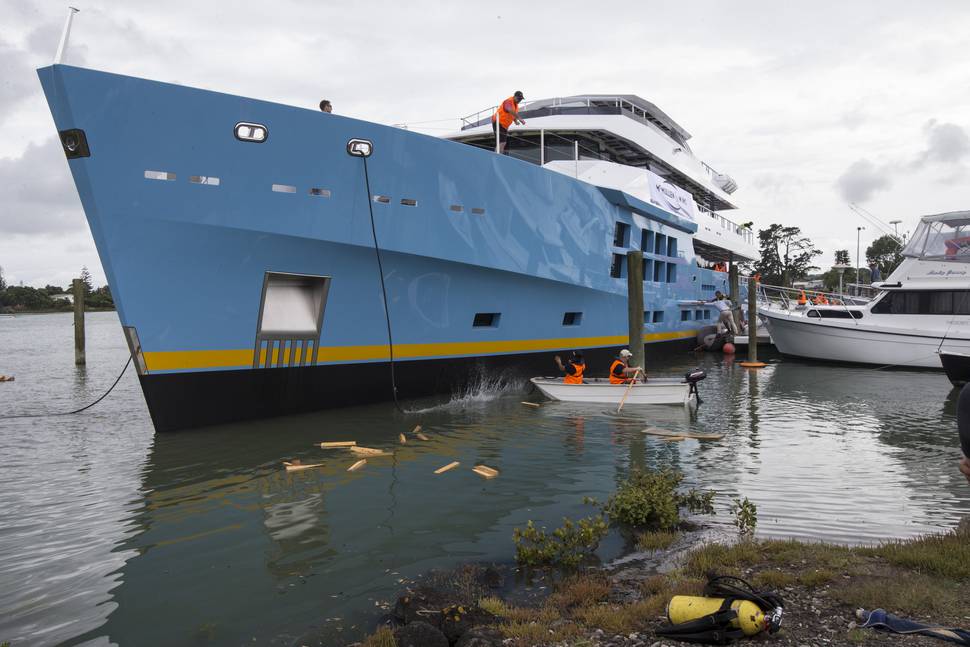 "She's handing over in March. These are big complicated boats, there's a lot of systems to run up and test and prove. Once that's all done, she'll head off on a big world cruise."
Mr Eaglen said the boat's steel and aluminium body made it exceptionally hardy and suited for very hot and very cold temperatures, so it could truly be sailed anywhere in the world.
Its sister ship, Big Fish, which McMullen & Wing built in 2010, had spent large chunks of time exploring the Arctic Circle.
The combination of the superyacht luxury and expedition capability was what made this boat special, Mr Eaglen said.
"[This makes it] possible to do the incredible adventures this owner wants to do but still in the luxury of a superyacht."
The extent of the luxury on board was also being kept under wraps at the request of the owner, but it was revealed the boat had the capability to house up to 12 guests in luxury suites as well as 12 crew in en-suite cabins.
"I'm not allowed to speak about what's going on the boat," said Mr Eaglen, "but, in the course of the period until completion, readers in Auckland might notice some pretty interesting things being loaded on. She's certainly got the capabilities for some pretty neat adventures."
He said the yacht would be moored near the Viaduct Events Centre for anyone who wanted to come and take a look before it set sail, although no boarding would be allowed.
It will feature natural gardens on the bridge deck as well as large hot tubs on both sun deck and foredeck and an owner's suite with its own private garden deck.
The interior was designed by acclaimed Canadian naval architect Gregory C Marshall, who attended the Auckland launch today.
The yacht's range is 6000 nautical miles, it can travel at speeds of 15 knots and it has two 1000hp diesel engines for propulsion.