Thousands of apartments are being built across Auckland — but many have already sold and supply is not expected to meet demand.
Every time you open the property section there seems to be a new Auckland apartment development offered, many being sold off the plans. Where are they? Are they selling well? And who is buying them?
Gavin Lloyd says we're part-way through Auckland's third modern-day apartment construction boom following a late-90s one which was eclipsed by a larger mid-2000s boom.
He should know. He's national director of residential projects in New Zealand for the world's largest commercial real estate services and investment firm, CBRE, which monitors such things.
CBRE tallies around 6,000 new individual Auckland apartments are expected to be completed over the next three years.
This boom will produce about 3,200 apartments next year (approaching 2005's peak 3,700 completed) and then keep on producing.
Where?
Previous apartment booms were dominated by CBD construction. Lloyd cites the mid-2000s one partly driven by burgeoning overseas student visa approvals, which yielded many "shoebox" city apartments.
"Unlike this previous peak where development was focused in the CBD, next year's supply will be more evenly spread throughout the CBD, fringe and suburban precincts," Lloyd says.
Colliers International's first Auckland Apartment Research Report calculates in the next 18 months the increase in total number of apartments will be 17 per cent in the CBD, 45 per cent in the city fringe, and 57 per cent in the suburbs. Auckland's CBD is the core contained within the motorway network. The fringe incorporating close suburbs such as Grafton, Newton and Ponsonby comes next, its outside boundary encompassing Parnell through to Newmarket and Eden Terrace, then west through Grey Lynn and Herne Bay. The suburban precinct is everything in Auckland region outside the fringe.


What?
Apartments planned for the city fringe and suburbs average five levels, says Lloyd. The CBD still attracts the 200-plus apartment pipeline, other than Albany's Rose Garden Apartments (201 stage-one apartments, 50 per cent sold) and Newmarket's 88 Broadway (which will have 222 apartments across four buildings).
Colliers pegs typical pipeline CBD apartments' internal areas at 45-60sqm for one-bedroom units, 70-90sqm for two bedrooms and 90-120sqm for three bedrooms. Premium apartment plans may be "from around 100sqm for a one-bedroom up to 260sqm for a three-bedroom unit".
Lloyd says existing CBD apartment stock includes 3,700 leasehold apartments alongside 14,200 freehold units, but pipeline apartments are almost entirely freehold. (Under leasehold titles the homeowner owns the dwelling but rents the land, paying annual ground rent which is periodically reviewed in relation to the land's value.)
Exceptions are Wynyard Quarter projects, selling well with their modernised leasehold structure where purchase price includes ground rent pre-paid for 128 years from start of construction.
Since advertising started in late April, about 65 per cent of 132 Halsey's apartments and 55 per cent of Wynyard Central Stage One's apartments and townhouses have sold off the plans.
Lloyd says pipeline trends include natural outlooks with greenery and "flexi" layouts. These one-bedrooms accompanied by a multi-purpose "flexi" room are smaller than minimum two-bedroom sizing.


Pricing
Real estate commentators agree apartments bought off-the-plans command a premium over existing apartments as buyers will shell out more for new over "second-hand".
Pre-sold prices can include an element of projection factoring in completed apartments' likely worth in an appreciating market.
Similarly configured apartments in an off-the-plan development may command different prices at different times. Lloyd explains launch prices are often slightly discounted to encourage sufficient sales to make the project viable.
Developers sometimes retain a few apartments and sell them later in a rising market to maximise profitability.
The Colliers apartment report says most developments are seeking GST-inclusive prices which, when applied to internal area, work out at least $8,000/sqm and often $10,000/sqm.
Apartment Specialists director Andrew Murray says apartments he considers "liveable" in desirable city-fringe locations tend to sell off-the-plans for about $500,000 for a one-bedroom, $800,000 for a two-bedroom and $1 million for a three-bedroom.
Murray says buyers must factor in ongoing body corporate fees as they're compulsory.
However, he says folk tut-tutting that a two-bedroom apartment's typical $4,000 to $5,000 annual body corporate fee equates to paying around $75 to nearly $100 extra "rent" weekly should recalculate.
A significant portion of those body corporate fees covers ongoing costs which the owner of a detached home would have to pay for, such as insurance and maintenance costs for a dwelling's exterior.


Sales rates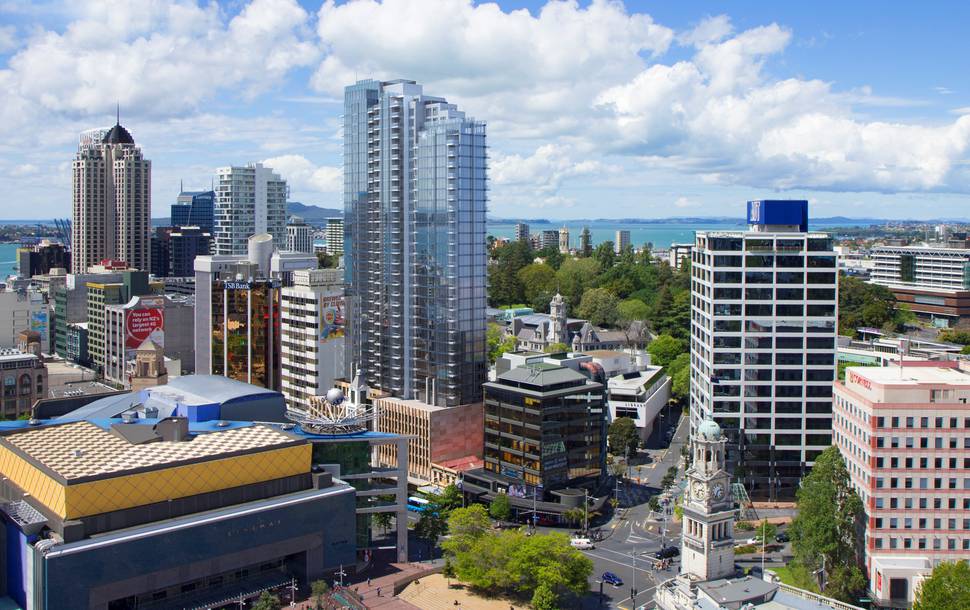 As traditional property prices skyrocket, traffic congestion worsens and inner-city facilities improve, Auckland apartments are selling well, many as off-the-plans' purchases.
CBRE says the 847 Auckland apartments pre-sold in the first quarter of this year exceeded the number of existing Auckland apartments sold in the same period for the first time this decade.
This was despite sales of existing stock being extremely buoyant. The box shows pre-sales levels in a selection of Auckland's largest upcoming apartment developments, some more than 18 months before completion.
Most big pipeline apartment developments attribute around half their sales to investors. And plenty of baby boomers have hit "downsizing age" wanting premium apartments. Colliers reports the average age of inquirers for the higher-end CBD and fringe developments being marketed is around 60. CBRE's Lloyd points out first-home buyers can take advantage of off-the-plan apartments counting as new builds.
"This means you may be eligible for the maximum KiwiSaver HomeStart grant, which could mean an extra $20,000 towards the deposit for a couple who buy an apartment together."
Murray of Apartment Specialists says some first-home buyers are dealing with the rising market by securing an off-the-plan apartment with 10 per cent deposit, then saving more towards it by completion and settlement.
The president of the Auckland Property Investors Federation, Andrew Bruce, wasn't confident his partner, Cath, would take to inner-city apartment living having shed tears farewelling a city-fringe cottage.
But now Cath, who comes from a rural background, is an apartment convert impressed with having so much within walking distance. The couple have two carparks but typically walk or cycle.


Effect on the market
The apartment development pipeline will meet only a tiny portion of Auckland's growing property requirements.
CBRE counts 6,400 planned apartments but 1,100 will be student accommodation and 500 held by developers to rent out.
Nearly 75 per cent of the 4,800 remaining yet-to-be-built units have pre-sold leaving only around 1300 apartments currently for sale off-the-plan.
Compare that to the nearly 30,000 people Auckland region swelled by in the year to July 2015, which was about half of the country's national net migration.
Lloyd says: "The current apartment pipeline will barely cover last decade's growth, let alone the growth we are seeing now with record net migration into Auckland."
New developments
Five of Auckland's largest apartment developments under way and selling off plans.
• St James Suites: 308 apartments at 302 Queen St, CBD, by developer Relianz Holdings. Completion mid-2018, 90 per cent sold.
• Queens Residences: 273 apartments at 8 Airedale St, CBD, by developer Conrad Properties. Completion mid-next year, 100 per cent sold.
• Sugartree Altro: 265 apartments at 145-147 Nelson St, CBD, by developer Sugartree, following on from Stage One's 148 Prima apartments (completed) and Stage Two's 259 Centro apartments (under construction; 95 per cent sold). Altro completion mid-2017, nearly 20 per cent sold.
• Queens Square: 226 apartments at 438 Queen St, CBD, by developer Conrad Properties. Completion early 2018, 25 per cent sold in first four weeks of marketing.
• Park Residences: 225 apartments at 35 Albert St, CBD, by developer Conrad Properties. Completion around April 2017, 100 per cent sold.
• 88 Broadway: 222 apartments across four buildings at 88 Broadway, Newmarket, by developer Equinox Capital. Completion Dec 2017, 25 per cent sold.