Mangere Bridge tops the chart of hot spots in the city for property investors.
Landlords with properties in Otara, Mangere, Glen Innes and Mangere Bridge are reaping Auckland's highest returns.
Ian Blair, Westpac retail bank general manager, yesterday released the bank's property investor report, naming the city's top suburbs for yields and capital gain from March to September.
Landlords with three-bedroom houses in Otara, rented for a median $450/week, got a 21.8 per cent return (yield and capital gain) followed by Mangere (21.7 per cent) and Glen Innes and Mangere Bridge (21.3 per cent).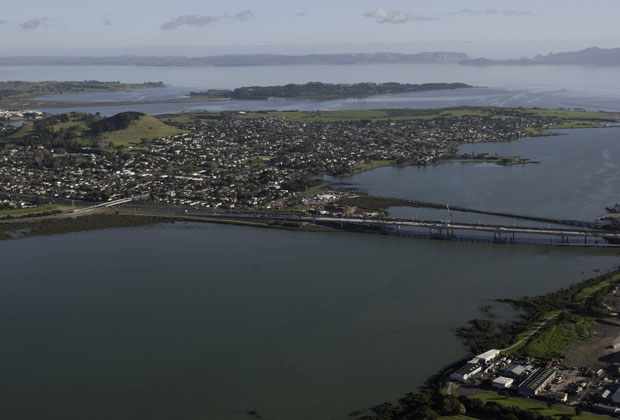 Mangere Bridge tops the chart of hot spots.
Capital gains are far outstripping yields and Blair said those four areas had been stellar performers for investors.
"A closer look at the numbers shows the growth is being driven by Auckland's southern and southeastern suburbs with areas such as Mangere Bridge, Otara, Mangere, Panmure and Glen Innes becoming some of the highest ranking suburbs in the country," Blair said.
The report would help investors identify market trends.
"When deciding to invest in property, it is important to decide the best outcome for you - is it to sell the property and realise a capital gain or is it to earn income through a good yield return?" Blair said.
"This will ultimately drive where and how you decide to invest."
Auckland dominated the national survey for capital gain, claiming the top 59 suburbs in the country.
But David Whitburn, Auckland Property Investors Association immediate past president, warned against assumptions.
"Mangere Bridge has been a fantastic growth story in recent years but the past is not necessarily an indicator of the future. It will grow but I don't think as fast as other suburbs in Auckland," Whitburn said.
The Westpac report showed that nationally, Mangere Bridge ranked No 1 with a 21.3 per cent yield and gain, followed by Glen Innes, Hornby, Christchurch's Hei Hei then Hamilton's Hillcrest.
Whitburn named Glen Innes, Panmure and Mt Wellington as new success stories.
"Gentrification of these areas is taking place, increasing amenity with the Panmure Bus and Rail Stations as part of the Ameti project, the retailers, service industries and employment on Lunn Ave and nearby areas like Sylvia Park."
"These suburbs will continue to benefit from their affluent neighbours like Stonefields, Meadowbank, Kohimarama, Glendowie.
"The Creating Communities Project and Tamaki Redevelopment Company are working hard to improve the outcomes in this area."
The three suburbs would become more exclusive and had excellent short, medium and long-term prospects for rental stock, he predicted.
The Westpac survey showed Wellsford topped the Auckland yield chart at 7.1 per cent but Whitburn questioned that.
"For investors wanting higher rates of growth, this isn't in my top 100 suburbs list," Whitburn said.
"Units and apartments are great and offer homeowners and investors a lower entry point into the market. But the fundamental value driver is the scarcity of land, so unless you have things to compensate like good views or proximity to a town centre or major feature, then your growth in both rents and house prices is more likely to lag," he said.
"Therefore the best strategy in the Auckland housing market is to create the yield, by focusing on adding value. Building minor dwellings is an excellent strategy and is the foundation of my own portfolio.
"Also renovations and additions, and developing to hold are great strategies in this market too."
Glen Sowry, Housing New Zealand Corporation chief executive, said rental housing demand was high in Mangere where rental yields had not increased but valuations were well up.
"But rental increases place pressure on a lot of lower socio-economic families so the percentage of income required for rent has grown substantially and that places pressure on our services," Sowry said.
"At the moment, Mangere is not one of the areas for heaps of development in the immediate future because we have lots of other opportunities in south and west Auckland," he said, singling out the inner-west around New Lynn and Avondale and South Auckland where "significant intensification" would take place on HNZC land. That could involve the development of "hundreds" of places on some pockets of land, he said.
Read the Westpac report here.