Mansons developers buy historic NZME. buildings in heart of Auckland for $45m.
New Zealand's most active family developers, the Mansons, have purchased the NZME.site and buildings in Auckland's CBD for about $45 million, which could eventually result in a big redevelopment.
Mansons TCLM is run by Ted Manson with sons Culum, Luke and Mac and based in Parnell's St George's Bay Rd opposite La Cigale.
Culum Manson is understood to have signed an unconditional deal to buy the site from Loris Properties, associated with Steve Owen, who in 2001 paid publishers APN News & Media about $20 million for the property in one of the city's biggest sale-and-leaseback deals at the time.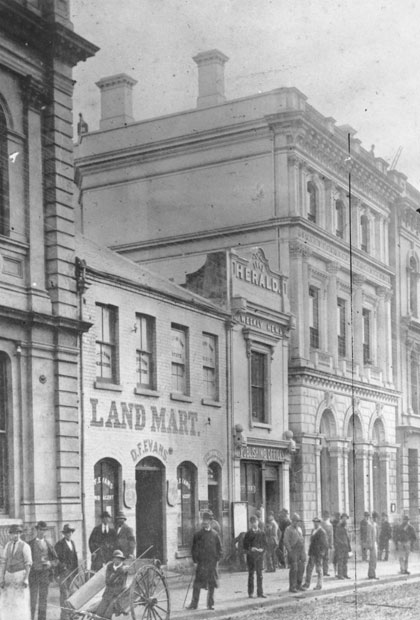 The Herald's first Queen St building was replaced in 1893 (taken in 1930). Photo / Herald files
This month's sale involves the entire 4258sq m site with 17,352sq m of building improvements dating back almost a century. The site has at least three buildings and extensive subterranean carparking.
Consent might be sought for residential and commercial high-rise on the property which spans the block between Albert St, Wyndham St, Mills Lane and Swanson St and once housed the printing presses for the Herald in the basement level off Mills Lane.
NZME. is understood to be viewed by the Mansons as a blue-chip tenant so the full term of the lease could run through till 2023. But Mansons, which built the high-rise Lumley Tower on Shortland St and the four-block ex-Telecom and now Spark campus, might be keen to find new premises for the business when the lease ends, according to one source.
Part of the Herald business moved to a purpose-built Penrose factory alongside the Southern Motorway, sold just this decade: in 2011, APN News & Media got $25.5 million for its 4.9ha Penrose site where its printing works and other operations are located.
Phil Eustace, the company's New Zealand finance director, said at the time that the Wilkinson Rd property was sold to Auckland's Trevor Rands and a group of investors.
Mansons is now finishing one of Auckland's biggest new office blocks between Victoria St and Graham St, with 2000sq m floorplates.
New Zealand Mortgages & Securities, also founded by Mansons, is lending other developers first and second mortgage mezzanine facilities to finance the construction of 675 apartments, sections and townhouses now under construction and providing pre-development cost financing for many other projects.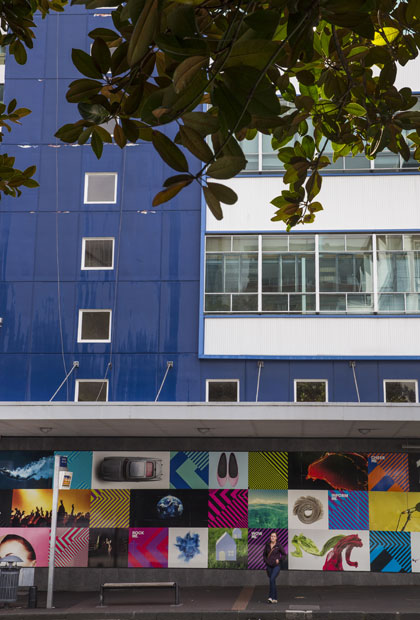 The Herald's present site in Albert St. Photo / Peter Meecham
The Manson purchase could see the publisher leave the site where it has been based since the late 1800s.
Although it was founded in 1863, the Herald can trace its DNA back to Auckland's beginning through its links to two other papers, the New Zealander and the Daily Southern Cross, which started in the early 1840s. W.C. Wilson, who had been joint proprietor of the New Zealander, broke away from his partner to bring out the first edition of the New Zealand Herald in November 1863.
In 1877 it merged with the Daily Southern Cross, by then owned by Alfred Horton. Wilson and Horton continued to publish the paper for more than 100 years. The Southern Cross was once in a meagre single-level, iron-roofed Shortland St shack.
In 1863, a new building rose on Queen St with the Herald's name on its exterior. It was an extremely narrow, purpose-built two-level structure with a 3.2m frontage, sandwiched between other taller buildings and standing beside Land Mart.
That was replaced in 1893 when Wilson & Horton developed "one of the largest, finest and best-equipped newspaper offices in the world" for the Herald and Auckland Weekly News, the Press in Christchurch reported at the time, marvelling at its heart kauri, Californian redwood and brick construction and naming Sydney's G. A. Mansfield as the architect.
But in 1986, part of the site and those premises were demolished for the Fay Richwhite tower on the Queen St/Wyndham St corner. That block at 151 Queen St is now SAP Tower.
Property Guru lists 46 Albert St as dating from the 1920 to 1929 and 58 Albert St as dating from 1950 to 1959.
NZME. is also selling its former chief executive's official residence at 7 Lammermoor Drive, St Heliers, which the business bought in 1998.
The history
1843: Daily Southern Cross on Shortland St
1863: Wilson & Horton's first Queen St offices built
1893: New Queen St/Wyndham St block built
1920s: 46 Albert St built
1950s: 58 Albert St built
1986: Queen St premises demolished for Fay Richwhite tower
2001: APN sells remaining site to Loris Properties
2014: Manson TCLM buys property for about $45m.