The Licensed Taxi Drivers Association has filed criminal proceedings in London against six Uber Technologies drivers, blocking transport officials from seeking guidance from a civil court on the mobile-phone app.
The move is the latest by local taxi drivers to block the approval of Uber's app, which connects passengers with cars. Transport for London said that its bid to have a civil court clarify rules for what constitutes a regulated taxi service would have to wait until criminal cases are finished.

The Uber mobile application allows users to hail private-hire cars from any location. Photo / Getty Images
Uber has come under fire by traditional taxi drivers worldwide who say they are bound by rules that don't apply to the smartphone-based system. Last month cabbies in London snarled traffic, protesting what they saw as the government's failure to hold Uber to the same standards as other car services.
"The reason we have gone down the private prosecution route as opposed to the judicial direction routes is that we have no confidence in TfL's legal team," Steve McNamara, the general secretary of the LTDA, said Thursday in a phone interview. "TfL as a regulator are not fit for purpose.
The Uber drivers are scheduled to appear at Westminster Magistrate's court towards the end of the month, McNamara said. Charlotte Offredi, an external spokeswoman for Uber in London, declined to comment on the LTDA's criminal filings.
Transport for London said on Thursday that Uber apps that calculate fares aren't the same as taxi metres, which traditional black cabs use to determine the cost of a journey by means of time and distance.
Read also:
• Uber is worth nearly as much as Hertz, Avis combined
• Protest against Uber app: London cabbies promise travel chaos
''Smart phones that transmit location information (based on GPS data) between vehicles and operators, have no operational or physical connection with the vehicles, and receive information about fares which are calculated remotely from the vehicle, are not taximetres within the meaning of the legislation," the London transport agency said in a statement.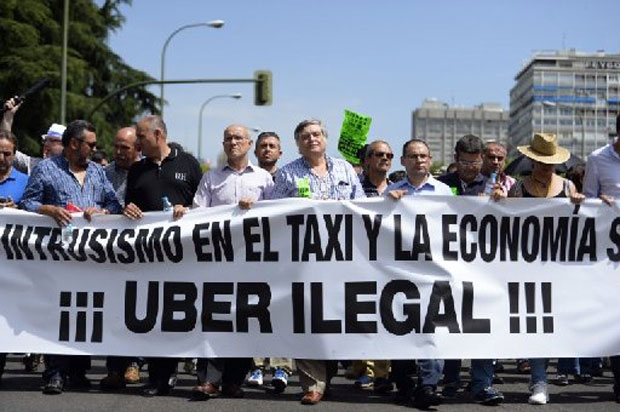 Taxi driver protest against Uber in Madrid. Photo / AFP
Uber said the decision by TfL to approve the app was a "victory for common sense, technology and innovation."
"Following another round of scrutiny, Uber has yet again been rubber stamped by TfL as a fully compliant operator," Jo Bertram, general manager for Uber in the UK and Ireland, said in a statement.
TfL's attempts to have a London High Court judge validate this view have been put on hold until the resolution of the LTDA's criminal complaints.
The criminal court decision, which is not binding, "will almost certainly be appealed (by someone), which inevitably means the matter will end up, rather later than sooner, in the High Court," Leon Daniels, TfL's managing director of surface transport, said in the statement. "I regret therefore that the essential, and binding, clarity about how the law should be applied in these circumstances will not be delivered for some considerable time."
Traditional taxi drivers have won civil court rulings in European cities including Berlin and Brussels in cases challenging Uber's ability to operate.
Backed by Google's investment arm and Amazon.com founder Jeff Bezos, Uber is working to expand from the US into Europe and Asia, and is available in more than 140 cities. The network was valued at $17 billion after it raised $1.2 billion last month in a financing round so it can build operations.
- Bloomberg