An Auckland landlord wants tenants to rent his caravan without a toilet or shower at his Sandringham property, advertising the "Arabian nights" bargain at $200 a week.
Peter Gee said that by yesterday morning, 1200 people had already viewed his Trade Me ad seeking a tenant for the Shorwell St house-on-wheels, evidence of strong demand for what he said was an extremely competitively-priced option for a tenant.
The headline reads: "Arabian nights wow", which he described as creative advertising.
The furnished caravan has a covered outside deck with a table and chairs, a barbecue and a clothesline. Power, water, laundry and internet is included.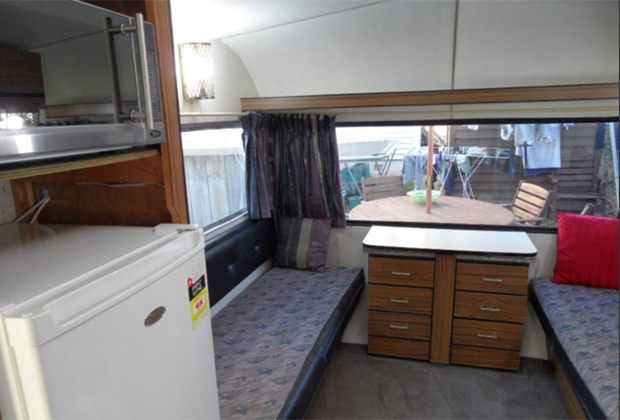 It's a tight squeeze for renters who take up the "Arabian nights" experience.
Once the resident shifts in, they will need to duck into Mr Gee's house for the toilet or shower but he still thinks the place is a bargain.
"A one-bedroom around this area is $350, without power, water, internet and grounds," he said. "A two-bedroom is $425 and a three-bedroom $585. It's still incredibly cheap. It could be a job transfer, someone from overseas waiting for immigration, it could be a student."
Mr Gee said he had been an AUT homestay host for the past eight years and was a "fulltime landlord and property manager".
Salvation Army social policy analyst Alan Johnson said there were thousands of Aucklanders living in caravans.
"It's unsurprising, given the state of the rental market in Auckland, particularly for people at the bottom end. Clearly it's not a housing solution but it's the best people can get for what they are prepared to pay. For some people, it's not the end of the world but I'm not suggesting it's a great idea."
Tiny one-bedroom baches had sprung up throughout South Auckland, rented out for $70 a week, he said. "These are trailer-sized rooms and they're becoming widespread in South Auckland. You get an area slightly bigger than a bed, stuck on the back of someone's section with a power lead through the window and you go inside to the toilet. They have a huge rate of return for landlords."