Local firm's score of major bank refurbishment job part of globalisation of the market, says designer.
New Zealand architects, including Auckland's much-awarded Andrew Patterson, have been critical of Australian practices winning big jobs here. But now a prominent New Zealand firm has scored a big job across the Tasman and the man behind that claims "architectural parochialism" is dead.
Patterson referred to Australia's BVN Donovan Hill designing the much-acclaimed new ASB North Wharf, saying the loss of such jobs to New Zealand firms meant lost opportunity for our architects. Sydney's fjmt did the much-awarded Auckland Art Gallery extensions and refurbishment.
Both Australian firms worked with local practices - Jasmax on ASB and Archimedia on the art gallery - but the choice upset many local architects because they saw themselves missing opportunities.
However, New Zealand architect firm Warren and Mahoney has won a big Australian contract, via international tender, to design upgrades for many National Australia Bank branches.
Outlets in Geelong and at 700 Bourke St in Melbourne's CBD are completed. Last month, branches at Forestway in New South Wales and Craigieburn in Victoria were finished.
Lead designer Gareth Huston of Warren and Mahoney's Auckland office said the NAB work had been going on for four years and he encouraged New Zealand architects to take a more global view.
"Transtasman resentment is hot air. I lived and worked in London, working for a Swiss-based firm in the last five years and being part of the European community is all about working in different countries. Architectural parochialism is waning, especially in the minds of Australians because they're looking for specialists and expertise and we've been winning projects there," he said.
The NAB refurbishments reflected changes in how bank staff and customers dealt with each other.
"As people are transferring online and to mobile banking, banks are really looking at how they interact with their customers. Retailers are reinventing their physical environments to reflect what's happening online. The new model is designed to increase customer interaction, minimising queuing, installing self-service devices and creating spaces for clients to meet with their own customers. Two-thirds of the entire physical space is dedicated to customers for their own business purposes," Huston said.
NAB has about 750 branches in Australia and Huston said Warren and Mahoney is working for Lend Lease which delivers those branch upgrades.
"Banks are competing for customers' time as much as a fashion store next door. We have enabled staff to have more conversations with their customers, with a design that allows them to be at the front of the store," Huston said.
A $500 million-plus upgrade and expansion of New Zealand's four main trading banks' premises is in full swing with better premises being created for ASB, ANZ, Westpac and BNZ staff and customers.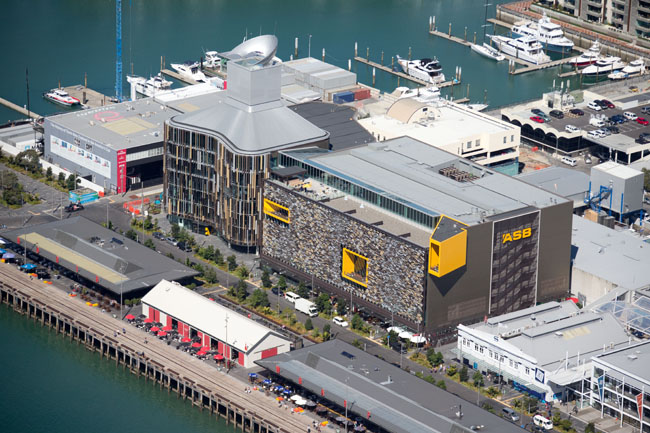 The new ASB North Wharf headquarters, Auckland. Photo / Richard Robinson
The Australian-owned banks make billions of dollars annually so can afford the makeovers.
But often, landlords are paying to have the bank headquarters upgraded. Fletcher Construction built ASB's $132.1 million North Wharf headquarters in Auckland, owned by Kiwi Income Property Trust but leased to ASB. Precinct Properties did up the ANZ's Albert St national headquarters in what is one of New Zealand's biggest makeovers.
Last decade, BNZ left the Sultan of Brunei's block at 125 Queen St for new purpose-built $200 million headquarters opposite, at 80 Queen St. Brookfield Multiplex built 80 Queen St, now owned by Christchurch investor Tim Glasson and also leased to Deloitte.
In 2011, ANZ revealed a $170 million office upgrade in Auckland, Wellington, Tauranga and regional centres over four years, on top of the $100 million it had already committed to a branch upgrade.
And Westpac's Queen St store took on a beach-style theme, as that branch highlighted its links with the area and locals.
ANZ took six months and many millions of dollars to re-do its busiest branch on the Whitcoulls corner at 205 Queen St, including laying an entirely new ground floor.
Patterson - who himself does architecture work overseas - lashed out three years ago about the march of Australian architects into his home territory.
"In Auckland, most of the buildings built in the past five years have been designed by Australian firms. Even the old blue Auckland Regional Council building was designed by a Canadian company. Then you've got the new ASB building in Auckland's Viaduct, designed by Australians. I'm not criticising the building at all, but we're losing an opportunity to create our own stories, our own culture and our own sense of self," Patterson told Idealog in 2011.
Warren and Mahoney has also published the large-format Retail Is Dead, edited by Nicole Stock, examining how shops are dealing with customers in the face of rapidly changing technology. "In banking, it's been a very closed environment. Breaking down barriers was key to the success of enabling staff to actually have more conversations with their customers," Huston said in that publication.
Warren and Mahoney has offices in Sydney, Melbourne, Wellington, Auckland, Christchurch and Queenstown and employs 190 people.
The Institute of Architects awards are announced on Friday night in Auckland.
Ambitious firms in 'chicken-and-egg' predicament
Warren and Mahoney has been praised for getting a big commission in Australia because New Zealand practices have difficulties breaking into big building architecture across the Tasman.
John Walsh, Institute of Architects communications manager, said many Kiwi architects do individual houses there, often for New Zealanders living in Australia, but generally they find it hard to break in.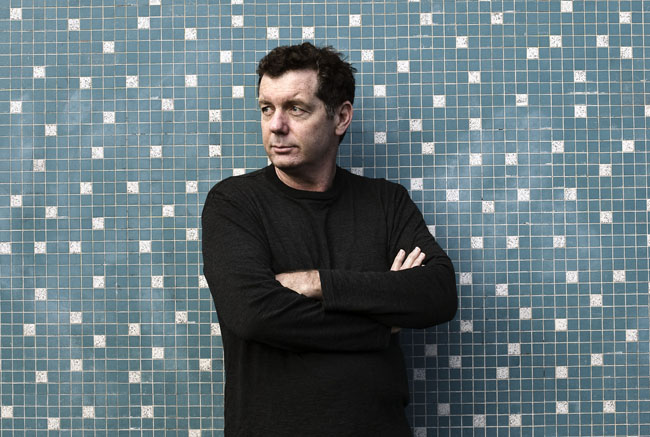 John Walsh says it can be difficult for New Zealand architects to break into the Australian market.
"This isn't a matter of prejudice - it's rather that Australia has many excellent practices which compete hard against each other and anyone else," Walsh said.
"Architectus is one of the few New Zealand architecture practices to have found a way to work in Australia and they have done it through forming an alliance with a group of Australian practices.
"Of course, there are many New Zealand architects working in Australia for local firms. As for Australian practices getting big jobs in New Zealand, that really is nothing new. After all, the original Auckland Art Gallery was designed by a Melbourne practice," he said.
"In part, it's a symptom of our branch economy status. Banks, for example, are almost all Australian-owned, and they usually have long-standing relationships with Australian architecture practices, and a disposition to employ people they know," Walsh said.
"However, it does make it difficult for New Zealand practices to get large-scale work, especially in the commercial sector. Often, they have to partner with an Australian practice to get these jobs.
"It is a challenge for ambitious up-and-coming local practices, especially. How do you step up from houses and smaller projects if, as increasingly is the case, the big jobs go to firms with form?" Walsh said.
"Big commercial clients are risk-averse, which is understandable, but it can inhibit innovative architecture and the development of innovative practices.
"It leads to a chicken-and-egg situation: how do you get a big job if you've never done a big job before?"
Big architectural jobs
*ASB North Wharf: BVN Donovan Hill (Australia) with Jasmax (NZ)
*Auckland Art Gallery changes: fjmt (Sydney) with Archimedia (NZ).
*NAB branch upgrade: Warren and Mahoney (NZ).
*Central Rail Link: Grimshaw (Australia) with Aurecon, Mott MacDonald and Jasmax.