Auckland is under severe thunderstorm weather warning, with heavy rain bringing flooding in areas such as Dome Valley and Warkworth.
MetService said that Auckland, including Great Barrier Island, is in for localised downpours and some areas may get 50-70mm of rain falling in a four- to six-hour period.
Downpours of more than 25mm are expected over the next couple of hours in Waiheke Island, Howick and Kawakawa Bay.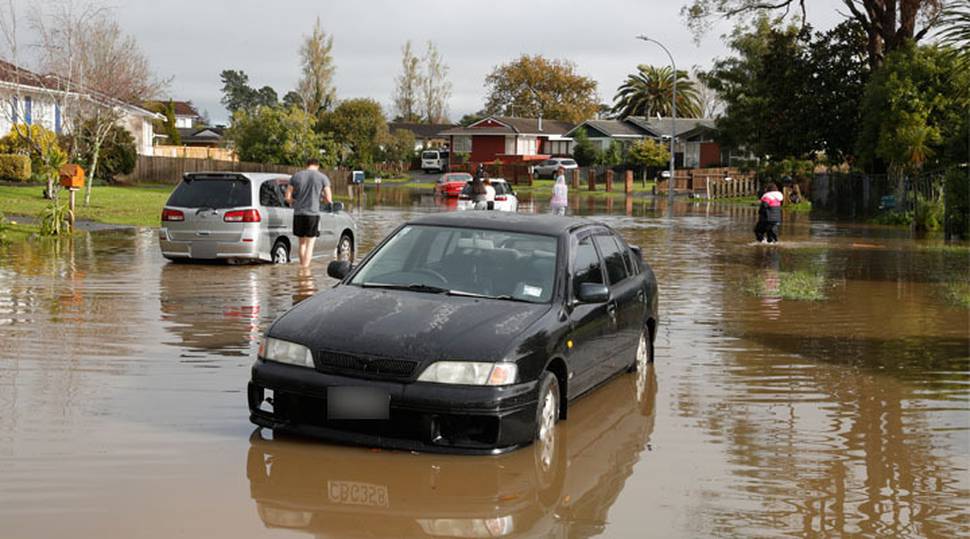 At 1.22 pm, the MetService weather radar detected severe thunderstorms near Kawakawa Bay, Firth of Thames, Orere Point, Ponui Island, Outer Hauraki Gulf, Coromandel, Colville and Manaia.
These severe thunderstorms lie near Kaiaua, Firth of Thames, Outer Hauraki Gulf, Coromandel, Tapu, Te Puru and Manaia.
At 2.22pm they were expected to be near Miranda, Waitakaruru, Thames, Tapu, Ngatea, Firth of Thames, Te Puru, Kerepehi, Southern Coromandel Ranges and Kopu.
MetService meteorologist Claire Flynn said the council had recorded about 78mm of rainfall in Warkworth this morning since 3am.
In a similar timeframe, Albany had received 52mm and Orewa 49mm, she said.
Kerikeri had received 92.88mm of rain in the past 24 hours, which was more than half the total it had received in June last year.

Fire and Emergency NZ Northern communications shift manager Colin Underdown told Newstalk ZB they were receiving reports of property flooding in Wellsford, Mangawhai, Waiheke Island and Leigh.
"It's just starting to impact on us now."
Auckland resident Bill Gillespie told Newstalk ZB the streams in the Dome Valley were at maximum capacity.
"In fact I have already seen a lady standing on the side of the stream with a car unable to cross it.
"From there onwards, there are lots of places where there was water coming out of the hillside and down onto the road."
There was a big slip in the Dome Valley, near a sheep farm, that was blocking off one lane of the road, Gillespie said.
"People will have to keep their speed down, because it is just flowing across the road in a lot of places."
The weather was particularly bad, people should be making decisions to stay at home, he said.
"At a lot of farms, the paddocks are absolutely flooded."
Northland is experiencing a temporary reprieve from heavy rain, with MetService lifting the warning on the area. However, it has issued a rainfall watch for Northland tomorrow.
The Ministry of Civil Defence and Emergency Management advises that as storms approach you should:
• Take shelter, preferably indoors away from windows;
• Avoid sheltering under trees, if outside;
• Move cars under cover or away from trees;
• Secure any loose objects around your property;
• Check that drains and gutters are clear;
• Be ready to slow down or stop, if driving.
During and after the storm, you should also:
• Beware of fallen trees and power lines;
• Avoid streams and drains as you may be swept away in flash flooding.