Streaking into the future with finesse, Macao's Cotai Strip grows ever bolder by the year.
Recently I had the pleasure of experiencing the latest palatial mega-confection to unleash its effervescence: The Parisian Macao. There's something extra seductive about gracing such a majestic masterpiece still aglow with that glossy, just-opened sheen.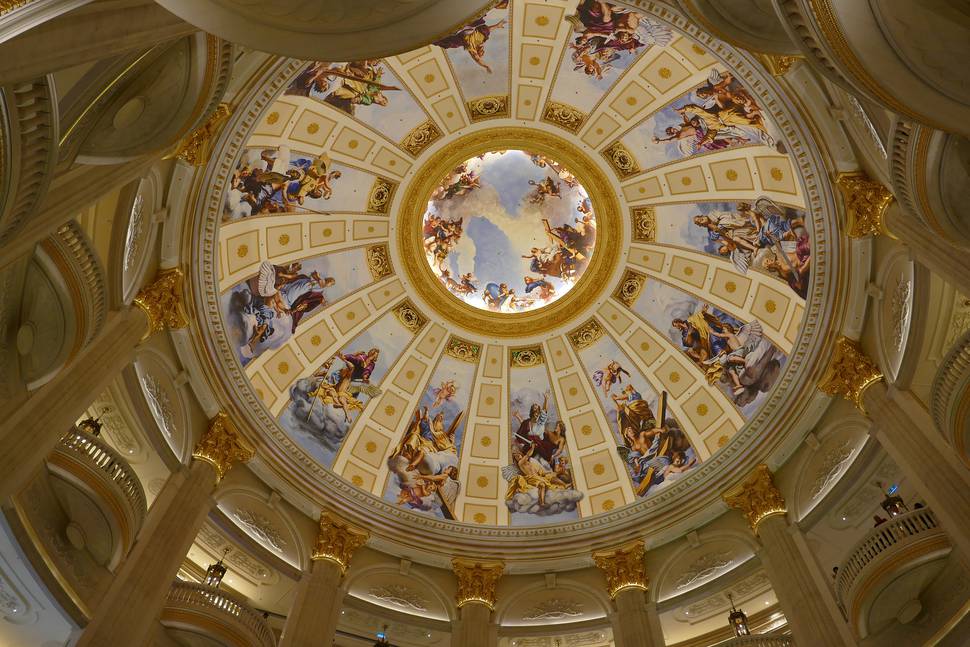 Boasting 3000 luxury guestrooms and suites, I felt like I'd been whisked away to the grand halls, lavish state rooms and ornamental gardens of the City of Light. This unabashed salute to Paris is meticulously designed to celebrate the architectural splendour, abiding romance and artistic verve of the French capital.
As I entered the main doors of this colossus, I was awestruck by the Rotunda, a soaring, dramatic dome, flanked by sweeping promenades of French limestone and marble, and crowned with tromp l'oeil ceilings.
Adjoining its sister property, The Venetian Macao, I found The Parisian to be a seriously stylish and exquisitely themed resort.
The sumptuous attention to detail is gob-stopping, from the Louis XVI-inspired neoclassical concourses and the rich jewel tones of the ravishing Versailles-themed reception, to the floral motifs, intricate gilding and bronze fountains that permeate the property.
Even the entranceway wasn't left to chance, thoughtfully styled to pay homage to Gare du Nord. But the crowning glory is the half-size replica of the Eiffel Tower.
Clad in more than 6600 sparkling LED lights, creating a dazzling choreographed spectacle at night, I zipped up to the observation deck on the 37th level, basking in the far-reaching views. (The nightly sound and light spectacular, which has cemented the tower as the Cotai Strip's most lustrous beacon, runs every 15 minutes from 6.15pm.)
It's also the perfect vantage point to appreciate the resort's immensity and its numerous replica landmarks, like the half-size Arc de Triomphe, the magnificent Aqua World area and the Jules Verne airship, plus the bright red windmill made famous by Moulin Rouge.
As much as adults are spell-bound this lavish resort, it's very family-friendly, and kids are absolutely enthralled by the vast assortment of watery wizardry amusements that delightfully gush at Aqua World. Within the property, I also loved lolling about the themed shopping promenades, like Avenue Montaigne.
But my favourite space of all is Place Vendome, replete with over 1300 figures, constructed from more than five tonnes of clay and enclosed under an artificial, animated bluebird sky, which uncannily looks real. Comprising 620 square metres, it is a tour de force in themed design.
An ingenious touch are the roaming street theatre characters, featuring a diverse mix of French entertainment from street artists, buskers and mime performers.
Spoiled for dining choice
With 11 dining venues on offer, including French-style sidewalk cafes and bistros, your taste buds are spoilt for choice.
If you're a fan of authentic Chinese cuisine, make a date with Lotus Palace, brimming with pan-Asian and Cantonese dishes, spanning seafood, premium hot pot and dim sum.
The Hong Kong style stir-fried Sri Lanka crab and scallops, with garlic and red chilli, is blow-your-socks-off gorgeous.
Take the French culinary theme to the next level, up in the Eiffel Tower at La Chine.
This spectacular dining experience showcases Chinese cuisines with a distinct French twist. Opt for the tasting menu, where you can graze your way through a sweep of small plates, spanning crispy roasted duck marinated in mandarin and pepper sauce, to fresh abalone in chicken consommé with Chines dried herbs.
Across at the Venetian, the Michelin-starred Golden Peacock Restaurant is a smash-hit, and surprisingly not exorbitant. Prepared by a team of chefs from across India, the menu's authenticity is underpinned by the sourcing of ingredients, direct from the motherland.
Nearly everything is faithfully made from scratch in-house, from the yoghurt to masalas. I have a major soft spot for all things Italia, so dining at Portofino Restaurant was eagerly anticipated — and it delivered in spades.
At the helm of this divine trattoria is the ebullient senior chef Domenico Cicchetti.
Beyond gorging on his delicious seafood and pasta dishes, Domenico endowed me with some trusty insider sightseeing tips on where to go to experience the real Italy. Portofino? Splendido!
TOP TIPS
In a resort with so much buzz factor, I spent very little time in my guestroom. Sporting a contemporary French design aesthetic and equipped with all the creature comforts, I slept like a lamb, swathed in sumptuous linens.
The Parisian Macao is a remarkable pleasure palace, where fantasy and reality effortlessly mingle. parisianmacao.com
Check out the official Macao tourism website to keep abreast with holiday deals, event and festival highlights looming on the calendar, and the full range of sightseeing, shopping and dining temptations. visitmacao.com.au